May promises to set out departure date in June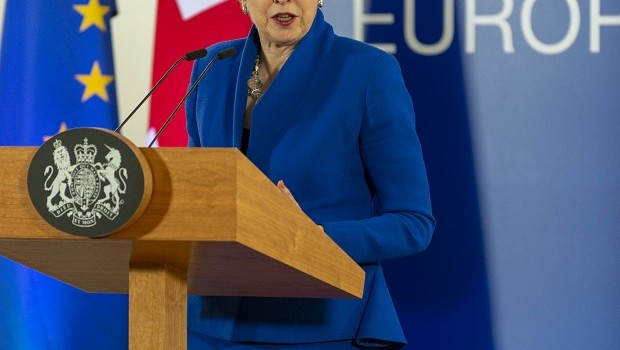 UK Prime Minister Theresa May on Thursday agreed to set out a plan for her departure from office after another vote on the Brexit withdrawal deal in June.
The deal was announced after a meeting with senior members of the 1922 Committee of backbench MPs on Thursday. Former Foreign Secretary and ultra-right Brexiteer Boris Johnson wasted no time in confirming he would run for the Tory Party leadership once May stood down.
Asked at a business event in Manchester whether he would be candidate, Johnson responded: "Of course I'm going to go for it."
Sir Graham Brady, the chair of the 1922 Committee, said May would agree a leadership election timetable after her Brexit legislation returned to parliament for a final attempt in the week of 3 June.
"We have agreed to meet to decide the timetable for the election of a new leader of the Conservative Party as soon as the second reading has occurred and that will take place regardless of what the vote is on the second reading – whether it passes or whether it fails.
"It was a very frank discussion, I tried to make sure that all the views represented on the executive were expressed and we had a very frank exchange with the Prime Minister."
May had promised to exit Downing Street if her much-maligned and thrice-defeated Brexit deal was approved by the House of Commons. However, her failure to give any firm indication on precise dates infuriated her own MPs.
Some of those in favour of a hard Brexit tried to get party rules changed so they could challenge May through a no-confidence vote. The prime minister fended off a coup attempt last year, and cannot be challenged until December under existing Tory regulations.
Committee treasurer Sir Geoffrey Clifton-Brown said it would be "infinitely preferable if she set a date rather than us force her out".
"It's better that she does it than we have a vote of confidence. What I would like to see is her set out a timetable to trigger a leadership contest," he told the Press Association.
Meanwhile, the long-running talks with the opposition Labour Party on Brexit appeared to be foundering over the government's refusing to agree on a permanent customs union, shadow business secretary Rebecca Long-Bailey said.
In BBC interviews on Thursday, she also warned May's plan to put the withdrawal agreement back before parliament without first reaching agreement with Labour was a "dangerous" stunt.
"In terms of the customs union, we've been repeatedly pushing them on this point, and they haven't reached the position that we would like them to get to by any stretch at the moment," Long-Bailey, part of the negotiating team, said.
"And what worries us … is we also see letters from Tory MPs stating that they categorically shouldn't support a customs union type arrangement."
On the withdrawal agreement, Long-Bailey said it was "imperative that this is sorted out as quickly as possible...and I think stunts and pushing things forward without consensus within parliament are very dangerous at this stage".
"If it fails for a fourth time, I think people are very quickly going to start losing faith in our abilities as a parliament to be able to deal with this. So the government really needs to recognise this and very, very quickly."