Manufacturing spikes as Brexit stockpiling ramps up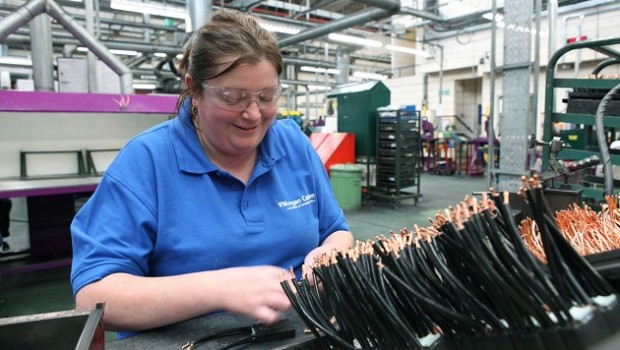 Brexit stockpiling has helped push manufacturing output to a surprise 13-month high, data showed on Monday.
The IHS Markit CIPS UK Manufacturing PMI Index was 55.1 in March, the highest since February 2018 and up on last month's revised reading of 52.1.
The bigger-than-expected hike - the consensus was for 51.2 - was attributed to stockpiling ahead of the UK leaving the European Union.
Rob Dobson, director of IHS Markit, said: "Manufacturers reported a surge of business activity in March as companies stepped up preparations for potential Brexit-related disruption. Output, employment and new orders all rose at increased rates as manufacturers and their clients raced to build safety stocks."
Duncan Brook, group director at the Chartered Institute of Procurement & Supply, added: "Businesses on both sides of the Channel intensified their efforts to accumulate materials, with the fastest increase in the stock building of finished goods since 1992.
"Firms attempted to guarantee certainty of supply, lock-in good price deals and protect their operations from withering under the pressure of uncertainty as new orders from domestic and export markets rose at their fastest rate this year.
"This panic buying had a marginally positive effect on job creation, however, as increased Brexit preparations required more hands on deck."
As well as the ongoing uncertainty surrounding Brexit, companies surveyed said that future growth could be constrained as the current strong pace of inventory building winds down. However, 46% of survey respondents also forecast output to be higher a year on, underpinned by improved demand, new products and markets, and reduced Brexit uncertainty.
Around 600 manufacturers were surveyed between 12 and 26 March.
David Cheetham, chief market analyst at xtb, said: "The headline reading here is misleading to say the least, with a closer inspection revealing a big jump in stockpiling as Brexit fears mount. This is obviously not sustainable and actually reveals a short-term increase due to firms taking preventative measures as a precaution against unwanted Brexit outcomes instead of a thriving manufacturing sector."
Samuel Tombs, chief UK economist at Pantheon Macroeconomics, said: "The jump in the manufacturing PMI in March largely reflects producers rushing to complete work before the Brexit deadline, rather than a strengthening of underlying demand.
"Stockpiling by overseas customers reportedly was responsible for some of the revival, while manufacturers also added to their stocks of finished goods at the fastest rate since the survey began in 1992. Both these developments suggest that production will be extremely weak in the second quarter, regardless of any Brexit developments.
"All told, the PMI should not instil any confidence about the near-term outlook for the manufacturing sector."