Grocery inflation nudges lower for first time in 21 months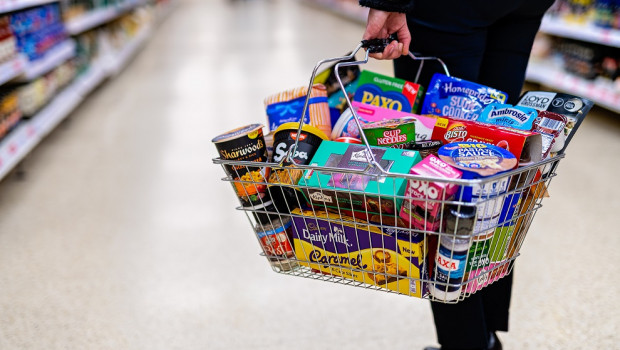 Food inflation eased marginally in November, industry data showed on Tuesday, the first decline in nearly two years.
According to retail consultancy Kantar, grocery price inflation eased 0.1 percentage points to 14.6% last month, the first fall in 21 months.
However, it remains at record highs, with the price of a traditional Christmas dinner, including frozen turkey, sprouts, sparkling wine and cranberry sauce, now costing £31, up 9.3% on 2021.
Fraser McKevitt, head of retail and consumer insight at Kantar, said: "As we move into the busiest time of the year for supermarkets, there are signs that the pace of grocery price inflation is easing off slightly.
"Grocery inflation still has a long way to come down though, and based on the current rate, shoppers will have to spend an extra £60 in December to spend the same items as last year."
McKevitt added that the combination of record inflation and festive spending meant December was likely to be the biggest ever for take-home grocery sales.
In the 12 weeks to November, sales increased 5.9% year-on-year, the fastest level of growth since March 2021.
Among individual retailers, German discounters Aldi and Lidl both reported a jump in sales, as they continued to open new stores and hard-pressed shoppers switched from more expensive rivals. Aldi reported a 24.4% jump in sales, giving it a market share of 9.3%, while Lidl had a market share of 7.4%, a new high, after sales rose 22%.
Tesco, the UK's largest supermarket with a market share of 27.2%, reported a 3.9% increase in sales, while at J Sainsbury they rose 4.3%. Iceland and Asda both saw a 6.1% jump in sales.
Wm Morrison reported a 4.7% slide, however, while at Waitrose - part of the John Lewis Partnership - sales fell 1.8%. At Ocado Group, sales eased marginally, by 0.2%.
Over the same 12-week period, grocery inflation was 14.1%, with prices rising fastest in milk, dog food and butter.
Victoria Scholar, head of investment at Interactive Investor, said: "Although this was the first decline in grocery inflation in almost two years, it was only a very modest drop, with food still outpacing broader price increases in the economy. As a result, the increased cost of essential items like groceries mean that inflation is unfairly weighing most heavily on those at the lower end of the income spectrum."