Deutsche sees hope for equities but HSBC predicts earnings 'hammer blow'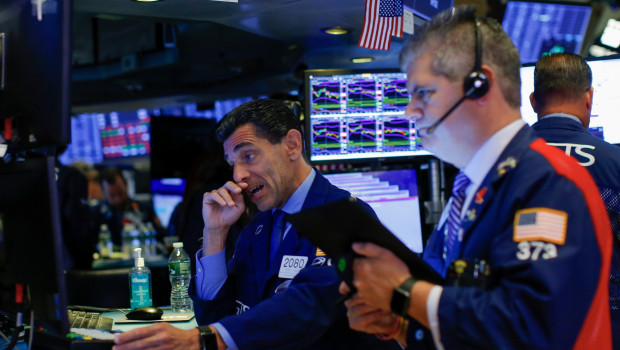 Deutsche Bank said equity markets were pricing in declines in activity and earnings but HSBC was more cautious as it predicted a "hammer blow" for earnings from the Covid-19 crisis.
A second-quarter "crevasse" in economic activity and company earnings is "well priced in" to equities but less so in rates and credit, Deutsche analysts said. The bank switched its equity allocations to 'neutral' from 'underweight'.
Deutsche said the outlook for equities was concentrated on the third quarter and that consensus and in-house economic forecasts expected a sharp rebound in the third quarter. The selloff of shares so far in the crisis was in line with historic patterns, it added.
"We have been underweight equities and defensively positioned for some time on the view that equities were expensive and pricing in too strong a rebound in growth," Binky Chadha and other Deutsche strategists wrote. "With equities already pricing in our baseline expected decline in activity and positioning low, we move our equity allocation from underweight to neutral."
HSBC was less optimistic. The bank cut its global earnings per share forecast to a decline of 34% and predicted a "severe plunge" in the second quarter.
The bank's global equity strategist Alastair Pinder said fiscal and monetary support for economies was positive but a slowdown in new Covid-19 cases globally was needed before buying into equities. Pinder said policy actions would not prevent a dramatic decline, or "hammer blow" to company earnings.
"The brunt of this pain will be felt in Q2 where we expect US earnings could drop over 80% YoY as company activity – particularly in the consumer discretionary and services sectors – comes to a standstill," Pinder wrote.
The path for equities will be a bear market followed by a relief rally and the aftermath. The 10% jump in the S&P 500 could be a sign of a relief rally but it also demonstrated unparalleled volatility and lack of liquidity, he said.
"We still believe there are downside risks to global equities," Pinder said. "For us to turn more constructive on global equities, we need two catalysts: the first is significant fiscal stimulus and the second is a deceleration in the number of new coronavirus globally. We have seen considerable progress on the former but we are still not at the inflection point for the latter."
HSBC advised clients to monitor the virus's impact in "real time" using indicators such as retail footfall, New York City subway rides, air quality data, the number of anchored vessels, website traffic and restaurant reservations.
"Overall, our narrative is still one of caution," Pinder said.