One in ten UK shops empty amid 'perfect storm'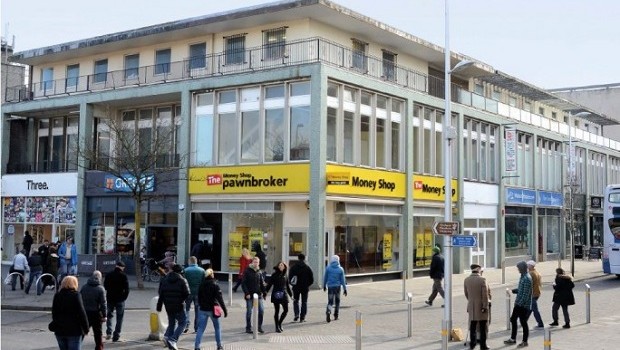 Shopper visits to the high street, retail parks and shopping centres all fell last month, fresh data showed on Monday, while a newspaper report on the same day said mistrust between retailers and landlords was stoking a "perfect storm" for retail landlords.
Almost one in ten shops stands empty in town centres around the UK, the monthly Monitor report from Springboard and the British Retail Consortium showed, with a vacancy rate up to 9.9% in January from 9.6% in October and 8.9% a year ago.
Helen Dickinson, chief executive of the BRC said the increase in the vacancy rate will be a cause for concern at many shopping destinations.
"The data reflects the underlying pressures which continue to challenge shops up and down the country. Retail is undergoing a seismic shift, with technology changing the way we shop. Consumers are making fewer visits to physical stores, choosing to research and pay for a greater proportion of their purchases online," she said.
"This requires a reinvention of retail, with outlets investing in their physical space to encourage a more experience-led approach to shopping – something which is being held back by sky high business rates."
Footfall in January fell by 0.7%, the report also revealed, which was not as bad a decline as the 1.6% seen a year ago but is the fourteenth month of consecutive decline for the industry.
There was a boost from school holidays extending further into January this year compared to last, while some retailers offered more in-store discounts than online.
"We should not be persuaded that the drop in footfall in January of just -0.7% suggests trading conditions have stabilised," said Diane Wehrle, marketing and insights director at Springboard.
On closer interrogation, she noted that all of this improvement emanates from the first week of January 2019 when footfall rose 2.6% while dropping by an average of 2.1% over the three subsequent weeks.
"And in even in the first week the uplift was largely driven by one day - New Year's Eve (Monday 31st December) - which showed an uplift of +151%; which again should be taken with a pinch of salt as it was compared against New Year's Day In 2017 when trading hours were more limited and the weather was very poor."
Over the month, high street footfall declined 0.7%, the six consecutive months of shrinking, but compared to a 1.9% fall last year.
Retail parks were down 0.3% versus 0.9% last year, while shopping centre footfall stepped back 0.9% compared to 3.1% a year ago.
The vacancy rates steepest regional void rate being recorded in Northern Ireland at 14.0%, followed by the North & Yorkshire at 13.2% and Wales at 12.8%, while the lowest voids were in Greater London at 6.3%, the east of England at 7.1% and the South-East at 8.0%.
Other recent retail surveys, including BRC-KPMG Retail Sales Monitor and Nielsen supermarket data, have shown that the year has started in a relatively sound manner, certainly compared to the stark dip in activity recorded in November.
Equity analyst Clive Black at Shore Capital said: "Britain's high streets and urban centres are going through notable transition as rising remote shopping rests alongside transport challenges in many major centres whilst standardised and institutionalised retail environments also struggle for shopper relevance; quite simply many are boring to people.
"Changing this situation is going to take decades to sort out with the re-engineering of the retail real estate world a likely outcome alongside an ongoing reduction in the retail platform with a rise of residential and leisure land use plus much need adjustments to transport planning and infrastructure. In the face of such long-standing and structural shifts and challenges, we expect an ongoing easing of shopper footfall to be more of a norm than not."
But a report in The Times on Monday suggested that landlords were warning that the investment needed to revive Britain's shops and shopping centres was at risk because of "a lack of transparency on retailers' trading activity and financial strength.
As UK retailers typically do not share turnover data from individual stores and one major landlord said industry transparency was "getting worse" as retailers hold back from providing any trading information for fear that landlords would use it to raise rents, while others were concerned that the information would be leaked in the notoriously gossipy industry.
British shops are generally on longer leases with upward-only rent reviews, in contrast to some continental countries and the USA where leases are often shorter with a proportion of rent linked to turnover, sharing the risk.