BoE hikes rates by 50 basis points, as expected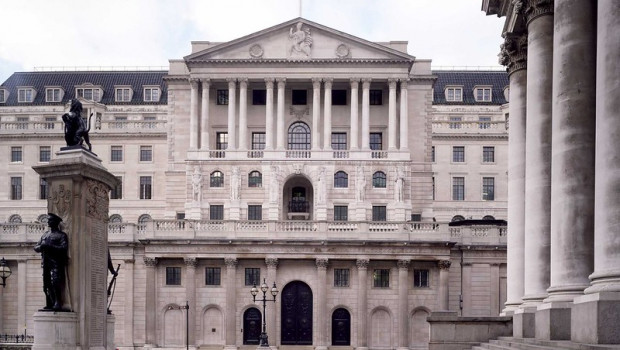 The Bank of England hiked rates by 50 basis points on Thursday, as expected, as it looks to tackle surging inflation.
This marked the Bank's ninth increase in a row and leaves rates at 3.5% - their highest level since the financial crisis in October 2008. Last month, the Bank hiked rates by 75 basis points, which was the biggest increase for 33 years.
The decision was not unanimous, with policymakers Swati Dhingra and Silvana Tenreyro opting to keep the rate at 3%, and Catherine Mann in favour of a 75 bps hike.
The BoE said: "The labour market remains tight and there has been evidence of inflationary pressures in domestic prices and wages that could indicate greater persistence and thus justifies a further forceful monetary policy response.
"The majority of the Committee judges that, should the economy evolve broadly in line with the November Monetary Policy Report projections, further increases in Bank Rate may be required for a sustainable return of inflation to target.
"There are considerable uncertainties around the outlook. The Committee continues to judge that, if the outlook suggests more persistent inflationary pressures, it will respond forcefully, as necessary."
Data released on Wednesday by the Office for National Statistics showed that consumer price inflation eased to 10.7% in November from October's 41-year high of 11.1%, as transport costs fell back. This was below consensus expectations of 10.9%.
The FTSE maintained its losses after the announcement, while sterling fell further against the dollar, trading down 0.8% at 1.2328.
The BoE said in its statement that it now expects UK GDP to decline by 0.1% in the fourth quarter of this year, 0.2 percentage points stronger than was forecast in the November Report.
Rising rates will be good for savers, in theory, but will pile more pressure on homeowners in the midst of a cost-of-living crisis.
Giles Coghlan, chief market analyst at HYCM, said: "After a year of successive interest rate hikes and soaring inflation, today's decision from the Bank of England has not come as a surprise to economists or the markets, both of which had fully priced in another 50bps increase.
"While yesterday's CPI reading provided some respite to the economy, the cost-of-living grinds on and a print of 10.7% hardly constitutes a Christmas miracle.
"At its last meeting, the central bank projected a five-quarter recession, and with the Autumn statement out of the way, fiscal conservatism is the BoE's modus operandi. The UK is ultimately heading towards stagflation and a deep recession - especially if energy prices surge again once the Russian oil price cap and crude oil embargoes take place."
Overnight, the Fed hiked rates by 50 basis points, as expected, and struck a hawkish tone. Although this marked a slowdown in hikes, with the Fed having lifted rates by 75 basis points at each of its last four policy meetings, the central bank also adjusted up its expectations for rate rises next year.