BoE hikes rates by 50 basis points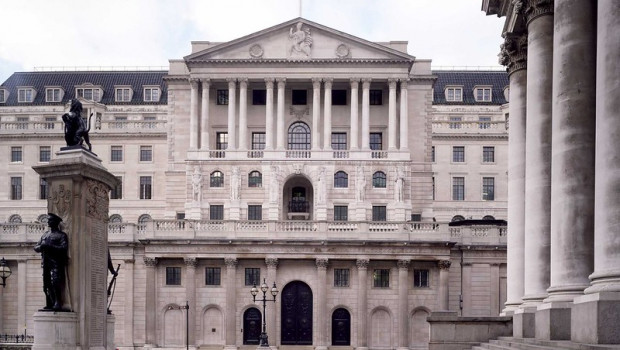 The Bank of England hiked interest rates by 50 basis points to 2.25% on Thursday as it looks to combat surging inflation
This follows a 50 basis points increase last month - the biggest in 27 years - and takes the benchmark rate to its highest level since 2008. It was the seventh consecutive rate increase.
Among the nine rate setters, five voted to raise rates by 50 basis points, three by 75bps and one opted for a 25bps hike.
"Should the outlook suggest more persistent inflationary pressures, including from stronger demand, the Committee would respond forcefully, as necessary," the Bank said in a statement.
Separately, the Monetary Policy Committee voted unanimously to approve plans set out in August for an £80bn reduction in the size of the Asset Purchase Facility over the next 12 months.
UK consumer price inflation eased to 9.9% in August from 10.1% in July and the BoE said on Thursday that given the Energy Price Guarantee announced earlier this month, the peak in measured CPI is now expected to be just under 11% in October, down from a previous forecast of 13%.
The new energy package means that household bills will be capped at £2,500 for two years, saving the average household around £1,000 a year.
"Nevertheless, energy bills will still go up and, combined with the indirect effects of higher energy costs, inflation is expected to remain above 10% over the following few months, before starting to fall back," the Bank said.
The BoE also said it now expects the economy to contract by 0.1% in the third quarter, down from a previous forecast for 0.4% growth and marking a second successive quarterly decline.
On Wednesday, the US Federal Reserve hiked interest rates by 75 basis points as expected and vowed to "keep at it" in the face of surging inflation. The US central bank also cut its economic growth expectation for this year to 0.2% from 1.7% growth in June.
Sterling pared gains against the dollar after the BoE announcement and by 1215 BST was trading up 0.2% at $1.1288.
Victoria Scholar, head of investment at Interactive Investor, said: "Today's announcement suggests the Bank of England is concerned about the UK's economic deteriorating outlook amid the looming threat of recession. The central bank's decision was more dovish than markets expected, particularly following the Fed's hawkish 75-basis point rise yesterday and the recent depreciation for the pound.
"The timid increase will do little to stem the slide in sterling but may avoid inadvertently inducing unnecessary pain for the economy which is already grappling with slowing demand and deteriorating confidence."