Bank of England hikes interest rates to 4%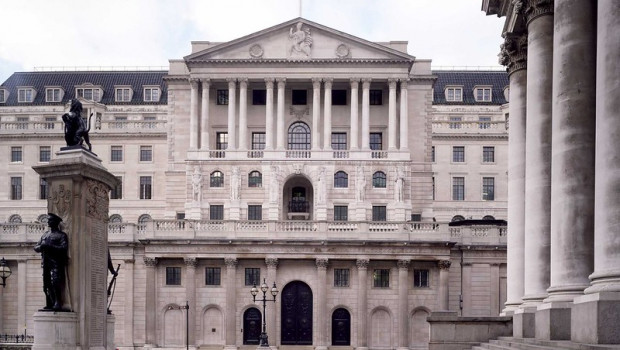 The Bank of England lifted interest rates on Thursday for the tenth month in a row, by 50 basis points as expected, but also hinted that inflation may have peaked.
Rates were lifted to 4% - the highest level since October 2008 - as the Bank looks to tackle inflation, which hit a 41-year high of 11.1% in October, reaching more than five times the BoE's 2% target.
The Monetary Policy Committee voted 7–2 to hike rates by 0.5 percentage points, with Swati Dhingra and Silvana Tenreyro opting to keep rates at 3.5%. They had also voted for no change in December.
The BoE said in a statement: "Global consumer price inflation remains high, although it is likely to have peaked across many advanced economies, including in the United Kingdom.
"Wholesale gas prices have fallen recently and global supply chain disruption appears to have eased amid a slowing in global demand.
"Many central banks have continued to tighten monetary policy, although market pricing indicates reductions in policy rates further ahead."
Looking ahead, the Bank said further tightening in monetary policy would be required "if there were to be evidence of more persistent pressures".
This marked a softening from its earlier stance, as the Bank had previously said it would "respond forcefully, as necessary" to signs of further inflation and that "further increases in Bank Rate may be required".
Sterling weakened on the back of the comments and by 1235 GMT, was trading down 0.7% against the dollar at 1.2292.
Paul Dales, chief UK economist at Capital Economics, said the new wording "implies that the Bank is no longer on autopilot and the incoming data will determine whether or not rates rise further".
"And any further rises are more likely to be of the 25bps variety rather than 50bps," he said.
The BoE also upgraded its growth projections for the UK. It still expects a technical recession this year, but said this will be shallower and shorter than originally forecast.
On Wednesday, the US Federal Reserve lifted interest rates by 25 basis points, as expected, but markets rallied after Chair Jerome Powell warned that more interest rate hikes were coming and said it would be "very premature to declare victory" on inflation but acknowledged that "the disinflationary process has started".
The European Central Bank, which is due to make its latest policy announcement at 1315 GMT, is also expected to hike rates by 50 basis points. This is despite data earlier this week showing that eurozone consumer price inflation fell in January to 8.5% from 9.2% in December. This was ahead of expectations of 9% and the lowest level since last May.