US open: Wall Street opens higher, extending last week's bounce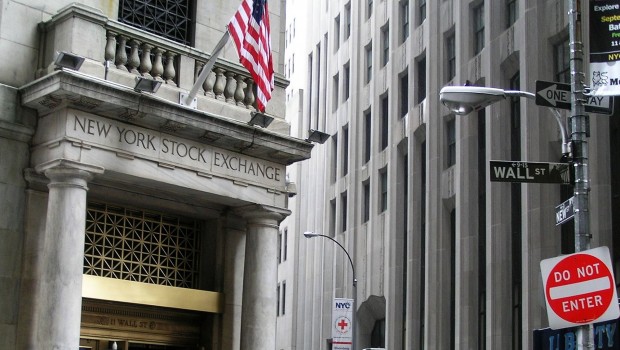 Wall Street's main indexes started higher on Monday, as stocks extended the bounce that began late on Friday, driven by technology and financial issues as stocks do their best to recover from their worst week since 2016.
As of 1500 GMT, the Dow Jones Industrial Average was up 1.17%, while the S&P 500 and Nasdaq were tacking on 0.97% and 1.09%, respectively.
In parallel, the Chicago Board of Options Exchange's volatility index was down by 5.20% to 27.55.
Connor Campbell, financial analyst at SpreadEx, said, "The Dow displayed a broadly positive, if jittery, vibe after the bell, rising anywhere between 200 and 300 points to lurk around 24450, having fallen as low as 23250 at moments during last week's turbulence. There is still a while to go in terms of the US session, however, and the Dow Jones has shown a predilection for saving its wilder behaviour for later in the day, so it's really far too early to speak with any confidence about the index's performance."
There are no major data points due, but after worries about inflation and rising interest rates prompted a selloff in equity markets last week, investors will be eyeing the release of the consumer price index for January on Wednesday. Economists expect headline inflation to rise 0.3%, while core inflation - which excludes food and energy costs - is seen edging up 0.2%
David Cheetham, chief market analyst at XTB, said, "Should this metric increase further than forecast then the body of evidence supporting stronger inflationary pressures in the world's largest economy will increase. The fear amongst some investors is that bond yields have been steadily creeping higher for some time now and in doing so they are showing signs of possibly breaking out of a downtrend that has been in place for the past three decades.
"Should yields continue to make sustained gains going forward then the recent declines in stocks may be just the beginning of a larger correction that is, by historical terms at least, becoming long overdue."
Investors were also on the lookout for comments from President Trump, who was set to outline his administration's infrastructure plans.
Republicans' plans were centred on using $200bn in federal money to leverage local and state tax dollars to fix the nation's "crumbling" infrastructure, such as roads, highways, ports and airports.
"Every federal dollar should be leveraged by partnering with state and local governments and where appropriate tapping into private sector investment to permanently fix the infrastructure deficit," Trump said in his State of the Union address in January.
Rabobank's senior FX strategist Jane Foley said: "Along with healthcare and tax reform, this was a key election pledge. Following on from concerns about how this could be funding, the $1.5trn proposal is expected to heavily rely on state and local governments for financing. $200bn in federal support is expected to be promised today and funded by cuts to existing programmes.
"Trump is scheduled to host both Democrat and Republican leaders at the White House on Wednesday to discuss the way forward for the proposals. The White House plan marks only a starting point for an infrastructure overhaul. It faces a difficult path given a deeply divided Senate and congressional elections later in the year."
In corporate news, shares in government IT business CSRA rocketed as much as 31.28% after it agreed to be bought out by General Dynamics for $9.6bn, and shares in Ryder System edged ahead after announcing it would lift its quarterly dividend by 13% to $0.52 per share thanks to the boost to earnings as a result of recent changes to the US tax system.
Iconix shares rose as much as 35.20% to $1.69 a share after it unveiled a cost savings plan alongside its new deal with retail giant Target, while Cisco Systems nudged ahead 2.07% after having its stock upgraded to 'buy' from 'neutral' by analysts at Instinet.
Elsewhere, front month West Texas Intermediate was up by 1.15% to $59.88 a barrel as OPEC raised its crude supply forecasts for this year, saying that strengthening global demand would continue to help eat up the excess supply of crude reserves.
The cartel added that supplies from producers outside OPEC would increase around 1.4m barrels a day throughout 2018 – with 1.3m barrels a day of the growth to come from the US itself.