US open: Stocks trade lower as China hits back at US with new tariffs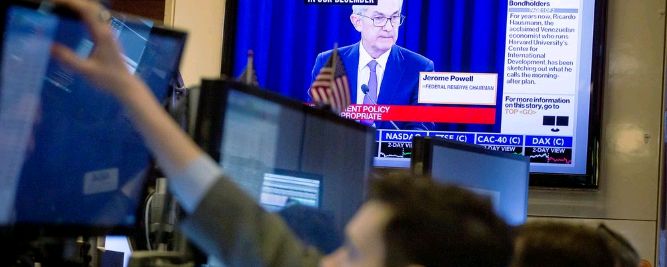 Stocks traded lower at the open on Friday following news that China was readying $75.0bn-worth of tariffs on US products and ahead of hotly anticipated comments from Federal Reserve Chairman Jerome Powell.
As of 1450 BST, The Dow Jones was down 0.47% at 26,129.67, while the S&P 500 was 0.54% weaker at 2,907.25 and the Nasdaq Composite came out of the gate 0.73% softer at 7,932,99.
The Dow opened 122.57 points lower as China unveiled a plan to impose additional 5-10% retaliatory tariffs on US exports worth $75.0bn in two tranches, on 1 September and 15 December.
The announcement followed comments by the editor-in-chief of China's Global Times who said: "Based on what I know, China will take further countermeasures in response to US tariffs on $300 billion Chinese goods. Beijing will soon unveil a plan of imposing retaliatory tariffs on certain US products".
It was also revealed that China will reimpose a 25% levy on US-made cars from 15 December, although certain American car and parts manufacturers would be allowed to apply for exemptions.
Investors were also looking ahead to a speech from Fed chair Jerome Powell, due at 1500 BST. Powell will have to present a unified voice on Fed policy from what has been one of the most divided Federal Reserves in recent times.
Both the Fed and Powell have suffered an unprecedented amount of criticism from Donald Trump as the US economy weakened and recession warnings started flashing red - leaving the President searching for someone else to blame as Washington's trade war with China has taken its toll heading into an election year.
Oanda's Craig Elam said: "Unfortunately for the Fed, the markets have very much turned against them now and are demanding swift and aggressive action. Trump will be very pleased. The Fed is clearly very reluctant and split, as comments from various officials on Thursday highlighted, which makes me think markets are positioned for disappointment."
Erlam added that given what had already been heard from Jackson Hole, it was hard to imagine Powell will be as dovish as markets were both demanding and expecting.
"There seems to be a lot of optimism and I'm still unconvinced he'll deliver which begs the question, just how disappointed will markets be? I fear the recession sirens may be ringing out loud going into the weekend," he said.
Fed funds futures were pricing a likelihood of almost 90% for a 25 basis point rate cut at the September meeting.
On the macroeconomic calendar, new home sales figures for July will be published at 1500 BST.
On the corporate front, Foot Locker shares plummeted after the sneaker specialist reported an earnings and sales miss, while shares in accessories retailer Buckle advanced after beating consensus on both the top and bottom line.
Trade bellwether Caterpillar was down 1.83% in early trading, while Intel, Nike, 3M and Dow Inc all weighed on the Dow Jones with losses of more than 1% at the open.