US open: Stocks trade higher as jobless claims retreat, earnings roll in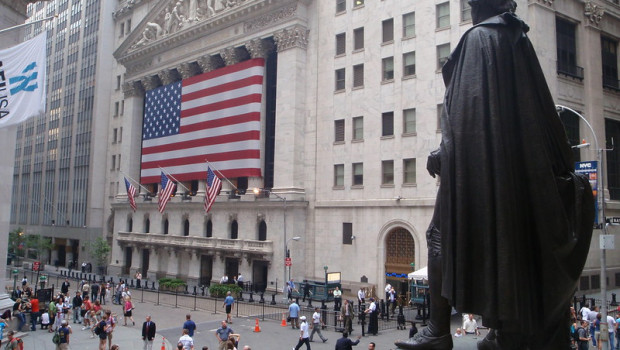 Wall Street stocks traded sharply higher at the open on Thursday as investors digested more quarterly earnings and the Labor Department's weekly jobless claims report.
As of 1545 BST, the Dow Jones Industrial Average was up 1.25% at 34,808.46, while the S&P 500 was 1.28% firmer at 4,419.74 and the Nasdaq Composite came out the gate 1.34% stronger at 14,767.42.
The Dow opened 430.65 points higher on Thursday after seeing out the previous session flat.
As always, Thursday's primary focus was the Labor Department's weekly jobless claims report, which revealed the number of Americans filing for unemployment claims undershot forecasts again last week, retreating to their lowest level since near the start of the Covid-19 pandemic.
According to the US Department of Labor, in seasonally adjusted terms, the number of people who filed for initial unemployment claims dropped by 36,000 over the week ended 9 October to reach 293,000 - better than expectations for a print of 315,000
Corporate results were also in focus on Thursday, with earnings from Walgreens Boots Alliance topping quarterly earnings estimates amid stronger-than-expected demand for Covid vaccines, while Domino's Pizza shares retreated despite beating estimates.
Citigroup reported a surge in third-quarter investment banking revenues as it benefitted from a boom in M&A activity and Morgan Stanley's third-quarter results also beat expectations as it posted record revenues for the investment banking business.
US banking giant Bank of America reported quarterly earnings that beat expectations thanks to better-than-expected loan losses and record advisory and asset management fees, while Wells Fargo posted better-than-expected income and profits for its recently ended quarter thanks to sharp declines in costs and provisions.
Elsewhere on the macro front, wholesale inflation in the US rose a bit less quickly than anticipated last month, despite big jumps for energy and food prices. According to the Department of Labor, final demand prices rose at a month-on-month pace of 0.5% in September, just lower than consensus estimates for a print of 0.6%, as energy prices were 2.8% higher on the month and food inflation came in at 2.0%.
Still to come, last month's Federal budget statement was slated for release at 1900 BST.
Elsewhere in the company space, Carnival shares were in the green, as were MGM Resorts, as stocks tied to an economic recovery gained in early trade, while UPS stock advanced following an upgrade from analysts at Stifel due to upcoming holiday demand.