US open: Stocks mixed as traders digest data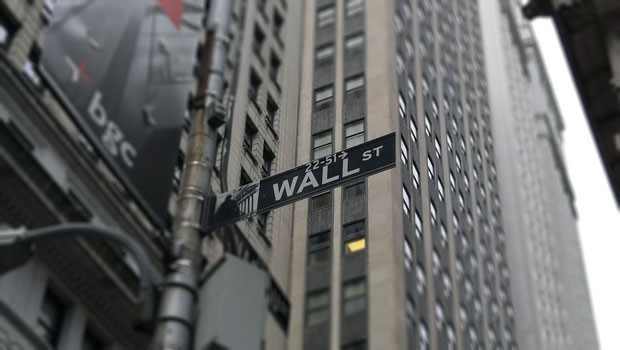 Wall Street stocks were mixed early on Tuesday as traders digested a number of data points amid easing concerns about the current state of the US banking sector.
As of 1525 BST, the Dow Jones Industrial Average was up 0.21% at 32,499.49, while the S&P 500 slipped 0.11% to 3,973.25 and the Nasdaq Composite came out the gate 0.52% weaker at 11,707.64.
The Dow opened 67.41 points higher on Tuesday, modestly building on gains recorded in the previous session.
Multiple macro points were in focus at the opening bell, with an advance reading of the Census Bureau's goods trade balance revealing the US trade deficit widened from a revised print of $91.09bn in January to $91.63bn in February, driven by weakening global demand stemming from the cost of living crunch and heightened borrowing costs.
On another note, an advance reading of February's wholesale inventories report revealed wholesale inventories increased 0.2% month-on-month, rebounding from an upwardly revised 0.5% drop in January. According to the Census Bureau, inventories were up 0.6% for durables, while non-durable inventories decreased 0.4%,
Elsewhere, the Conference Board's consumer confident index rose from 103.4 in February to 104.2 in March, ahead of preliminary expectations for a reading of 101.0. "Driven by an uptick in expectations, consumer confidence improved somewhat in March, but remains below the average level seen in 2022," said the Conference Board's Ataman Ozyildirim. "While consumers feel a bit more confident about what's ahead, they are slightly less optimistic about the current landscape."
Finally, the Federal Housing Finance Agency's US housing index increased to 393.17 points in January, up from 392.39 points in December.
Also drawing an amount of investor attention will be Federal Reserve banker Michael Barr, who will deliver comments before the Senate Banking Committee and speak on both recent bank failures and the central bank's response to them.
In the corporate space, Lyft shares rallied almost 6% in early trading after the rideshareing giant named its new chief executive and revealed that its co-founders will step away from their day-to-day roles with the firm.
Earnings were also in focus, with transatlantic pharmacy giant Walgreens Boots Alliance reporting second quarter results that came in line with expectations as it said it was on track to meet full-year guidance, while Cholula hot sauce maker McCormick beat quarterly estimates as higher prices pushed sales to a record high despite volume declines.
Semiconductor giant Micron Technology will report earnings after the close.
Reporting by Iain Gilbert at Sharecast.com
Dow Jones - Risers
Walgreens Boots Alliance, Inc. (WBA) $34.05 3.37%
Boeing Co. (BA) $205.05 2.23%
3M Co. (MMM) $102.64 1.13%
Dow Chemical Co. (DOW) $52.58 1.11%
Caterpillar Inc. (CAT) $220.23 1.02%
McDonald's Corp. (MCD) $275.89 0.75%
Chevron Corp. (CVX) $158.78 0.72%
JP Morgan Chase & Co. (JPM) $129.20 0.55%
Verizon Communications Inc. (VZ) $38.24 0.49%
Amgen Inc. (AMGN) $237.78 0.43%
Dow Jones - Fallers
Microsoft Corp. (MSFT) $273.78 -0.94%
Intel Corp. (INTC) $28.92 -0.91%
Apple Inc. (AAPL) $157.07 -0.77%
American Express Co. (AXP) $162.17 -0.58%
Walmart Inc. (WMT) $143.96 -0.15%
Cisco Systems Inc. (CSCO) $50.51 -0.07%
Nike Inc. (NKE) $117.75 -0.05%
Merck & Co. Inc. (MRK) $106.90 -0.03%
Johnson & Johnson (JNJ) $153.26 -0.02%
Dowdupont Inc. (DWDP) $0.00 0.00%
S&P 500 - Risers
PVH Corp. (PVH) $87.93 19.44%
McCormick & Co. (MKC) $82.13 10.90%
Carnival Corp. (CCL) $9.23 5.01%
Ralph Lauren Corp (RL) $117.26 3.97%
Macy's Inc. (M) $17.76 3.86%
Bath & Body Works, Inc. (BBWI) $38.10 3.84%
Walgreens Boots Alliance, Inc. (WBA) $34.05 3.37%
Royal Caribbean Cr (RCL) $62.07 2.61%
Tapestry Inc. (TPR) $41.74 2.44%
Kohls Corp. (KSS) $22.21 2.40%
S&P 500 - Fallers
Monster Beverage Corp (MNST) $52.40 -49.94%
Advanced Micro Devices Inc. (AMD) $93.51 -3.20%
Seagate Technology Plc (STX) $60.47 -2.48%
Arista Networks Inc. (ANET) $164.16 -2.26%
Micron Technology Inc. (MU) $58.51 -2.13%
Charles Schwab Corp. (SCHW) $53.73 -2.06%
Nvidia Corp. (NVDA) $259.96 -2.02%
Meta Platforms Inc. (META) $198.81 -1.99%
Alphabet Inc. Class A (GOOGL) $100.49 -1.92%
Alphabet Inc. Class C (GOOG) $101.12 -1.88%
Nasdaq 100 - Risers
Walgreens Boots Alliance, Inc. (WBA) $34.05 3.37%
Baidu Inc. (BIDU) $157.63 3.21%
JD.com, Inc. (JD) $40.90 2.82%
NetEase Inc. Ads (NTES) $90.15 2.04%
Ross Stores Inc. (ROST) $102.19 1.55%
O'Reilly Automotive Inc. (ORLY) $830.55 1.41%
Dollar Tree Inc (DLTR) $140.66 1.39%
Dish Network Corp. (DISH) $8.72 1.34%
Sirius XM Holdings Inc (SIRI) $3.80 1.33%
CSX Corp. (CSX) $29.13 1.32%
Nasdaq 100 - Fallers
Monster Beverage Corp (MNST) $52.40 -49.94%
Seagate Technology Plc (STX) $60.47 -2.48%
Qurate Retail Inc. (QRTEA) $0.85 -2.47%
Micron Technology Inc. (MU) $58.51 -2.13%
Nvidia Corp. (NVDA) $259.96 -2.02%
Meta Platforms Inc. (META) $198.81 -1.99%
Alphabet Inc. Class A (GOOGL) $100.49 -1.92%
Alphabet Inc. Class C (GOOG) $101.12 -1.88%
Western Digital Corp. (WDC) $34.60 -1.73%
Lam Research Corp. (LRCX) $487.22 -1.72%