US open: Stocks lower as traders digest NFP data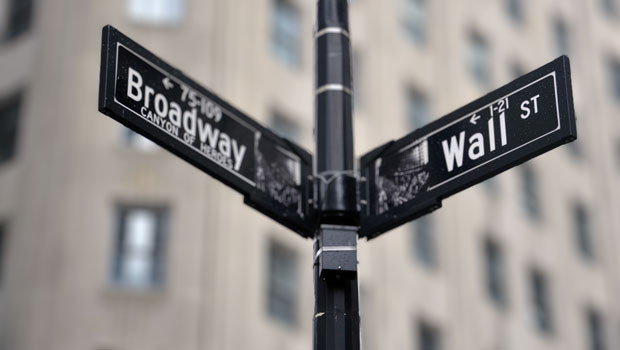 Wall Street futures were in the red early on Friday as traders digested some key labour data.
As of 1530 GMT, the Dow Jones Industrial Average was down 0.06% at 34,033.07, while the S&P 500 lost 0.39% at 4,163.44 and the Nasdaq Composite came out the gate 0.47% weaker at 12,143.33.
The Dow opened 20.87 points lower on Friday, extending losses recorded in the previous session.
Friday's primary focus will be on news that hiring in the US shot higher at the start of 2023. According to the Department of Labor, non-farm payrolls jumped by a seasonally adjusted rate of 517,000 in January. Economists had been expecting a rise of 170,000.
Elsewhere on the macro front, the S&P Global manufacturing PMI was revised slightly higher to 46.9 in January, up from a preliminary estimate of 46.8, pointinng to a third consecutive month of falling factory activity. The services PMI was also revised slightly higher to 46.8 in January from a preliminary reading of 46.6 for a sixth straight month of declines.
On another note, the Institute for Supply Management's services PMI unexpectedly jumped to 55.2 in January, rebounding sharply from a more than 2.5-year low of 49.2 in December and beating market expectations for a print of 50.4.
No major corporate earnings were slated for release on Friday.
Reporting by Iain Gilbert at Sharecast.com
Dow Jones - Risers
Apple Inc. (AAPL) $154.84 2.67%
Caterpillar Inc. (CAT) $249.35 1.82%
American Express Co. (AXP) $176.16 1.75%
Chevron Corp. (CVX) $170.87 1.10%
JP Morgan Chase & Co. (JPM) $140.04 0.79%
Intel Corp. (INTC) $30.36 0.58%
Goldman Sachs Group Inc. (GS) $371.59 0.57%
Travelers Company Inc. (TRV) $182.10 0.20%
Unitedhealth Group Inc. (UNH) $471.19 0.08%
Dowdupont Inc. (DWDP) $0.00 0.00%
Dow Jones - Fallers
Home Depot Inc. (HD) $332.11 -2.26%
3M Co. (MMM) $118.37 -1.60%
Amgen Inc. (AMGN) $242.79 -1.52%
Walmart Inc. (WMT) $141.87 -1.22%
Coca-Cola Co. (KO) $59.58 -1.15%
Cisco Systems Inc. (CSCO) $48.76 -1.15%
Walgreens Boots Alliance, Inc. (WBA) $37.29 -1.10%
Microsoft Corp. (MSFT) $262.25 -0.89%
Walt Disney Co. (DIS) $112.27 -0.83%
Verizon Communications Inc. (VZ) $41.51 -0.75%
S&P 500 - Risers
Nordstrom Inc. (JWN) $25.91 22.56%
Clorox Co. (CLX) $150.86 6.99%
Hanesbrands Inc. (HBI) $6.55 4.38%
FMC Technologies Inc. (FTI) $13.51 3.80%
Kohls Corp. (KSS) $35.35 3.76%
Schlumberger Ltd. (SLB) $54.17 3.60%
Gilead Sciences Inc. (GILD) $84.28 3.55%
Regeneron Pharmaceuticals Inc. (REGN) $776.83 3.41%
Gap Inc. (GPS) $15.30 3.38%
National Oilwell Varco Inc. (NOV) $23.66 3.05%
S&P 500 - Fallers
Gen Digital Inc. (GEN) $21.35 -9.40%
Ford Motor Co. (F) $13.14 -8.24%
Amazon.Com Inc. (AMZN) $107.07 -5.17%
CenturyLink Inc. (LUMN) $5.36 -4.37%
Intuit Inc. (INTU) $434.03 -4.01%
Dominion Energy Inc. (D) $59.55 -3.95%
Crown Castle International (CCI) $146.85 -3.73%
Eversource Energy (ES) $80.32 -3.69%
Starbucks Corp. (SBUX) $105.17 -3.65%
Align Technology Inc. (ALGN) $346.91 -3.60%
Nasdaq 100 - Risers
Tesla Inc (TSLA) $196.60 4.42%
Gilead Sciences Inc. (GILD) $84.28 3.55%
Regeneron Pharmaceuticals Inc. (REGN) $776.83 3.41%
Microchip Technology Inc. (MCHP) $86.91 2.82%
Apple Inc. (AAPL) $154.84 2.67%
Qurate Retail Inc. (QRTEA) $2.77 1.47%
QUALCOMM Inc. (QCOM) $137.50 1.21%
Meta Platforms Inc. (META) $190.90 1.13%
Wynn Resorts Ltd. (WYNN) $103.70 0.72%
Intel Corp. (INTC) $30.36 0.58%
Nasdaq 100 - Fallers
Gen Digital Inc. (GEN) $21.35 -9.40%
Amazon.Com Inc. (AMZN) $107.07 -5.17%
Vodafone Group Plc ADS (VOD) $11.15 -4.04%
Intuit Inc. (INTU) $434.03 -4.01%
Baidu Inc. (BIDU) $145.71 -3.69%
Starbucks Corp. (SBUX) $105.17 -3.65%
Align Technology Inc. (ALGN) $346.91 -3.60%
Idexx Laboratories Inc. (IDXX) $486.11 -3.59%
Illumina Inc. (ILMN) $217.34 -3.38%
Take-Two Interactive Software Inc. (TTWO) $111.00 -3.24%