US open: Stocks little changed ahead of Fed minutes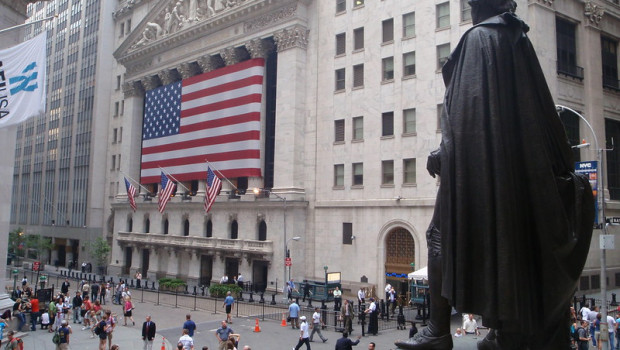 Investors on Wall Street were in a skittish mood at the start of trading as a better-than-expected reading for a key survey of services sector activity nudged longer-term government bond yields higher.
As at 1507 BST, the Dow Jones Industrials was drifting lower by 0.13% or 39.76 points to 30,937.40, having started the session a tad higher.
In parallel, the S&P 500 was off by 0.1% to 3,828.92 and the Nasdaq Composite was 0.15% lower at 11,308.48.
The yield on the benchmark 10-year US Treasury note was five basis points higher alongside to 2.85% and at its best level of the morning.
The Greenback was benefitting from a resulting bid with the US dollar index adding 0.61% to 107.18, while the euro was fast approaching parity.
Still ahead for later in the day was the release of the minutes of the US Federal Reserve's 14-15 June policy meeting.
Analysts were keen for any fresh insight that might help them refine their calls for the next Fed meeting, chiefly whether official short-term interest rates would be hiked by 50 or 75 basis points.
Pushing bond yields up, the Institute for Supply Management's closely-followed services sector Purchasing Managers' Index dipped from 55.9 in May to 55.3 for June (consensus: 54.3).
In a potential sign of cooling demand for labour, the number of job openings in the US declined from approximately 11.68m in April to about 11.25m in May, the Department of Labor reported.
Yet the proportion of so-called 'quits' or of people voluntary leaving their jobs dipped by just one tenth of a percentage point from the month before to 2.9%.