US open: Stocks higher as Omicron-fuelled volatility continues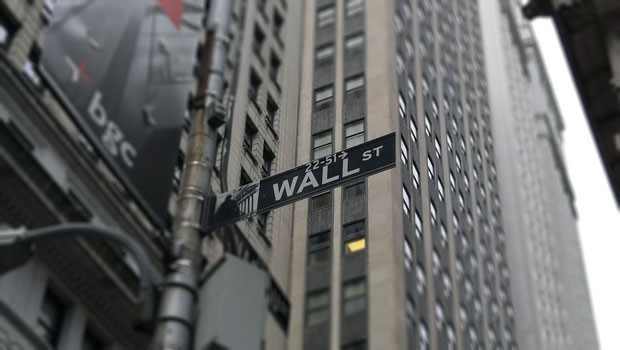 Wall Street stocks were in the green early on Wednesday as Omicron variant-fuelled volatility continues.
As of 1545 GMT, the Dow Jones Industrial Average was up 0.91% at 34,796.08, while the S&P 500 was 1.24% firmer at 4,623.67 and the Nasdaq Composite came out the gate 1.09% stronger at 15,707.22.
The Dow opened 312.36 points higher on Wednesday, taking a bite out of heavy losses recorded in the previous session as concerns regarding the new Covid-19 variant and news that the Federal Reserve was mulling a quicker-than-initially-expected exit from easy monetary policy both weighed on markets.
Federal Reserve chairman Jerome Powell shook markets yesterday after he said the central bank would discuss speeding up the taper of its minimum $120.0bn a month bond-buying programme despite the potential disruption presented by the Omicron variant, with the Fed head stating he believes cutting the pace of monthly bond-buying can now move quicker than the $15.0bn a month rate outlined earlier in the month.
Treasury yields moved higher on the news, with the yield on the benchmark 10-year Treasury note hovering around 1.487% after falling to approximately 1.45% in the previous session.
Energy shares moved higher early on Wednesday, while cruise and retail stocks also advanced following yesterday's sharp sell-off.
On the macro front, the Mortgage Bankers Association revealed applications to refinance a home slumped 15% in the week ended 26 November as the average rate on a 30-year mortgage with conforming loan balances increased to 3.31% from 3.24%, with points rising to 0.43 from 0.36 for loans with a 20% down payment. Mortgage applications to purchase a home rose 5% week-on-week but were 8% lower than at the same time a year ago.
Elsewhere, private sector employment in the US grew a little more than expected in November, according to the latest data from ADP. Employment rose by 534,000 from October, coming in ahead of expectations for a 525,000 increase. Meanwhile, the October total of jobs added was revised from 571,000 to 570,000.
On a different note, IHS Markit's final manufacturing PMI for November came in at 58.3, lower than expected, while the Institute for Supply Management's November manufacturing PMI came to 61.1, an increase of 0.3 from October.
Lastly, October's construction spending report revealed spending also rose at slower than expected clip, but a positive historical revision helped somewhat offset the miss.
Dow Jones - Risers
American Express Co. (AXP) $156.58 2.81%
Chevron Corp. (CVX) $115.62 2.44%
JP Morgan Chase & Co. (JPM) $162.56 2.35%
Travelers Company Inc. (TRV) $149.94 2.04%
Goldman Sachs Group Inc. (GS) $388.56 1.99%
Unitedhealth Group Inc. (UNH) $452.80 1.93%
Nike Inc. (NKE) $172.44 1.89%
Walt Disney Co. (DIS) $147.59 1.86%
Merck & Co. Inc. (MRK) $76.30 1.86%
Caterpillar Inc. (CAT) $196.78 1.77%
Dow Jones - Fallers
Salesforce.Com Inc. (CRM) $266.26 -6.56%
Walmart Inc. (WMT) $140.10 -0.38%
Dowdupont Inc. (DWDP) $30.52 0.00%
Honeywell International Inc. (HON) $230.94 0.00%
Dow Chemical Co. (DOW) $55.01 0.15%
Visa Inc. (V) $194.34 0.29%
Boeing Co. (BA) $199.05 0.61%
International Business Machines Corporation (CDI) (IBM) $117.94 0.72%
Johnson & Johnson (JNJ) $157.39 0.94%
Verizon Communications Inc. (VZ) $50.78 1.02%
S&P 500 - Risers
Vertex Pharmaceuticals Inc. (VRTX) $197.94 5.88%
HollyFrontier Corp (HFC) $34.08 5.45%
Lennar Corp. Class A (LEN) $110.69 5.37%
Ford Motor Co. (F) $20.19 5.24%
Ralph Lauren Corp (RL) $122.09 5.21%
Valero Energy Corp. (VLO) $70.39 5.15%
FMC Technologies Inc. (FTI) $5.95 5.03%
Arconic Inc. (ARNC) $28.06 5.01%
Darden Restaurants Inc. (DRI) $144.82 4.98%
Micron Technology Inc. (MU) $88.15 4.94%
S&P 500 - Fallers
Salesforce.Com Inc. (CRM) $266.26 -6.56%
Hologic Inc. (HOLX) $72.88 -2.48%
Fortinet Inc. (FTNT) $324.33 -2.34%
NortonLifeLock Inc. (NLOK) $24.48 -1.51%
Hewlett Packard Enterprise (HPE) $14.16 -1.32%
Pinnacle West Capital Corp. (PNW) $64.26 -1.21%
Akamai Technologies Inc. (AKAM) $111.47 -1.09%
Hershey Foods Corp. (HSY) $176.12 -0.77%
VeriSign Inc. (VRSN) $238.57 -0.56%
Verisk Analytics Inc. (VRSK) $223.74 -0.50%
Nasdaq 100 - Risers
Vertex Pharmaceuticals Inc. (VRTX) $197.94 5.88%
Micron Technology Inc. (MU) $88.15 4.94%
Microchip Technology Inc. (MCHP) $87.45 4.82%
NetEase Inc. Ads (NTES) $112.92 4.81%
Applied Materials Inc. (AMAT) $153.21 4.09%
Asml Holdings N.V. (ASML) $823.04 3.98%
Seagate Technology Plc (STX) $106.65 3.88%
JD.com, Inc. (JD) $87.36 3.86%
Liberty Global plc Series C (LBTYK) $27.64 3.75%
Liberty Global plc Series A (LBTYA) $27.39 3.75%
Nasdaq 100 - Fallers
Hologic Inc. (HOLX) $72.88 -2.48%
NortonLifeLock Inc. (NLOK) $24.48 -1.51%
Workday, Inc. (WDAY) $270.22 -1.46%
Mercadolibre Inc. (MELI) $1,180.00 -0.71%
Verisk Analytics Inc. (VRSK) $223.74 -0.50%
Illumina Inc. (ILMN) $363.55 -0.49%
Automatic Data Processing Inc. (ADP) $230.39 -0.22%
Adobe Systems Inc. (ADBE) $668.70 -0.17%
Baidu Inc. (BIDU) $149.62 -0.15%
Alexion Pharmaceuticals Inc. (ALXN) $182.50 0.00%