US open: Stocks head south, Fed rate decision still in focus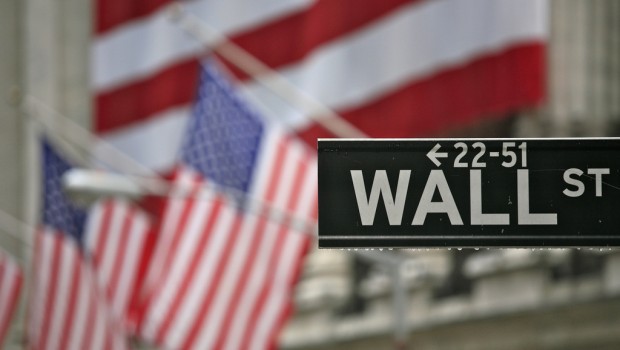 Wall Street stocks were in the red at the open on Friday, setting the Dow Jones on a course for its worst week since January as market participants continued to digest the Federal Reserve's latest policy update.
As of 1535 BST, the Dow Jones Industrial Average was down 1.33% at 33,374.69, while the S&P 500 opened 0.91% weaker at 4,183.61 and the Nasdaq Composite came out the gate 0.49% softer at 14,091.49.
The Dow opened 448.76 points lower on Friday, extending losses recorded in the previous session.
Traders were still mulling over a move by Central bankers in the US to nudge up their individual projections for short-term interest rates in 2022 and 2023 at their two-day policy meeting, with the median projection of participants on the Federal Open Market Committee now being for two hikes in 2023.
However, Fed chair Jerome Powell stated the projections should be taken with "a big grain of salt" and said the central bank would continue to monitor the US economic recovery and vowed to provide "advanced notice" before any updates regarding the tapering of the central bank's bond-buying program.
Stocks extended losses on Friday after St Louis Fed president Jim Bullard said it was natural for the central bank to turn a little "hawkish" this week.
In the corporate space, Adobe shares were up in early trading after posting quarterly results that topped earnings and revenue estimates, while Nvidia shares also traded higher as chip stocks extended their solid week-to-date performance.
No major data points were slated for release on Friday.
Dow Jones - Risers
Salesforce.Com Inc. (CRM) $244.78 0.14%
Microsoft Corp. (MSFT) $261.25 0.13%
Honeywell International Inc. (HON) $230.94 0.00%
Dowdupont Inc. (DWDP) $30.52 0.00%
Caterpillar Inc. (CAT) $209.07 -0.18%
Visa Inc. (V) $231.37 -0.34%
Apple Inc. (AAPL) $131.02 -0.58%
Merck & Co. Inc. (MRK) $76.64 -0.76%
Walt Disney Co. (DIS) $173.16 -0.85%
Procter & Gamble Co. (PG) $132.84 -0.86%
Dow Jones - Fallers
Intel Corp. (INTC) $55.32 -3.25%
Walgreens Boots Alliance, Inc. (WBA) $51.13 -3.18%
Goldman Sachs Group Inc. (GS) $351.38 -2.80%
American Express Co. (AXP) $157.72 -2.72%
JP Morgan Chase & Co. (JPM) $148.09 -2.42%
Travelers Company Inc. (TRV) $145.31 -2.39%
Unitedhealth Group Inc. (UNH) $389.09 -2.08%
Walmart Inc. (WMT) $134.91 -2.04%
Dow Chemical Co. (DOW) $62.26 -2.01%
Chevron Corp. (CVX) $104.97 -1.96%
S&P 500 - Risers
Nvidia Corp. (NVDA) $768.14 2.93%
Lennar Corp. Class A (LEN) $96.97 2.45%
Adobe Systems Inc. (ADBE) $564.82 2.44%
Helmerich & Payne Inc. (HP) $32.55 1.59%
Occidental Petroleum Corp. (OXY) $28.63 1.45%
H&R Block Inc. (HRB) $23.58 1.44%
Autodesk Inc. (ADSK) $280.18 1.39%
Abiomed Inc. (ABMD) $315.88 1.04%
Synopsys Inc. (SNPS) $266.90 0.66%
Mettler Toledo International (MTD) $1,376.66 0.63%
S&P 500 - Fallers
Lincoln National Corp. (LNC) $59.68 -4.37%
Alliance Data Systems Corp. (ADS) $102.49 -4.24%
Micron Technology Inc. (MU) $77.29 -4.15%
FMC Technologies Inc. (FTI) $8.82 -4.08%
Gap Inc. (GPS) $31.06 -4.07%
Brighthouse Financial, Inc. (BHF) $43.56 -3.97%
Borg Warner Inc. (BWA) $47.58 -3.77%
Under Armour Inc. Class A (UAA) $19.34 -3.69%
Capital One Financial Corp. (COF) $148.06 -3.58%
Huntington Bancshares Inc. (HBAN) $13.04 -3.55%
Nasdaq 100 - Risers
Nvidia Corp. (NVDA) $768.14 2.93%
Adobe Systems Inc. (ADBE) $564.82 2.44%
Autodesk Inc. (ADSK) $280.18 1.39%
Synopsys Inc. (SNPS) $266.90 0.66%
Xilinx Inc. (XLNX) $133.02 0.51%
Biogen Inc (BIIB) $385.42 0.50%
Regeneron Pharmaceuticals Inc. (REGN) $538.40 0.45%
Amazon.Com Inc. (AMZN) $3,504.28 0.43%
Netflix Inc. (NFLX) $500.42 0.42%
Cadence Design Systems Inc. (CDNS) $131.45 0.41%
Nasdaq 100 - Fallers
Micron Technology Inc. (MU) $77.29 -4.15%
Western Digital Corp. (WDC) $68.43 -3.31%
Intel Corp. (INTC) $55.32 -3.25%
Applied Materials Inc. (AMAT) $132.93 -3.20%
Walgreens Boots Alliance, Inc. (WBA) $51.13 -3.18%
Seagate Technology Plc (STX) $86.13 -3.03%
Lam Research Corp. (LRCX) $620.88 -2.95%
Vodafone Group Plc ADS (VOD) $17.85 -2.80%
Qurate Retail Inc. (QRTEA) $12.69 -2.76%
Liberty Global plc Series C (LBTYK) $26.87 -2.68%