US open: Stocks edge higher on trade talk hopes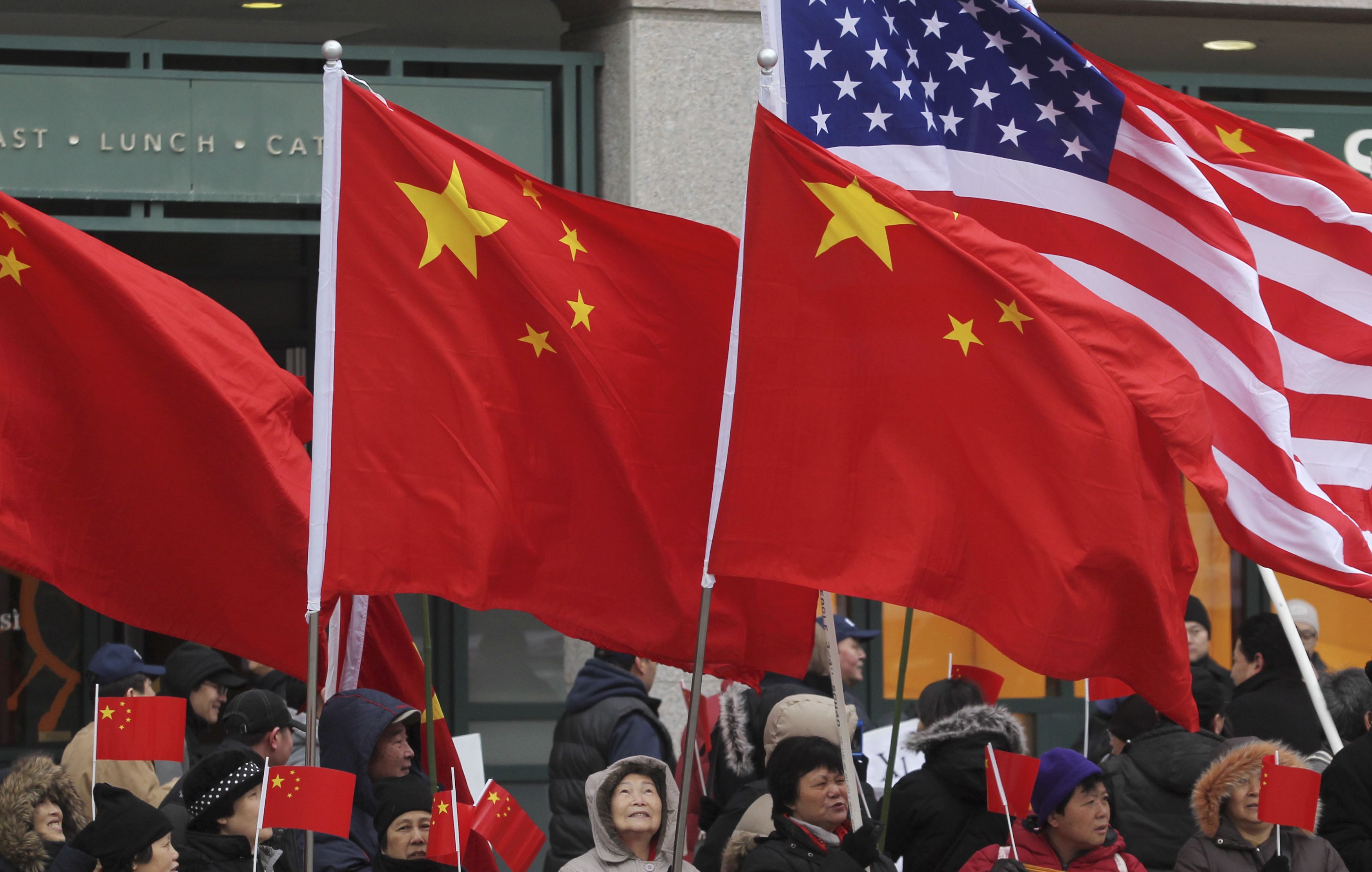 Trading on Wall Street began with a slightly positive tone on Monday following a report of a "peace proposal" from Beijing.
According to Politico, which cited two persons familiar with the matter, in a phone call between top trade officials made during the previous week, China offered to purchase a modest amount of US agricultural goods, albeit possibly contingent on the US letting up on some of the pressure against Chinese telecoms equipment maker Huawei and postponing the next round of trade levies which was due to kick in on 1 October.
Politico also reported on Friday that, depending on the progress made in trade talks, President Donald Trump was also considering delaying the tranche of trade tariffs that was scheduled to be implemented on 15 December.
As of 1556 BST, the Dow Jones Industrials was adding 92.78 points to 26,892.97, alongside an advance of 6.05 points for the S&P 500 to 2,984.85 and a rise of 12.92 points for the Nasdaq Composite to 8,118.98.
In parallel, front month West Texas Intermediate crude oil futures were adding 2.23% to $57.80 a barrel on the ICE after consultancy Baker Hughes reported a drop in the number of oil rigs in operation in the States over the latest week, from 742 to 738.
And the US dollar spot index was drifting 0.17% lower to 98.2290.
Elsewhere , the US Chamber of Commerce published an analysis showing that 43% of Fortune 500 company executives had raised or addressed worries regarding the US trade duties.
On a related note, analysts at Deutsche Bank told clients on Monday that the US economy was on a "reasonably stable footing" but added that "the trade spat has gone beyond our expectations. The economy is also showing greater sensitivity to this turmoil, with leading indicators for manufacturing sentiment and capex sending dire signals and accumulating evidence of spillovers to the broader labor market and services sector."
With positive implications for stocks however, analysts at UBS labelled the recent easing in financial conditions as "extraordinary" .
"The US 10yr is down ~100bp, way ahead of downgrades to GDP (-10bp) and EPS growth (>10%)," they said
No major economic reports were scheduled for release.
In an interview with Bloomberg Businessweek, Microsoft President and chief legal officer, Brad Smith, criticised the lack of transparency around Washington's moves against Huawei.
Alcoa shares were seeing solid gains after announcing plans to eliminate its structure of separate business units with a view to reducing overheads.
AT&T was moving up as well buoyed by news that activist investor Elliott Management had amassed a $3.2bn stake in the telecommunications carrier.
Altria was also ahead, benefiting from news that the Food and Drug Administration had issued a warning letter to Juul Labs for selling 'unauthorised modified risk' tobacco products.
Dow Jones - Risers
Walgreens Boots Alliance, Inc. (WBA) $54.69 4.05%
Caterpillar Inc. (CAT) $126.51 3.11%
Goldman Sachs Group Inc. (GS) $212.32 2.47%
JP Morgan Chase & Co. (JPM) $115.32 2.40%
3M Co. (MMM) $167.57 2.22%
Intel Corp. (INTC) $51.80 1.73%
Exxon Mobil Corp. (XOM) $71.93 1.41%
Walmart Inc. (WMT) $116.17 1.26%
Apple Inc. (AAPL) $215.73 1.16%
International Business Machines Corp. (IBM) $142.16 1.13%
Dow Jones - Fallers
Merck & Co. Inc. (MRK) $83.47 -3.58%
Travelers Company Inc. (TRV) $149.20 -2.38%
Visa Inc. (V) $182.66 -1.66%
Coca-Cola Co. (KO) $54.53 -1.26%
Johnson & Johnson (JNJ) $126.71 -1.17%
McDonald's Corp. (MCD) $217.79 -1.02%
Microsoft Corp. (MSFT) $137.80 -0.93%
Boeing Co. (BA) $359.68 -0.91%
Pfizer Inc. (PFE) $36.25 -0.68%
Procter & Gamble Co. (PG) $122.18 -0.56%
S&P 500 - Risers
Helmerich & Payne Inc. (HP) $40.66 5.80%
Noble Energy Inc. (NBL) $23.97 5.55%
National Oilwell Varco Inc. (NOV) $23.35 5.32%
Affiliated Mgrs Group (AMG) $82.46 4.87%
Schlumberger Ltd. (SLB) $35.81 4.71%
Halliburton Co. (HAL) $19.98 4.64%
Cimarex Energy Co (XEC) $44.22 4.61%
Bank Of New York Mellon Corp. (BK) $44.97 4.52%
Concho Resouces Inc. (CXO) $72.71 4.35%
Xerox Corp. (XRX) $31.12 4.25%
S&P 500 - Fallers
Merck & Co. Inc. (MRK) $83.47 -3.58%
Teleflex Inc. (TFX) $344.07 -3.40%
Sba Communications Corp. (SBAC) $253.83 -3.26%
Ball Corp (BLL) $75.78 -3.22%
Idexx Laboratories Inc. (IDXX) $279.42 -3.14%
Paypal Holdings Inc (PYPL) $106.62 -3.12%
Accenture Plc (ACN) $195.11 -2.99%
Church Dwight Co Inc. (CHD) $73.71 -2.89%
Edwards Lifesciences Corp. (EW) $219.84 -2.85%
Regeneron Pharmaceuticals Inc. (REGN) $283.86 -2.79%
Nasdaq 100 - Risers
Qurate Retail Inc. (QRTEA) $11.73 4.96%
Walgreens Boots Alliance, Inc. (WBA) $54.69 4.05%
American Airlines Group (AAL) $28.71 3.30%
PACCAR Inc. (PCAR) $70.52 3.19%
Microchip Technology Inc. (MCHP) $93.17 2.93%
Nvidia Corp. (NVDA) $183.78 2.87%
Kraft Heinz Co. (KHC) $28.04 2.77%
Wynn Resorts Ltd. (WYNN) $114.27 2.54%
eBay Inc. (EBAY) $41.28 2.27%
Netflix Inc. (NFLX) $296.45 2.16%
Nasdaq 100 - Fallers
Idexx Laboratories Inc. (IDXX) $279.42 -3.14%
Paypal Holdings Inc (PYPL) $106.62 -3.12%
Regeneron Pharmaceuticals Inc. (REGN) $283.86 -2.79%
Amgen Inc. (AMGN) $202.58 -2.48%
Automatic Data Processing Inc. (ADP) $169.12 -2.38%
Ulta Salon, Cosmetics & Fragrance Inc. (ULTA) $227.63 -2.35%
Intuit Inc. (INTU) $281.05 -2.35%
Cintas Corp. (CTAS) $260.13 -2.28%
Adobe Systems Inc. (ADBE) $278.74 -2.18%
Paychex Inc. (PAYX) $82.39 -2.00%