US open: Stocks drop on Fedspeak, stronger than expected economic data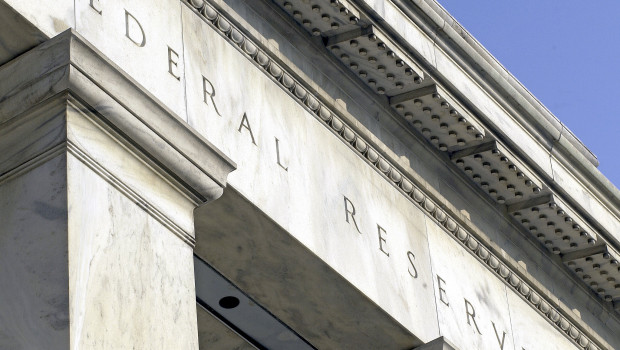 Stocks on Wall Street were trading sharply lower on Thursday morning with market commentary referencing still hawkish remarks from top Fed officials as a chief reason for the move.
Speaking at a virtual forum, St.Louis boss, James Bullard, said markets appeared to be correct in anticipating "a fair amount of additional [rate] moves this year".
His peer at the Cleveland Fed, Loretta Mester, chipped in telling broadcaster CNBC that "We're still not even in restricted territory on the funds rate."
At 1540 BST, the Dow Jones Industrials was falling by 1.94% or 575.4 points to 29,108.77, alongside a 2.41% or 89.70 point decline for the S&P 500 to 3,629.54 and a 3.17% or 349.63 point fall on the Nasdaq Composite to 10,705.86.
In parallel, the US dollar index was edging up by 0.17% to 112.83, while the yield on the benchmark 10-year US Treasury note was up by four basis points to 3.781%.
Elsewhere on the economic side of things, the Department of Labor said that initial unemployment claims for the week ending on 24 September declined by 16,000 to reach 193,000, printing far below the 220,000 forecast by the consensus.
In parallel, the Department of Commerce reported that the US economy shrank by 0.6% quarter-on-quarter over the three months to June, that was the same as the previous estimate.
Nonetheless, the core price deflator for personal consumption expenditures was revised up by three tenths of a percentage point to 4.7%.
Dow Jones - Risers
Visa Inc. (V) $179.31 0.07%
Honeywell International Inc. (HON) $0.00 0.00%
Dowdupont Inc. (DWDP) $0.00 0.00%
Merck & Co. Inc. (MRK) $86.44 -0.39%
Walmart Inc. (WMT) $132.48 -0.47%
Travelers Company Inc. (TRV) $151.58 -0.88%
Procter & Gamble Co. (PG) $130.63 -1.02%
McDonald's Corp. (MCD) $234.49 -1.04%
Coca-Cola Co. (KO) $56.38 -1.06%
Amgen Inc. (AMGN) $228.31 -1.16%
Dow Jones - Fallers
Boeing Co. (BA) $127.26 -4.63%
Walgreens Boots Alliance, Inc. (WBA) $31.71 -4.49%
Apple Inc. (AAPL) $143.29 -4.37%
Dow Chemical Co. (DOW) $43.68 -3.04%
Intel Corp. (INTC) $26.31 -3.02%
Salesforce.Com Inc. (CRM) $145.64 -3.02%
JP Morgan Chase & Co. (JPM) $104.97 -2.80%
Goldman Sachs Group Inc. (GS) $292.53 -2.75%
American Express Co. (AXP) $136.73 -2.72%
Nike Inc. (NKE) $96.05 -2.68%
S&P 500 - Risers
Rollins Inc. (ROL) $35.05 0.43%
Waters Corp. (WAT) $273.17 0.16%
Visa Inc. (V) $179.31 0.07%
Citrix Systems Inc. (CTXS) $103.93 0.07%
Dollar General Corp (DG) $241.14 0.05%
Raytheon Co. (RTN) $0.00 0.00%
Wellcare Healthplans (WCG) $0.00 0.00%
Huntington Ingalls Inds Inc Wi (HII) $221.43 0.00%
Concho Resouces Inc. (CXO) $0.00 0.00%
Dowdupont Inc. (DWDP) $0.00 0.00%
S&P 500 - Fallers
Carmax Inc. (KMX) $67.82 -21.52%
CenturyLink Inc. (LUMN) $7.29 -6.78%
Seagate Technology Plc (STX) $53.48 -6.14%
Coty Inc. Class A (COTY) $6.43 -6.06%
Ford Motor Co. (F) $11.46 -5.91%
Nordstrom Inc. (JWN) $16.96 -5.88%
Borg Warner Inc. (BWA) $31.61 -5.75%
Arconic Inc. (ARNC) $16.43 -5.68%
Nektar Therapeutics (NKTR) $3.03 -5.61%
Advanced Micro Devices Inc. (AMD) $64.59 -5.52%
Nasdaq 100 - Risers
Citrix Systems Inc. (CTXS) $103.93 0.07%
Alexion Pharmaceuticals Inc. (ALXN) $0.00 0.00%
Maxim Integrated Products Inc. (MXIM) $0.00 0.00%
Shire Plc Ads (SHPG) $0.00 0.00%
Xilinx Inc. (XLNX) $0.00 0.00%
Cerner Corp. (CERN) $0.00 0.00%
Mylan Inc. (MYL) $0.00 0.00%
Celgene Corp. (CELG) $0.00 0.00%
Kraft Heinz Co. (KHC) $33.54 -0.24%
Hologic Inc. (HOLX) $64.71 -0.80%
Nasdaq 100 - Fallers
Qurate Retail Inc. (QRTEA) $2.10 -9.87%
Seagate Technology Plc (STX) $53.48 -6.14%
Trip.com Group Limited (TCOM) $26.63 -5.90%
Tesla Inc (TSLA) $271.02 -5.83%
Dish Network Corp. (DISH) $14.06 -5.09%
JD.com, Inc. (JD) $50.33 -4.91%
Nvidia Corp. (NVDA) $121.26 -4.79%
Asml Holdings N.V. (ASML) $420.56 -4.68%
Western Digital Corp. (WDC) $31.66 -4.49%
Walgreens Boots Alliance, Inc. (WBA) $31.71 -4.49%