US open: Stocks dip, threatening two-day climb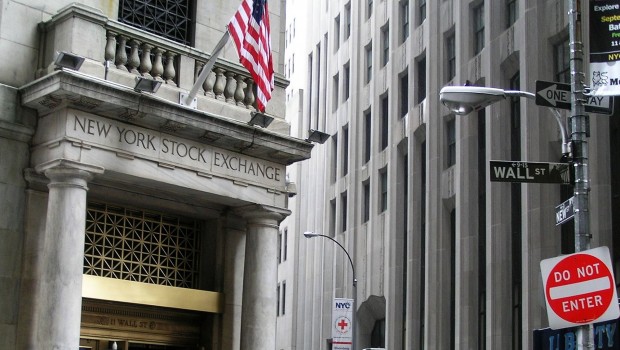 Trading began on Wall Street began on a bit of a down note on Tuesday following two days of gains, as investors looked ahead to key inflation data that was set for release the next day.
At 1515 GMT, the Dow Jones Industrial Average and S&P 500 were lower, dropping 0.30% and 0.25% respectively, while the Nasdaq had managed to edge higher – even if it was limited to a fractional 0.01% advance, amid cautious trading ahead of Wednesday's release of January's consumer price index.
Headline CPI, which came in at up +2.2% in November but slipped back to 2.1% in December, was seen slipping again by economists to 2.0% for last month, but rising by 0.4% month-on-month.
In greater detail, HSBC said: "We expect that core services prices rose around 0.25% month-on-month, with the monthly increase in rents cooling off slightly compared to previous months. We expect that core goods prices were close to unchanged in m-o-m terms, with new and used vehicle prices holding relatively steady. Meanwhile, we estimate the headline CPI increased 0.4% m-o-m in January, with average gasoline prices rising by around 5%. We expect the y-o-y headline CPI inflation rate slowed to 2.0%, down from 2.1% in December."
"In the current environment, we can expect US Treasury yields to soar if January's number were to come in at 2.1% or higher. This would be a problem as the key 10-year Treasury note yield is dangerously close to testing 3.0% - a four-year high, increasing fears that the 35-year bond bull market is finally over. This would signal higher borrowing costs to come which would not be good for global equities," David Morrison, senior market analyst at GKFX added.
Data released earlier in the day showed that small business optimism in the US improved more than expected in January.
The index of small-business optimism from the National Federation of Independent Business printed at 106.9 last month, up from 104.9 in December beating expectations for a reading of 106.2.
NFIB President and chief executive officer Juanita Duggan said: "Main Street is roaring. Small business owners are not only reporting better profits, but they're also ready to grow and expand. The record level of enthusiasm for expansion follows a year of record-breaking optimism among small businesses."
The number of respondents saying "now is a good time to expand" printed at 32%, marking the highest level in the history of the survey, which began in 1973.
NFIB chief economist Bill Dunkelberg said: "The historically high index readings over the last year tell us small business owners have never been more positive about the economy. This is in large response to the new management in Washington tackling the biggest concerns of small business owners - high taxes and regulations."
In corporate news, AmerisourceBergen was up 9.29% following reports that Walgreens Boots Alliance (up 1.09%) had approached the company about a takeover.
Elsewhere, Amazon saw active trading – up 1.96% - following reports the retailer was planning to slash hundreds of jobs across its consumer business.
General Motors dropped 0.95% after announcing its plans to close an auto plant in South Korea.
PepsiCo quarterly sales were flat, hurt by falling demand in for its beverages across the US, but said it had ramped up cost-cutting efforts to protect its bottom line, and
Xerox shares had dipped as much as 2.54% after Darwin Deason, the document management company's third-largest shareholder, sued the firm, its current board members, former chief executive Ursula Burns and Japan's Fujifilm Holdings in an effort to block a deal that would see Fujifilm acquire a controlling stake in Xerox
Baidu and MetLife will report after the close of markets.
Fedspeak was also in focus, with Cleveland Fed president Loretta Mester telling an audience at the Dayton Area Chamber of Commerce in Ohio that the big moves seen in the stock market over the past 10 days were still "far away" from being large enough to risk causing any damage to the economy.
"I expect the economy will work through this episode of market turbulence and I have not changed my outlook," she said.
In a more conciliatory tone, she added: "Of course, this is my current view of monetary policy," Mester said. "If upside risks to growth come to pass, we may need to steepen the path a bit: if inflation surprises to the downside, we may need to go a bit slower."
Traders were also keeping a close eye on Fed chairman Jerome Powell who said in his inauguration speech that the central bank would "remain alert" to any financial stability risks.