US open: S&P 500, Nasdaq at record highs on strength in Morgan Stanley, Biotech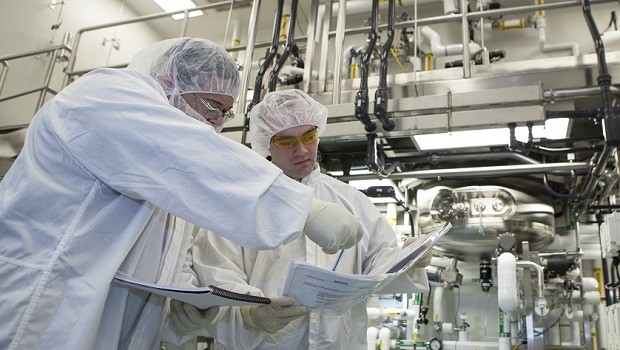 The S&P 500 and Nasdaq Composite pushed further into record territory on the back of better-than-expected results from Morgan Stanley, with tech shares pacing the advance despite weak numbers out of Big Blue thanks to a run-up in biotech shares.
At 1601 BST, the Dow Jones Industrial Average was up by 0.11% or 24.35 points to 2,597.95, the S&P 500 was higher by 0.27% or 6.57 points at 2,467.18 and the Nasdaq Composite by 0.45% or 28.85 points to 6,372.81.
Commenting on Morgan Stanley's results, David Madden at CMC Makets said: "Morgan Stanley shares are up 2.9% after the US bank posted an 11% jump in second-quarter profits. The earnings per share topped estimates.
"Most areas of the bank are doing well. Equity trading, corporate advisory and securities underwriting had a good quarter. Bond trading revenue declined by 4%, which is actually too bad when you consider Goldman Sachs and Bank of American registered declines of 40% and 19% respectively in that department."
On the other hand, IBM, better known to traders as 'Big Blue', was plumbing a fresh 52-week low after it posted second quarter sales figures that fell short of analysts' forecasts.
From a sector stand-point the best performing areas of the market were: Gambling (2.33%), Oil Equipment (1.48%), Exploration & Production (1.40%) and Travel & Tourism (1.36%).
In economic news, housing starts increased by 8.3% month-on-month in June to reach 1.215m (consensus: 1.16m).
Commenting on the data, Ian Shepherdson, chief economist at Pantheon Macroeconomics, said: "We expect sales to rise sharply over the summer, so fall construction activity should pick up, but the nervousness apparent in recent NAHB surveys, triggered partly by soaring materials costs, makes us hesitate before forecasting a sustained increase in starts and permits."
Meanwhile, oil prices were firmer after the Energy Information Administration's reported a 4.7m barrel drop in US commercial oil inventories to 490.6m during the latest reference week.
Market participants had been a decline of 3.5m barrels compared to last week's drop of 7.56m barrels.
West Texas Intermediate crude oil futures were up by 1.08% to $46.90 as a result.
On the corporate front, Vertex Pharmaceuticals tacked on more than $8bn in market capitalisation with its shares rocketing after announcing positive results for cyclical studies for its cystic fibrosis treatments. The NYSE Arca Biotechnology index was up 1.77%.
Morgan Stanley pleased investors with its second quarter update, as both sales and earnings topped analysts' estimates by comfortable margin.
United Continental dived after telling the market it saw passenger revenue per available seat mile for the quarter coming in at between down 1% to up by 1%.
McCormick was in focus after it agreed to buy London-listed Reckitt Benckiser's food division for $4.2bn.
Discovery Communications and Scripps Networks Interactive were active on the heels of a report in THe Wall Street Journal that the companies might merge.
Dow Jones - Risers
Unitedhealth Group Inc. (UNH) $188.76 1.02%
Walt Disney Co. (DIS) $106.58 0.79%
Boeing Co. (BA) $209.84 0.77%
E.I. du Pont de Nemours and Co. (DD) $84.56 0.67%
Cisco Systems Inc. (CSCO) $31.69 0.59%
Home Depot Inc. (HD) $153.01 0.55%
Microsoft Corp. (MSFT) $73.65 0.47%
JP Morgan Chase & Co. (JPM) $91.42 0.38%
Chevron Corp. (CVX) $104.07 0.34%
Caterpillar Inc. (CAT) $107.38 0.28%
Dow Jones - Fallers
International Business Machines Corp. (IBM) $147.51 -4.21%
Procter & Gamble Co. (PG) $87.82 -0.93%
Wal-Mart Stores Inc. (WMT) $75.79 -0.54%
Goldman Sachs Group Inc. (GS) $222.69 -0.28%
American Express Co. (AXP) $85.44 -0.09%
Exxon Mobil Corp. (XOM) $80.54 -0.07%
Nike Inc. (NKE) $57.62 -0.06%
Coca-Cola Co. (KO) $44.68 0.02%
Verizon Communications Inc. (VZ) $43.42 0.15%
3M Co. (MMM) $211.67 0.17%
S&P 500 - Risers
Vertex Pharmaceuticals Inc. (VRTX) $164.20 24.24%
First Solar Inc. (FSLR) $46.06 4.63%
Discovery Communications Inc. Class A (DISCA) $27.20 4.41%
Discovery Communications Inc. Class C (DISCK) $26.41 4.14%
TripAdvisor Inc. (TRIP) $39.47 3.11%
Morgan Stanley (MS) $46.35 2.69%
Campbell Soup Co. (CPB) $52.26 2.49%
Garmin Ltd. (GRMN) $51.46 2.49%
CF Industries Holdings Inc. (CF) $30.12 2.34%
Autodesk Inc. (ADSK) $110.02 2.15%
S&P 500 - Fallers
Northern Trust Corp. (NTRS) $91.11 -6.42%
McCormick & Co. (MKC) $91.98 -5.31%
CSX Corp. (CSX) $51.75 -5.29%
W.W. Grainger Inc. (GWW) $166.65 -4.49%
Navient Corporation (NAVI) $15.69 -4.33%
International Business Machines Corp. (IBM) $147.51 -4.21%
United Continental Holdings Inc. (UAL) $75.77 -3.97%
Crown Castle International (CCI) $94.72 -1.99%
Fastenal Co. (FAST) $42.56 -1.97%
Chipotle Mexican Grill Inc. (CMG) $367.69 -1.94%
Nasdaq 100 - Risers
Vertex Pharmaceuticals Inc. (VRTX) $164.20 24.24%
Discovery Communications Inc. Class A (DISCA) $27.20 4.41%
Discovery Communications Inc. Class C (DISCK) $26.41 4.14%
Autodesk Inc. (ADSK) $110.02 2.15%
Lam Research Corp. (LRCX) $162.20 1.79%
KLA-Tencor Corp. (KLAC) $101.54 1.71%
Viacom Inc. Class B (VIAB) $36.04 1.64%
Liberty Interactive Corporation QVC Group (QVCA) $24.08 1.45%
Mattel Inc. (MAT) $21.15 1.44%
Regeneron Pharmaceuticals Inc. (REGN) $504.42 1.36%
Nasdaq 100 - Fallers
CSX Corp. (CSX) $51.75 -5.29%
Fastenal Co. (FAST) $42.56 -1.97%
Paypal Holdings Inc (PYPL) $57.95 -1.72%
Shire Plc Ads (SHPG) $162.18 -1.33%
Tesla Inc (TSLA) $325.13 -0.95%
Wynn Resorts Ltd. (WYNN) $132.49 -0.79%
Western Digital Corp. (WDC) $93.68 -0.63%
O'Reilly Automotive Inc. (ORLY) $186.51 -0.55%
Activision Blizzard Inc. (ATVI) $61.02 -0.51%
Comcast Corp. (CMCSA) $39.00 -0.47%