US open: Major indices mixed as social media stocks weigh on Nasdaq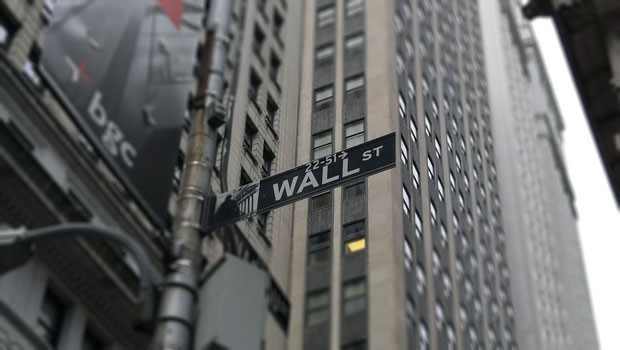 Wall Street stocks were mixed early on Friday as losses in the tech sector weighted on the Nasdaq early in the session.
As of 1520 BST, the Dow Jones Industrial Average was up 0.42% at 35,754.02, while the S&P 500 was 0.10% stronger at 4,554.40 and the Nasdaq Composite came out the gate 0.33% weaker at 15,166.03.
The Dow opened 150.94 points higher on Friday, easily reversing the prior session's modest loss.
In terms of corporate results, American Express topped estimates on both the top and bottom line on Friday as third-quarter revenues came in at $10.9bn and earnings per share hit $2.27 each, while Honeywell earnings also beat guidance but revenues fell short of expectations and the group cut its full-year forecasts.
Snap shares slumped more than 20% after missing revenues expectations with its third-quarter earnings overnight on the back of impacts stemming from privacy changes at Apple. Twitter and Facebook shares also slipped back on similar concerns, dragging the Nasdaq into the red.
Intel stock traded lower as component shortages hurt its PC chip unit and Zoom traded higher after analysts at JP Morgan said it was time to buy the stock.
On the macro front, a flash reading of IHS Markit's October manufacturing PMI will be published at 1545 BST, while Federal Reserve Bank of San Francisco president Mary Daly and chairman Jerome Powell will speak at 1600 BST and 1700 BST, respectively.
Dow Jones - Risers
American Express Co. (AXP) $186.58 5.13%
Goldman Sachs Group Inc. (GS) $414.97 1.81%
Walmart Inc. (WMT) $148.88 1.41%
JP Morgan Chase & Co. (JPM) $171.87 1.40%
International Business Machines Corporation (CDI) (IBM) $129.68 1.05%
Walgreens Boots Alliance, Inc. (WBA) $49.63 1.01%
Travelers Company Inc. (TRV) $161.72 0.96%
Boeing Co. (BA) $216.24 0.89%
Nike Inc. (NKE) $163.45 0.78%
Procter & Gamble Co. (PG) $140.32 0.71%
Dow Jones - Fallers
Intel Corp. (INTC) $49.94 -10.83%
McDonald's Corp. (MCD) $239.72 -0.70%
Walt Disney Co. (DIS) $170.16 -0.69%
Verizon Communications Inc. (VZ) $53.13 -0.48%
Microsoft Corp. (MSFT) $309.61 -0.37%
Caterpillar Inc. (CAT) $201.54 -0.30%
Merck & Co. Inc. (MRK) $81.03 -0.17%
Johnson & Johnson (JNJ) $163.13 -0.17%
Coca-Cola Co. (KO) $54.26 -0.16%
Home Depot Inc. (HD) $364.20 -0.12%
S&P 500 - Risers
Svb Financial Group (SIVB) $748.28 6.12%
Seagate Technology Plc (STX) $86.50 5.17%
KLA-Tencor Corp. (KLAC) $352.83 5.16%
American Express Co. (AXP) $186.58 5.13%
Applied Materials Inc. (AMAT) $140.08 5.05%
Regions Financial Corp. (RF) $24.31 4.42%
Celanese Corp. (CE) $171.46 3.43%
Kohls Corp. (KSS) $48.83 3.23%
Lam Research Corp. (LRCX) $571.16 2.83%
Roper Technologies Inc (ROP) $494.79 2.81%
S&P 500 - Fallers
Intel Corp. (INTC) $49.94 -10.83%
Facebook Inc. (FB) $324.00 -5.23%
VF Corp. (VFC) $70.50 -4.81%
Hasbro Inc (HAS) $89.34 -3.37%
Twitter Inc (TWTR) $63.21 -3.35%
Alaska Air Group Inc. (ALK) $54.58 -2.88%
Alphabet Inc. Class A (GOOGL) $2,756.11 -2.88%
Alphabet Inc. Class C (GOOG) $2,774.00 -2.86%
American Airlines Group (AAL) $19.42 -2.39%
Chipotle Mexican Grill Inc. (CMG) $1,804.81 -2.12%
Nasdaq 100 - Risers
Seagate Technology Plc (STX) $86.50 5.17%
KLA-Tencor Corp. (KLAC) $352.83 5.16%
Applied Materials Inc. (AMAT) $140.08 5.05%
Lam Research Corp. (LRCX) $571.16 2.83%
Asml Holdings N.V. (ASML) $807.00 2.47%
NetEase Inc. Ads (NTES) $104.15 2.36%
eBay Inc. (EBAY) $77.77 2.05%
Liberty Global plc Series A (LBTYA) $30.06 1.79%
Liberty Global plc Series C (LBTYK) $30.14 1.64%
Intuit Inc. (INTU) $587.65 1.61%
Nasdaq 100 - Fallers
Intel Corp. (INTC) $49.94 -10.83%
Facebook Inc. (FB) $324.00 -5.23%
Hasbro Inc (HAS) $89.34 -3.37%
Alphabet Inc. Class A (GOOGL) $2,756.11 -2.88%
Alphabet Inc. Class C (GOOG) $2,774.00 -2.86%
American Airlines Group (AAL) $19.42 -2.39%
Take-Two Interactive Software Inc. (TTWO) $178.65 -1.87%
Mercadolibre Inc. (MELI) $1,556.97 -1.70%
Wynn Resorts Ltd. (WYNN) $89.75 -1.46%
Dish Network Corp. (DISH) $43.44 -1.00%