US close: Stocks register heavy losses as omicron weighs on sentiment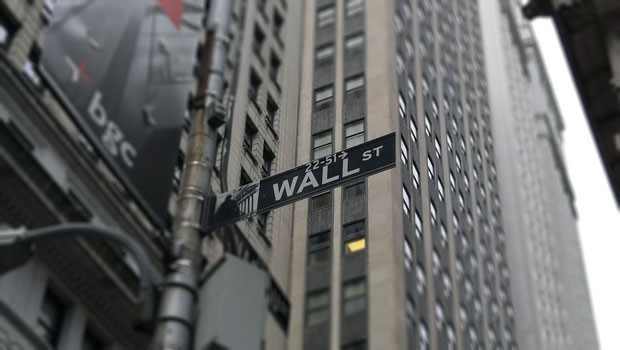 Wall Street stocks closed lower on Tuesday as concerns regarding the Covid-19 omicron variant resurfaced.
At the close, the Dow Jones Industrial Average was down 1.86% at 34,483.72 and the S&P 500 was 1.90% weaker at 4,567.00, while the Nasdaq Composite saw out the session 1.55% softer at 15,537.69.
The Dow closed 652.22 points lower on Tuesday, more than erasing gains recorded in the previous session.
Stocks headed south after Moderna chief executive Stephane Bancel warned that existing vaccines were likely to be less effective against the new strain, stating there could be a "material drop" in current vaccines' effectiveness against omicron and stated it may take months to develop a vaccine specific to the new strain.
Elsewhere, Regeneron warned that its antibody treatment may also have a reduced level of effectiveness against the variant.
In addition to stocks trading lower on the news, with travel stocks trading lower after yesterday's rebound and shares in pharmaceutical companies also feeling the heat, the yield on the benchmark 10-year Treasury note fell to 1.443%.
While coronavirus symptoms linked to the omicron variant have been branded as "extremely mild" by the South African doctor that discovered it, with the variant now being found in more than 12 nations across the globe, several have made the move to again restrict travel.
On the macro front, September's house price index rose to 354.6 in September from 351.5 in August, a 0.9% month-on-month rise, while S&P/Case Shiller's home price index showed prices rising at a year-on-year pace of 19.1% in September, just shy of the expected pace of 19.3% and a slightly lower than August's year-on-year rate of 19.6%.
Elsewhere, the Chicago PMI slumped to its lowest reading in nine months in November, hitting 61.8 from 68.4 in October, driven by a slow-down in new orders.
Lastly, the Conference Board's consumer confidence report also sank to a nine-month low in November, falling to 109.5 from 113.8 in October, a steeper decline than the 111.0 expected by analysts.
Dow Jones - Risers
Apple Inc. (AAPL) $165.30 3.16%
Merck & Co. Inc. (MRK) $74.91 0.03%
Honeywell International Inc. (HON) $230.94 0.00%
Dowdupont Inc. (DWDP) $30.52 0.00%
Boeing Co. (BA) $197.85 -0.33%
Nike Inc. (NKE) $169.24 -0.37%
International Business Machines Corporation (CDI) (IBM) $117.10 -1.18%
Visa Inc. (V) $193.77 -1.28%
Caterpillar Inc. (CAT) $193.35 -1.31%
Walmart Inc. (WMT) $140.63 -1.40%
Dow Jones - Fallers
Salesforce.Com Inc. (CRM) $284.96 -3.97%
Coca-Cola Co. (KO) $52.45 -3.90%
Travelers Company Inc. (TRV) $146.95 -3.58%
American Express Co. (AXP) $152.30 -3.52%
3M Co. (MMM) $170.04 -3.51%
Dow Chemical Co. (DOW) $54.93 -3.39%
Procter & Gamble Co. (PG) $144.58 -2.98%
Walgreens Boots Alliance, Inc. (WBA) $44.80 -2.78%
Verizon Communications Inc. (VZ) $50.27 -2.69%
Johnson & Johnson (JNJ) $155.93 -2.39%
S&P 500 - Risers
Apple Inc. (AAPL) $165.30 3.16%
Pfizer Inc. (PFE) $53.73 2.54%
Nektar Therapeutics (NKTR) $11.24 1.17%
HollyFrontier Corp (HFC) $32.33 1.09%
Ipg Photonics Corp. (IPGP) $164.19 0.62%
Merck & Co. Inc. (MRK) $74.91 0.03%
DENTSPLY Sirona Inc. (XRAY) $48.70 0.02%
Anadarko Petroleum Corp. (APC) $72.77 0.00%
Xerox Corp. (XRX) $20.89 0.00%
Raytheon Co. (RTN) $116.96 0.00%
S&P 500 - Fallers
Gap Inc. (GPS) $16.53 -7.13%
Quanta Services Inc. (PWR) $113.78 -6.49%
Intuit Inc. (INTU) $652.30 -6.10%
Nordstrom Inc. (JWN) $21.17 -6.04%
Westrock Company (WRK) $43.39 -5.92%
Rollins Inc. (ROL) $33.28 -5.80%
Dish Network Corp. (DISH) $31.25 -5.67%
Arconic Inc. (ARNC) $26.72 -5.55%
Discovery Inc. Class C (DISCK) $22.72 -5.53%
Discovery Inc. Class A (DISCA) $23.27 -5.37%
Nasdaq 100 - Risers
Apple Inc. (AAPL) $165.30 3.16%
Trip.com Group Limited (TCOM) $27.50 1.40%
Tesla Inc (TSLA) $1,144.76 0.68%
Check Point Software Technologies Ltd. (CHKP) $111.39 0.25%
DENTSPLY Sirona Inc. (XRAY) $48.70 0.02%
Maxim Integrated Products Inc. (MXIM) $103.14 0.00%
Shire Plc Ads (SHPG) $179.20 0.00%
Alexion Pharmaceuticals Inc. (ALXN) $182.50 0.00%
Mylan Inc. (MYL) $15.85 0.00%
Celgene Corp. (CELG) $108.24 0.00%
Nasdaq 100 - Fallers
Intuit Inc. (INTU) $652.30 -6.10%
Dish Network Corp. (DISH) $31.25 -5.67%
Dollar Tree Inc (DLTR) $133.83 -5.32%
Cadence Design Systems Inc. (CDNS) $177.46 -4.94%
Liberty Global plc Series C (LBTYK) $26.64 -4.58%
Liberty Global plc Series A (LBTYA) $26.40 -4.49%
Ulta Salon, Cosmetics & Fragrance Inc. (ULTA) $383.60 -4.44%
eBay Inc. (EBAY) $67.46 -4.38%
JD.com, Inc. (JD) $84.11 -4.32%
Synopsys Inc. (SNPS) $341.00 -4.18%