US pre-open: Stocks set to bounce after Trump foregoes deadline for new tariffs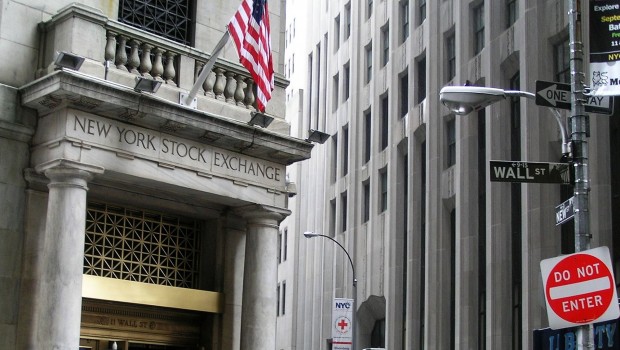 Wall Street futures were pointing to gains at the open on Thursday as Donald Trump declined to set a deadline on slapping tariffs on a further $325bn-worth of Chinese imports.
As of 1200 BST, Dow futures were calling the index to open 0.32% higher at 26,096, while the S&P 500 and Nasdaq looked set to open 0.35% and 0.50% firmer, respectively.
Futures were indicating a positive open on the Street after the Dow closed 43 points lower on Wednesday after Trump said he would not soften his stance unless Beijing agreed on as many as five "major points".
Ahead of the open SpreadEx analyst Connor Campbell said: "Having swapped its June-opening winning streak for a week of stuttering sessions, the Dow Jones will once again have a go at restarting its rebound when the bell rings on Wall Street.
"The futures put the index back at 26080 following a 70 point increase, with little, in theory, to disrupt those gains beyond another set of contradictory trade comments from Donald Trump."
Market participants remained focussed on global trade developments on Thursday as tensions between the two largest economies in the world intensified yet again.
While Donald Trump has long talked about pulling Xi Jinping aside later this month at a G20 meeting in Osaka, expectations that trade officials from the US and China will actually be able to clinch a deal faded in recent days.
Washington and Beijing have imposed tariffs on billions of dollars' worth of goods since the beginning of last year, weighing on markets and souring sentiment worldwide.
Meanwhile, oil prices recovered some of their recent losses after a tanker incident in the Gulf of Oman, bouncing back from a sell-off in the previous session when Crude futures tumbled as much as 4% to near five-month lows.
As of 1200 BST, West Texas Intermediate was changing hands 2.97% firmer at $52.66 a barrel, while Brent Crude was ahead 3.52% to $62.08.
In terms of data, initial jobless claims will be posted at 1330 BST, alongside May's import/export price index.
Discussing the data ahead, strategists at TD Securities said: "Import prices are expected to have declined for the first time in five months at -0.2% m/m in May. This would bring the annual rate lower to -1.2%, a notable drop from -0.2% y/y in April.
"Conversely, jobless claims should remain subdued at a soft 215k for the week of Jun 8, largely unchanged vs the previous week."
On the corporate front, Broadcom and Ventura Cannabis will report their most recent set of quarterly figures.