US pre-open: Futures in the green ahead of week's final session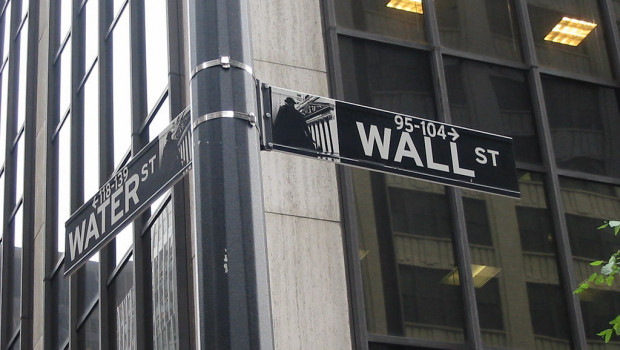 Wall Street futures were in the green ahead of the bell on Friday as major indices looked to end out the week on a positive note.
As of 1205 GMT, Dow Jones futures were up 0.32%, while S&P 500 and Nasdaq-100 futures were trading 0.23% and 0.26% higher, respectively.
The Dow closed 158.71 points lower on Thursday following the hottest inflation report in three decades.
On an otherwise light day on the Street, the session's primary focus will be a preliminary reading of the University of Michigan's November consumer sentiment index, scheduled for publication at 1500 GMT.
Elsewhere on the macro front, JOLTs job openings figures for September will also be published at 1500 GMT.
No major corporate earnings were slated for release on Friday.
Dow Jones - Risers
Walgreens Boots Alliance, Inc. (WBA) $49.94 1.98%
Dow Chemical Co. (DOW) $59.69 1.57%
Salesforce.Com Inc. (CRM) $303.14 1.10%
Caterpillar Inc. (CAT) $208.52 0.90%
Goldman Sachs Group Inc. (GS) $402.34 0.81%
Microsoft Corp. (MSFT) $332.43 0.49%
Boeing Co. (BA) $219.38 0.40%
International Business Machines Corporation (CDI) (IBM) $120.27 0.04%
Walmart Inc. (WMT) $148.52 0.04%
Coca-Cola Co. (KO) $56.74 0.04%
Dow Jones - Fallers
Walt Disney Co. (DIS) $162.11 -7.07%
Visa Inc. (V) $210.42 -2.38%
Cisco Systems Inc. (CSCO) $56.76 -1.75%
3M Co. (MMM) $180.21 -1.21%
McDonald's Corp. (MCD) $250.19 -1.17%
Amgen Inc. (AMGN) $211.56 -0.77%
Nike Inc. (NKE) $166.97 -0.77%
Johnson & Johnson (JNJ) $163.10 -0.74%
Unitedhealth Group Inc. (UNH) $457.39 -0.55%
Intel Corp. (INTC) $50.53 -0.45%
S&P 500 - Risers
Freeport-McMoRan Inc (FCX) $40.90 9.01%
Tapestry Inc. (TPR) $46.18 8.38%
Western Digital Corp. (WDC) $58.82 6.44%
Seagate Technology Plc (STX) $105.26 6.30%
Xilinx Inc. (XLNX) $208.78 5.50%
Advanced Micro Devices Inc. (AMD) $146.01 4.39%
Electronic Arts Inc. (EA) $144.45 3.71%
Macy's Inc. (M) $30.89 3.59%
Discovery Inc. Class C (DISCK) $27.27 3.33%
AES Corp. (AES) $24.88 3.24%
S&P 500 - Fallers
Walt Disney Co. (DIS) $162.11 -7.07%
Cooper Cos Inc. (COO) $410.46 -5.36%
Edwards Lifesciences Corp. (EW) $114.31 -3.76%
Booking Holdings Inc. (BKNG) $2,479.04 -3.53%
Transdigm Group Inc. (TDG) $656.23 -3.11%
Western Union Co. (WU) $18.00 -2.96%
Global Payments Inc. (GPN) $128.60 -2.88%
Stryker Corp. (SYK) $263.42 -2.82%
Royal Caribbean Cr (RCL) $86.30 -2.76%
Travel + Leisure Co (TNL) $55.56 -2.70%
Nasdaq 100 - Risers
JD.com, Inc. (JD) $84.20 8.31%
NetEase Inc. Ads (NTES) $110.27 6.87%
Western Digital Corp. (WDC) $58.82 6.44%
Seagate Technology Plc (STX) $105.26 6.30%
Xilinx Inc. (XLNX) $208.78 5.50%
Electronic Arts Inc. (EA) $144.45 3.71%
Baidu Inc. (BIDU) $167.26 3.53%
Nvidia Corp. (NVDA) $303.90 3.16%
Microchip Technology Inc. (MCHP) $83.50 3.14%
Liberty Global plc Series C (LBTYK) $28.44 2.89%
Nasdaq 100 - Fallers
Qurate Retail Inc. (QRTEA) $9.95 -3.68%
Booking Holdings Inc. (BKNG) $2,479.04 -3.53%
Ross Stores Inc. (ROST) $115.40 -2.70%
Marriott International - Class A (MAR) $156.87 -2.56%
Intuitive Surgical Inc. (ISRG) $350.79 -2.42%
DENTSPLY Sirona Inc. (XRAY) $54.47 -2.26%
Citrix Systems Inc. (CTXS) $87.36 -1.89%
Cisco Systems Inc. (CSCO) $56.76 -1.75%
Expedia Group Inc. (EXPE) $182.65 -1.66%
Starbucks Corp. (SBUX) $111.44 -1.60%