US pre-open: Futures dip after Fed's Bullard says tapering to start before year-end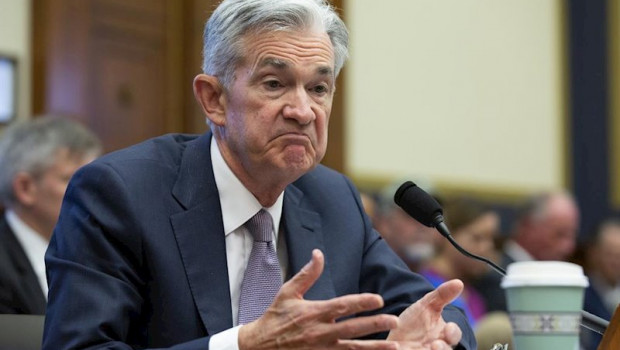 Wall Street futures were pointing to a lower open as investors focused on the prospect of tighter policy from central banks on both sides of the Pond.
In particular, in an interview with the Financial Times, the president of the Federal Reserve Bank of St. Louis, James Bullard, dismissed concerns about a slowdown in hiring and said the Fed would start to taper its bond purchases before the end of 2021.
Bullard reportedly also said he was looking for US non-farm payrolls to grow by around half a million per month and that "it certainly looks like we'll have a very strong labour market going into next year."
Against that backdrop, as of 1048 BST, the Dow Jones mini futures contract was down by 84.0 points to 35,007.0, alongside an eight point decline in the S&P 500 mini to 4,511.25.
Bullard's comments came a day before rate-setters at the European Central Bank were due to meet and there was speculation that they too might soon announce a slower pace of debt purchases.
Reflecting the mood in financial markets, Jeffrey Halley at Oanda said: "Scratching my head to make sense of it all, it appears that US markets are concerned about the hoped-for post-pandemic recovery being somewhat less exuberant than hoped. A cold reality that places such as ASEAN and Australia have already had to accept. That K-shaped recovery becoming more k-shaped.
"Given the proclivity of markets to be more five-minute macro than macro these days, that sentiment could easily have swung the other way by tomorrow. A US JOLTs Job-Opening print above 10 million tonight might just do the trick."
Continuing with the central bank theme, later on Wednesday, the Fed was set to release its Beige Book, a compilation of anecdotal evidence on the economy from across the 12 Fed districts published roughly a fortnight before each policy meeting.
The presidents of the Federal Reserve Banks of New York and Dallas were also scheduled to make public remarks at 1810 BST and around midnight, respectively.
On the corporate side of things, another raft of mergers and acquisitions news was in the spotlight.
Kadmon Holdings's shares rocketed 75% after French drugs giant Sanofi said it would buy the US biopharma outfit at an enterprise value of $1.9bn.
Vertiv announced the acquisition of E&I Engineering Ireland for roughly $1.8bn upfront, plus a further up to $200m if certain milestones were met.