US open: Stocks close sharply higher as potential aversion of another shutdown buoys sentiment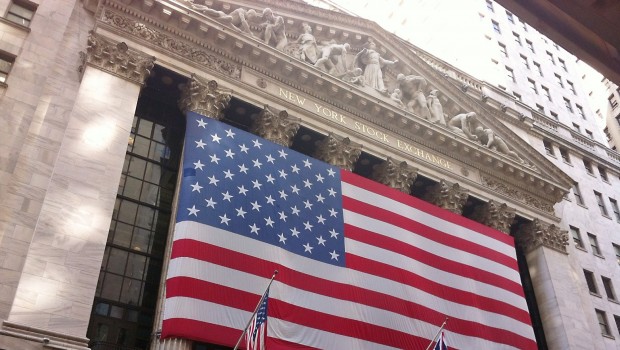 US stocks closed sharply higher on Tuesday as investors welcomed news of a tentative deal to avert another government shutdown
At the close, the Dow Jones Industrial Average was 1.49% higher at 25,425.76, while the S&P 500 closed 1.29% firmer at 2,744.73 and the Nasdaq moved ahead 1.46% firmer at 7,414.62.
The Dow closed more than 370 points higher on Tuesday as sentiment was boosted by news that Democrats and Republicans had reached an agreement in principle over border security that involves 55 miles of new border fencing and could avert another partial government shutdown.
While the deal still requires Trump's signature, the White House would receive $1.4bn in funding - versus the President's request for $5.7bn - to erect 55 miles of new fencing built through existing designs, such as metal slats, instead of a concrete wall.
If Trump does not sign the bill for the deal, the US government will once again close down, potentially impacting thousands of civil servants.
At a rally in El Paso, Texas, on the US-Mexico border on Monday Trump referred to those lawmakers and said : "As I was walking up to the stage, they said that progress is being made with this committee. Just so you know, we are building the wall anyway".
In addition, trade relations between the US and China were also in focus, with investors increasingly hopeful after White House counsellor Kellyanne Conway said Donald Trump wanted to meet with Chinese President Xi Jinping "very soon" as the deadline on trade talks between the two nations looms.
The USD closed 0.28% weaker against the GBP at 0.7754.
In corporate news, Under Armour shares closed 6.88% higher after the sportswear company's fourth-quarter earnings and sales surpassed analysts' expectations.
Elsewhere, brewer Molson Coors lost 9.44% in the session following the release of its fourth-quarter numbers.
On the macro front, the latest data from the National Federation of Independent Business showed that small business sentiment in the US deteriorated more than expected in January amid worries about the government shutdown and financial market instability.
The small business optimism index fell to 101.2 from 104.4 in December, missing expectations for a reading of 103.2. This marked the lowest level for the index since the weeks leading up to the 2016 elections and remains well below the historical average of 98.
"Business operations are still very strong, but small business owners' expectations about the future are shaky," said NFIB President and CEO Juanita D. Duggan.
"One thing small businesses make clear to us is their dislike for uncertainty, and while they are continuing to create jobs and increase compensation at a frenetic pace, the political climate is affecting how they view the future."
The NFIB's uncertainty index jumped seven points in January to 86, marking the fifth highest reading in the survey's 45-year history.