US close: Wall Street finishes bumper session on a high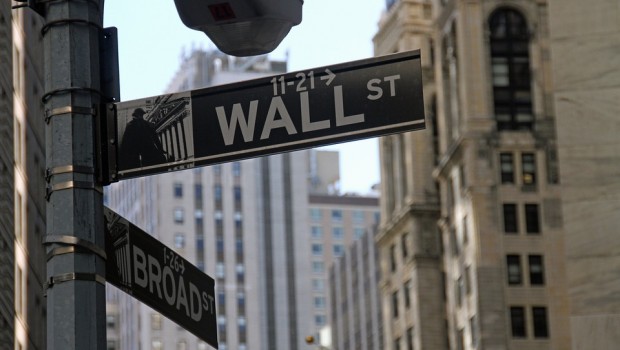 Wall Street ended a bumper session with a bang on Thursday, with the Dow hitting a record high a day after Federal Reserve chairman Jerome Powell suggested the central bank was open to easing monetary policy in the near future.
The Dow Jones Industrial Average ended the session up 0.85% at 27,088.08 and the S&P 500 added 0.23% to 2,999.91, while the Nasdaq Composite slipped 0.08% to 8,196.04.
At the open, the Dow cracked 27,000 for the first time in history after it closed ahead 76.71 points higher on Wednesday, while the S&P 500 also broke above 3,000.
Stocks did reverse some of those earlier gains after Donald Trump tweeted that China was "letting [the United States] down" by not purchasing the US farm products "that they said they would".
That came after reports that the Trump administration was growing increasingly concerned regarding the prospects of a trade deal with Beijing.
The US president claimed that at last month's G20 meeting in Japan, Chinese president Xi Jinping had agreed to make large orders for US agricultural goods "almost immediately."
"Hopefully they will start soon!"
Earlier, at a press conference, the spokesman for the Chinese Ministry of Commerce had reportedly said that Beijing hoped that Washington would carry through with its commitments as pertained to telecommunications equipment maker Huawei.
For some observers, the spokesman had also signalled that trade talks were set to resume soon, while others believed that Washington and Beijing were jockeying for a better position ahead of their restart.
Others suggested the recent incorporation of more senior Chinese officials to the trade team was a sign that the country's positioning was hardening.
Those developments led to a slight dampening of sentiment, after Jerome Powell signalled the day before that the door was wide open to policy easing in the previous session.
The Fed chair told lawmakers that there were increased risks bearing down on the US economy from overseas even as price pressures remained muted.
In his semiannual Monetary Policy Report to Congress, Powell said global crosscurrents related to growth and trade had reemerged since policymakers met in May, with apparent progress on trade having since turned into greater uncertainty and with the central bank's contacts in business and agriculture reporting heightened concerns over trade developments.
In data news, initial jobless claims in the US declined more sharply than anticipated over the week covering the 4 July holiday.
According to the Department of Labor, unemployment claims dropped by 13,000 over the week ending on 6 July to reach 209,000. Economists had instead penciled-in a dip to 220,000.
Elsewhere, US consumer prices rose a tad more quickly than expected in June amid sharp increases in the prices of used cars and trucks, and apparel.
According to the Department of Labour, the headline rate of consumer prices edged up at a 0.1% month-on-month pace in June, so that the year-on-year rate was steady at 1.6%.
Both increases were exactly as forecast by economists.
On the corporate front, Delta Air Lines rose 1.13% following better than expected earnings, while UnitedHealth shares climbed 5.51% after the White House dropped a proposal to eliminate drug rebates.
Dow Jones - Risers
Unitedhealth Group Inc. (UNH) $261.16 5.53%
Goldman Sachs Group Inc. (GS) $211.31 2.59%
3M Co. (MMM) $169.04 2.02%
Boeing Co. (BA) $359.01 1.90%
Home Depot Inc. (HD) $214.04 1.56%
Caterpillar Inc. (CAT) $133.94 0.98%
Nike Inc. (NKE) $88.29 0.97%
JP Morgan Chase & Co. (JPM) $114.09 0.96%
Walmart Inc. (WMT) $113.92 0.83%
Intel Corp. (INTC) $48.60 0.81%
Dow Jones - Fallers
Merck & Co. Inc. (MRK) $81.00 -4.50%
Pfizer Inc. (PFE) $42.98 -2.45%
Johnson & Johnson (JNJ) $140.11 -0.78%
Apple Inc. (AAPL) $201.75 -0.73%
Travelers Company Inc. (TRV) $152.47 -0.59%
McDonald's Corp. (MCD) $212.69 -0.15%
Verizon Communications Inc. (VZ) $56.92 -0.14%
Chevron Corp. (CVX) $125.43 -0.01%
Dowdupont Inc. (DWDP) $30.52 0.00%
Walt Disney Co. (DIS) $143.56 0.01%
S&P 500 - Risers
CIGNA Corp. (CI) $175.33 9.23%
Anthem Inc (ANTM) $304.05 5.60%
Unitedhealth Group Inc. (UNH) $261.16 5.53%
CVS Health Corp (CVS) $57.97 4.68%
Humana Inc. (HUM) $280.19 4.58%
Abiomed Inc. (ABMD) $266.09 4.02%
Centene Corp. (CNC) $53.22 3.93%
Nvidia Corp. (NVDA) $166.28 3.89%
Fortinet Inc. (FTNT) $84.06 3.71%
DaVita Inc (DVA) $56.41 3.22%
S&P 500 - Fallers
Iron Mountain Inc (New) (IRM) $29.67 -7.48%
Merck & Co. Inc. (MRK) $81.00 -4.50%
Eli Lilly and Company (LLY) $109.82 -4.11%
Cimarex Energy Co (XEC) $54.92 -3.80%
Nektar Therapeutics (NKTR) $33.53 -3.62%
Westrock Company (WRK) $36.19 -3.24%
Regeneron Pharmaceuticals Inc. (REGN) $291.82 -3.19%
Bristol-Myers Squibb (BMY) $44.53 -3.11%
Invesco Ltd. (IVZ) $19.80 -3.08%
J. M. Smucker Co. (SJM) $114.51 -3.07%
Nasdaq 100 - Risers
Nvidia Corp. (NVDA) $166.28 3.89%
Workday, Inc. (WDAY) $224.30 2.31%
Liberty Global plc Series C (LBTYK) $26.58 2.00%
Cognizant Technology Solutions Corp. (CTSH) $65.29 1.92%
Costco Wholesale Corp. (COST) $276.54 1.89%
Liberty Global plc Series A (LBTYA) $27.18 1.38%
Micron Technology Inc. (MU) $43.48 1.35%
Applied Materials Inc. (AMAT) $45.28 1.25%
Intuit Inc. (INTU) $278.22 1.24%
O'Reilly Automotive Inc. (ORLY) $393.47 1.10%
Nasdaq 100 - Fallers
Regeneron Pharmaceuticals Inc. (REGN) $291.82 -3.19%
Incyte Corp. (INCY) $81.23 -3.03%
Fastenal Co. (FAST) $30.36 -2.85%
Biomarin Pharmaceutical Inc. (BMRN) $82.72 -2.81%
Illumina Inc. (ILMN) $363.66 -2.43%
Amgen Inc. (AMGN) $178.00 -2.34%
Alexion Pharmaceuticals Inc. (ALXN) $121.49 -2.32%
Kraft Heinz Co. (KHC) $30.65 -2.08%
Gilead Sciences Inc. (GILD) $66.19 -1.88%
Qurate Retail Inc. (QRTEA) $12.21 -1.69%