US close: Street finishes mixed after tsunami of pre-Thanksgiving data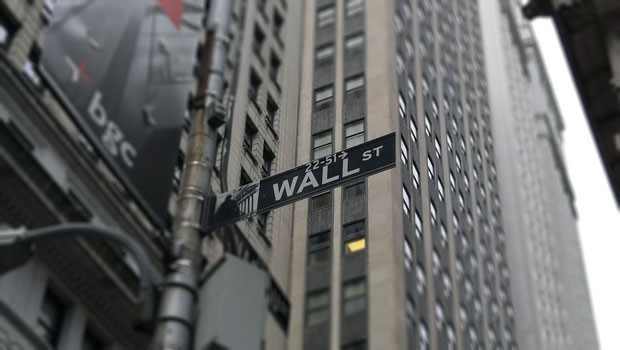 Wall Street closed in a mixed state on Wednesday, amid a sea of data points and rising rates.
At the close, the Dow Jones Industrial Average was down 0.03% at 35,804.38, while the S&P 500 added 0.23% to 4,701.465 and the Nasdaq Composite was ahead 0.44% at 15,845.23.
The Dow closed 9.42 points lower on Wednesday, taking a small bite out of the gains it recorded in the previous session.
"A sharp drop in initial claims has provided the fundamental reason for optimism, helping to alleviate some of the worries about global growth that seemed to dominate the first two sessions of the week," said IG chief market analyst Chris Beauchamp earlier in the session.
"Crucially, we have seen a number of the weakest stocks in the US start to stabilise, with names like PayPal and Twitter either holding their ground or beginning to edge higher.
"Bank stocks are still under pressure, holding back the market from making a better move to the upside, but with heavyweight Boeing also holding up well the outlook appears to be brightening for US equities."
The first cab off the data rank on Wednesday was weekly US mortgage applications numbers, which grew 1.8% in the week ended 19 November following a 2.8% fall in the previous week.
According to the Mortgage Bankers Association, its purchase index jumped 4.7% week-on-week and its refinancing one edged up 0.4% despite the average fixed 30-year mortgage rate increasing four basis points to 3.24%.
Next up, initial jobless claims dive-bombed in the week ended 20 November, according to the Labor Department, as first-time claims for unemployment totalled 199,000, a drop of 71,000 from the prior week to a seasonally adjusted print of 199,000 - a number not seen since November 1969 and well below median estimates for a reading of 260,000 applications.
Continuing claims fell from 2.10m to 2.04m, while the four-week moving average dropped from 273,250 to 252,250.
Elsewhere, orders for goods made to last more than three years undershot forecasts last month amid a decline in orders for airplanes, both civilian and military.
According to the Department of Commerce, in seasonally-adjusted terms durable goods orders slipped by 0.5% month-on-month to reach $260.1bn.
America's shortfall on trade with the rest of the world, meanwhile, dropped sharply last month amid a jump in exports.
According to the Department of Commerce, in seasonally adjusted terms, the US foreign trade deficit shrank at a month-on-month pace of 14.6% to reach $82.9bn.
Exports increased by 10.8% on the month to reach $157.4bn, while imports increased by just 0.5% to hit $240.3bn.
Turning to US gross domestic product, growth in the US economy decelerated to a modest annual rate of 2.1% in the October-December quarter, according to the Commerce Department, slightly better than initially reported.
Economists were now predicting a strong rebound in the current quarter, assuming rising inflation and a recent uptick in Covid-19 cases don't impact activity.
Still on data, Americans continued splashing out briskly last month with price gains continuing to accelerate alongside.
According to the Department of Commerce, personal incomes increased by 0.5% month-on-month, beating economists' forecasts for a rise of 0.3%.
Personal consumption expenditures, meanwhile, jumped by 1.3% versus September.
When adjusted for inflation, incomes were 0.3% lower, while spending was up by a more restrained 0.7%.
The annual rate of increase in the PCE price index rose from 4.4% in September to 5.0% for October and from 3.7% to 4.1% at the core level.
Finally, new home sales edged up 0.4% month-on-month in October to a seasonally adjusted annual rate of 745,000, according to the Census Bureau, following a downwardly revised print of 742,000 in September and below expectations for a print to 800,000.
The University of Michigan's final November consumer sentiment index for November fell to 67.4 in November, slightly above flash estimates for a print of 66.8 but well down from October's reading of 71.7 and its weakest reading since 2011.
On the corporate front, fashion retail stalwart Gap tumbled 24.12% after it slashed its full-year earnings guidance amid "significant" disruption to its supply chain, with third quarter numbers also coming in well below expectations.
Upmarket department store chain Nordstrom was 29.03% weaker, after its third quarter earnings also came in short of what analysts had pencilled in.
On the upside, tractor maker Deere & Company jumped 5.53% after its fourth quarter sales and profit grew beyond expectations.
Tesla managed gains of 0.63%, after ARK Funds sold down its stake in the electric car manufacturer to increase its holding in lockdown meeting facilitator Zoom Video Communications.
Dow Jones - Risers
Visa Inc. (V) $203.25 2.40%
Intel Corp. (INTC) $49.76 1.34%
Home Depot Inc. (HD) $412.11 0.92%
Caterpillar Inc. (CAT) $207.07 0.85%
Chevron Corp. (CVX) $117.19 0.77%
Boeing Co. (BA) $210.60 0.70%
Unitedhealth Group Inc. (UNH) $449.99 0.68%
McDonald's Corp. (MCD) $257.13 0.57%
Walmart Inc. (WMT) $146.54 0.50%
Cisco Systems Inc. (CSCO) $55.56 0.47%
Dow Jones - Fallers
Goldman Sachs Group Inc. (GS) $399.19 -1.76%
Walgreens Boots Alliance, Inc. (WBA) $46.62 -1.62%
3M Co. (MMM) $177.63 -1.02%
Dow Chemical Co. (DOW) $58.63 -0.93%
Coca-Cola Co. (KO) $55.43 -0.81%
Travelers Company Inc. (TRV) $158.96 -0.80%
JP Morgan Chase & Co. (JPM) $166.96 -0.78%
Salesforce.Com Inc. (CRM) $289.12 -0.77%
Merck & Co. Inc. (MRK) $82.28 -0.63%
Procter & Gamble Co. (PG) $148.64 -0.52%
S&P 500 - Risers
HP Inc (HPQ) $35.44 10.10%
Deere & Co. (DE) $367.86 5.32%
Advanced Micro Devices Inc. (AMD) $157.80 5.26%
Incyte Corp. (INCY) $66.74 4.59%
Xilinx Inc. (XLNX) $230.05 4.45%
Devon Energy Corp. (DVN) $45.09 3.80%
Diamondback Energy Inc. (FANG) $114.20 3.64%
NetApp Inc. (NTAP) $89.80 3.50%
Mastercard Incorporated (MA) $340.00 3.34%
Fiserv Inc. (FISV) $99.31 3.33%
S&P 500 - Fallers
Nordstrom Inc. (JWN) $22.66 -29.03%
Gap Inc. (GPS) $17.84 -24.12%
Autodesk Inc. (ADSK) $256.90 -15.49%
Macy's Inc. (M) $32.14 -4.43%
Tapestry Inc. (TPR) $44.06 -4.17%
Foot Locker Inc. (FL) $49.85 -3.60%
Best Buy Co. Inc. (BBY) $116.69 -3.57%
Eastman Chemical Co. (EMN) $113.04 -3.13%
Nucor Corp. (NUE) $115.79 -3.01%
Macerich Co (MAC) $20.77 -2.85%
Nasdaq 100 - Risers
Incyte Corp. (INCY) $66.74 4.59%
Xilinx Inc. (XLNX) $230.05 4.45%
Fiserv Inc. (FISV) $99.31 3.33%
Nvidia Corp. (NVDA) $326.74 2.92%
Intuit Inc. (INTU) $684.00 1.99%
Dish Network Corp. (DISH) $33.77 1.93%
NetEase Inc. Ads (NTES) $113.65 1.87%
NortonLifeLock Inc. (NLOK) $25.20 1.82%
eBay Inc. (EBAY) $72.66 1.41%
Intel Corp. (INTC) $49.76 1.34%
Nasdaq 100 - Fallers
Autodesk Inc. (ADSK) $256.90 -15.49%
Vodafone Group Plc ADS (VOD) $15.33 -2.91%
Kraft Heinz Co. (KHC) $35.19 -1.76%
Walgreens Boots Alliance, Inc. (WBA) $46.62 -1.62%
Biogen Inc (BIIB) $250.13 -1.58%
DENTSPLY Sirona Inc. (XRAY) $51.25 -1.46%
Activision Blizzard Inc. (ATVI) $60.91 -1.39%
Electronic Arts Inc. (EA) $126.63 -1.39%
PACCAR Inc. (PCAR) $88.72 -1.36%
Henry Schein Inc. (HSIC) $75.88 -1.33%