US close: Stocks wrap up the first week of earnings season in the green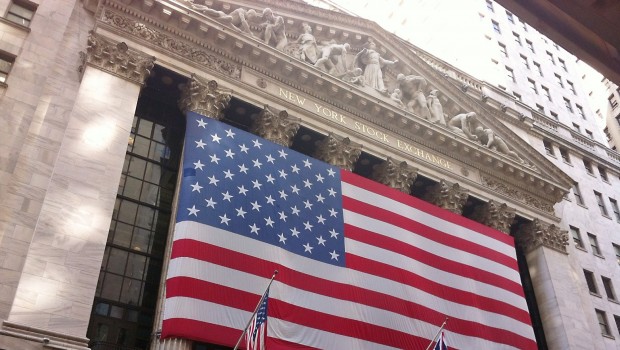 US stocks closed higher on Friday following the release of some economic data out of China overnight and a strong start to earnings season.
At the close, the Dow Jones Industrial Average was up 0.17% at 29,348.10, while the S&P 500 was 0.39% firmer at 3,329.62 and the Nasdaq Composite saw out the session 0.34% stronger at 9,388.94.
The Dow closed 50.46 points higher on Friday after ending the previous session in the green when stocks surged to new records when investors continued to cheer the signing of the US and China's 'phase one' trade agreement earlier in the week.
Underlining sentiment on Friday was news that China's economy grew 6.1% in 2019, matching economists' expectations but still the slowest growth rate for the nation's economy since 1990 and a drop from 2018's 6.6% expansion.
Trade was still in focus, with the US-Canada-Mexico trade agreement being passed by the Senate on Thursday, helping markets breathe a sigh of relief yet again.
On the data front, homebuilding activity in the States blew the doors of economists' forecasts in December, but economists were quick to point out that such strength was just not sustainable and some of the underlying data appeared to point in that direction too.
According to the Department of Commerce, housing starts jumped by 16.9% month-on-month, pushing the annualised rate of starts to 1.608m for a 40.8% surge year-on-year (consensus: 1,380m).
On the flip-side, building permits, which are much less weather sensitive, disappointed, increasing by 3.9% to 1.416m (consensus: 1.469m). In comparison to the same month one year ago, permits were 5.8% higher.
Elsewhere, industrial production in America softened unexpectedly in December but mainly due to unusually warm weather.
According to the Department of Commerce, industrial output dipped at a month-on-month pace of 0.3%, dragging the year-on-year rate of total production down by 1.0%.
Still on data, the University of Michigan reported a preliminary reading for its consumer sentiment index in January of 99.1 - down slightly from 99.3 in the prior month. Economists expected a reading of 99.6.
Lastly, the number of open jobs across the US fell to 6.8m in December - down from the 7.36m recorded a month earlier, according to the Labor Department.
In corporate news, Schlumberger was down 1.01% despite reporting an earnings beat, while Prudential Bancorp was up 1.80% following the release of its latest quarterly figures.
Google parent company Alphabet was also in focus after having reached a market cap of $1trn for the first time in its history.