US close: Stocks tumble as Fed hikes interest rates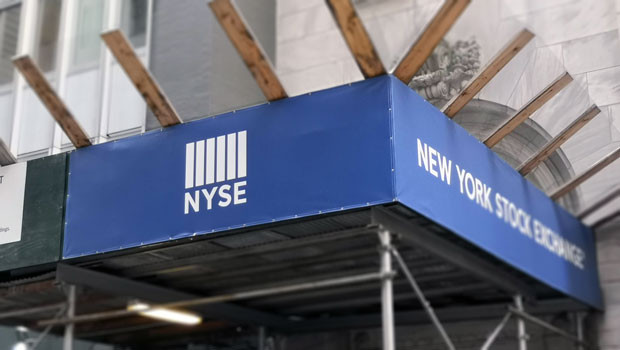 Wall Street markets saw a significant decline into the close on Wednesday, following the announcement of a 25-basis point interest rate hike from the Federal Reserve.
The move had been widely anticipated by investors, even as concerns about banking liquidity on both sides of the Atlantic in recent weeks exacerbated market volatility.
At the close, the Dow Jones Industrial Average was down 1.63% at 32,030.11, while the S&P 500 dropped 1.65% to finish at 3,936.97.
The Nasdaq Composite also experienced a slide, losing 1.6% to end the day at 11,669.96.
In currency markets, the dollar made marginal movements against both sterling and the euro.
It was last 0.01% stronger on the pound at £0.8152, while it fell 0.04% against the common currency to change hands at €0.9208.
"After the gyrations in forecasts in recent weeks, the Fed has duly delivered the dovish hike many had expected," said IG chief market analyst Chris Beauchamp.
"It was the only sensible move really, given the turmoil in global markets since the failure of Silicon Valley Bank.
"The dot-plot points towards a steady cut in rates in 2024, and it sends the message that Fed members take the risk of further stress in banks seriously."
Fed rate hike turns stock sentiment sour
At the top of the agenda was news that the Federal Reserve raised interest rates as expected, increasing the target range for the Fed funds rate by 25-basis points to between 4.75% and 5.0%.
The central bank also announced that its holdings of Treasury securities, agency debt, and agency mortgage-backed securities would continue to be reduced as previously planned.
In its policy statement, the Fed said "some additional policy firming" may be necessary to return inflation to its 2% target.
The central bank said it remained "highly attentive" to inflation risks, and although the extent of the impact of recent developments on credit conditions was uncertain, job gains had picked up, unemployment was low, and price pressures remained elevated.
Members of the Federal Open Market Committee (FOMC) were unanimous in their decision to raise interest rates, while officials reduced their central prediction for GDP growth in 2023 to between 0.0% and 0.8%, from 0.4% to 1.0%.
However, their projection for the headline rate of increase in the price deflator for personal consumption expenditures in 2023 was raised to between 3.0% and 3.8% from 2.9% to 3.5%, and the projection for core PCE inflation was increased to between 3.5% and 3.9%, from 3.2% to 3.7%
"Despite recent strong economic data, officials acknowledged the likely hit from the banking sector turmoil and left their end-year projection for the Fed funds rate unchanged at 5.1%, implying only one more 25-basis point hike from here," said Andrew Hunter, deputy chief US economist at Capital Economics.
"Nevertheless, with the crisis making us more confident that the economy will fall into recession soon, we suspect the Fed will be cutting rates again before long."
Elsewhere, the head of the Treasury Department Janet Yellen said that her agency had not considered expanding the country's deposit insurance programme, although it was a possibility in individual cases if needed.
Yellen said in testimony to the Senate that the Treasury had not looked at expanding the Federal Deposit Insurance Corporation's (FDIC) deposit protection scheme, adding that it was not something they were considering.
In the event of a contagious bank run, she said the Treasury would likely seek an exception to allow such a move, but that would come on a case-by-case basis.
GameStop surges while First Republic falters
In equities, GameStop saw its stock soar by 35.24% after the meme stock favourite delivered earnings per share of 16 cents in its fiscal fourth quarter, a marked improvement from the 47-cent loss recorded at the same time a year earlier.
Revenues also beat estimates by $150.0m, coming in at $2.23bn.
Elsewhere, graphics processor specialist Nvidia saw its stock price rise by 1.03% after setting out plans to rent out the computing power needed to develop AI technologies to almost any business.
On the downside, Nike struggled, with its stock dropping 4.86% after reporting its latest quarterly earnings.
While it posted earnings of 79 cents per share, well above consensus estimates for a reading of 55 cents, the company also warned that it had experienced a 3.3-point fall in gross margins to 43.3% due to markdowns and promotions used to liquidate its inventory.
Finally, First Republic Bank was in the red, with its stock price tumbling 15.47% amid reports that it had brought in advisers to help it pick over its options amid a liquidity crisis.
Reporting by Josh White for Sharecast.com.
Dow Jones - Risers
Dowdupont Inc. (DWDP) $0.00 0.00%
Procter & Gamble Co. (PG) $144.13 -0.06%
Coca-Cola Co. (KO) $60.05 -0.45%
Microsoft Corp. (MSFT) $272.29 -0.54%
Walmart Inc. (WMT) $139.65 -0.64%
Visa Inc. (V) $220.04 -0.86%
McDonald's Corp. (MCD) $268.14 -0.87%
Apple Inc. (AAPL) $157.83 -0.91%
Unitedhealth Group Inc. (UNH) $475.52 -0.95%
Merck & Co. Inc. (MRK) $104.40 -1.08%
Dow Jones - Fallers
Nike Inc. (NKE) $119.50 -4.86%
Boeing Co. (BA) $196.16 -4.17%
Walgreens Boots Alliance, Inc. (WBA) $32.50 -3.10%
Travelers Company Inc. (TRV) $166.74 -2.98%
3M Co. (MMM) $101.54 -2.64%
JP Morgan Chase & Co. (JPM) $127.18 -2.58%
Cisco Systems Inc. (CSCO) $49.46 -2.39%
Home Depot Inc. (HD) $282.61 -2.36%
Caterpillar Inc. (CAT) $220.07 -2.21%
Chevron Corp. (CVX) $156.07 -2.03%
S&P 500 - Risers
Advanced Micro Devices Inc. (AMD) $97.58 1.72%
Nvidia Corp. (NVDA) $264.68 1.03%
Kroger Co. (KR) $48.13 0.59%
Oracle Corp. (ORCL) $87.90 0.37%
PulteGroup Inc. (PHM) $55.93 0.20%
Newmont Corporation (NEM) $46.64 0.09%
Brown Forman Corp. Class B (BF.B) $62.60 0.08%
Lamb Weston Holdings, Inc. (LW) $99.71 0.06%
Ball Corp (BALL) $52.72 0.00%
Abiomed Inc. (ABMD) $381.02 0.00%
S&P 500 - Fallers
Nektar Therapeutics (NKTR) $0.79 -9.73%
Sl Green Realty Corp. (SLG) $21.89 -9.06%
Comerica Inc. (CMA) $44.52 -8.45%
Foot Locker Inc. (FL) $39.12 -8.43%
Lincoln National Corp. (LNC) $20.75 -7.90%
M&T Bank Corp. (MTB) $117.66 -7.75%
US Bancorp (USB) $34.83 -7.28%
Boston Properties Inc. (BXP) $49.95 -6.79%
Zions Bancorporation (ZION) $30.12 -6.72%
Citizens Financial Group, Inc. (CFG) $30.97 -6.24%
Nasdaq 100 - Risers
Nvidia Corp. (NVDA) $264.68 1.03%
Mylan Inc. (MYL) $0.00 0.00%
Celgene Corp. (CELG) $0.00 0.00%
Alexion Pharmaceuticals Inc. (ALXN) $0.00 0.00%
Cerner Corp. (CERN) $0.00 0.00%
Shire Plc Ads (SHPG) $0.00 0.00%
Xilinx Inc. (XLNX) $0.00 0.00%
Maxim Integrated Products Inc. (MXIM) $0.00 0.00%
Citrix Systems Inc. (CTXS) $103.90 0.00%
Lam Research Corp. (LRCX) $506.30 -0.21%
Nasdaq 100 - Fallers
Qurate Retail Inc. (QRTEA) $0.90 -6.24%
Dish Network Corp. (DISH) $9.03 -5.74%
Align Technology Inc. (ALGN) $312.31 -4.68%
Take-Two Interactive Software Inc. (TTWO) $113.56 -4.24%
Autodesk Inc. (ADSK) $198.38 -4.23%
Idexx Laboratories Inc. (IDXX) $475.03 -4.11%
Liberty Global plc Series C (LBTYK) $19.32 -4.02%
Netflix Inc. (NFLX) $293.90 -3.89%
Liberty Global plc Series A (LBTYA) $18.54 -3.89%
American Airlines Group (AAL) $13.82 -3.83%