US close: Stocks slip in late trading amid China tariff news, banks dip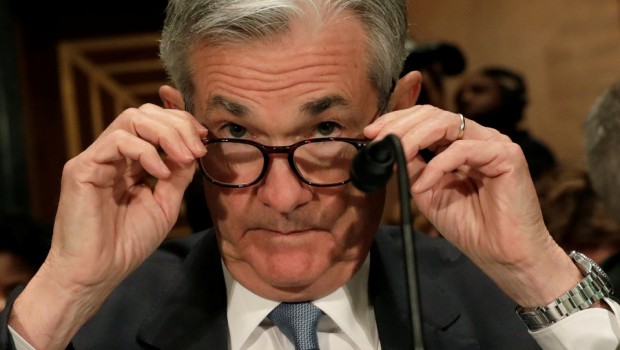 Wall Street slipped into the red in the final hour of trading after US rate-setters had signalled a slightly faster pace of policy tightening in 2018 and amid reports that the White House was likely to announce tariffs on Chinese goods - possibly as soon as Friday.
Against that backdrop, the Dow Jones Industrial Average gave up 0.47% or 119.53 points to 25,201.20, while the S&P 500 lost 0.40% or 11.22 points to 2,775.63 and the Nasdaq Composite dipped by 0.11% or 8.09 points to 7,695.70.
Commenting on the Fed's decisions, Mickey Levy at Berenberg Capital Markets said: "Overall, the changes to the official policy statement and policy rate projections are being viewed as more hawkish by markets, but these changes were necessary given the strong economic momentum, sub-4% unemployment, 2% inflation and fiscal stimulus."
In any case, the reaction from the government bond market was a flattening in the US Treasury yield curve to 40 basis points.
The KBW index of lenders' shares weakened alongside, slipping 0.43% to 108.63, although the worst performing sectors were Fixed Line Telecommunications (-6.20%) and Home Construction (-4.35%).
Contributing to losses in the former of those two sectors, shares in AT&T shed 6.20% after a federal judge ruled on Tuesday that it can go ahead with its $85bn acquisition of Time Warner, whose shares gained 1.80%.
The Federal Reserve had hiked the target range for its main policy rate by 25 basis points to between 1.75% and 2.0% - as expected.
Furthermore, in their medium-term projections, which were published alongside Wednesday's announcement, the Fed's 15 rate-setters now seemed set for a total of four interest rate hikes in 2018 and not three. Some economists had expected that shift to occur in September.
Levy, for one, expected that in subsequent meetings US rate-setters would revise their estimates for the neutral rate of interest over the longer run higher from their then current range of 2.3% to 3.5%.
Nonetheless, in his remarks Fed chairman Jerome Powell indicated he was not yet convinced that inflation had returned to target on a sustained basis.
Other economic news (China tariffs)
Muddying the waters a little perhaps, roughly fifteen minutes into Powell's press conference, the Journal reported that the White House might be set to impose tens of billions of dollars worth of tariffs on Chinese made goods as soon as Friday.
In other economic news, earlier in the session, the Bureau of Labor Statistics had reported that wholesale prices in the US rose more quickly-than-expected last month, on the back of almost across-the-board increases by categories of goods and services.
Total final demand prices rose by 0.5% versus April and by 3.1% when compared to the same month one year ago, versus forecasts from economists that had been calling for increases of 0.3% month-on-month and 2.9% year-on-year.
Back on the corporate front, shares of H&R Block were 17.94% lower in early trade even as the tax-prep company posted better-than-expected earnings late on Tuesday, after it said it expects margins to shrink.
Pivotal Software soared 32.96% on the heels of its stronger-than-expected quarterly earnings published the night before.
Dow Jones - Risers
Walt Disney Co. (DIS) $106.31 1.90%
Goldman Sachs Group Inc. (GS) $233.85 0.52%
Intel Corp. (INTC) $55.03 0.38%
Merck & Co. Inc. (MRK) $62.60 0.26%
Cisco Systems Inc. (CSCO) $44.01 0.16%
Travelers Company Inc. (TRV) $129.72 0.11%
Johnson & Johnson (JNJ) $122.66 0.07%
Chevron Corp. (CVX) $127.07 -0.01%
3M Co. (MMM) $204.87 -0.01%
Walmart Inc. (WMT) $84.08 -0.02%
Dow Jones - Fallers
Verizon Communications Inc. (VZ) $47.40 -2.89%
Boeing Co. (BA) $363.93 -1.81%
Caterpillar Inc. (CAT) $154.71 -1.77%
Dowdupont Inc. (DWDP) $68.58 -1.71%
Exxon Mobil Corp. (XOM) $81.51 -1.10%
Procter & Gamble Co. (PG) $76.47 -1.00%
Apple Inc. (AAPL) $190.70 -0.82%
United Technologies Corp. (UTX) $126.96 -0.71%
American Express Co. (AXP) $100.02 -0.70%
General Electric Co. (GE) $13.89 -0.64%
S&P 500 - Risers
Twenty-First Century Fox Inc Class A (FOXA) $43.66 7.70%
Twenty-First Century Fox Inc Class B (FOX) $43.41 7.48%
Endo International Plc (ENDP) $8.88 4.47%
Netflix Inc. (NFLX) $379.93 4.43%
Aetna Inc. (AET) $187.50 3.73%
CBS Corp. (CBS) $54.26 3.59%
Express Scripts Holding Co (ESRX) $81.77 3.28%
CVS Health Corp (CVS) $68.41 3.10%
Amerisource Bergen Corp. (ABC) $90.66 2.98%
McKesson Corp. (MCK) $149.45 2.73%
S&P 500 - Fallers
H&R Block Inc. (HRB) $24.20 -18.24%
Spectra Energy Corp. (SE) $14.94 -8.90%
PulteGroup Inc. (PHM) $30.78 -6.67%
Boston Scientific Corp. (BSX) $31.72 -6.26%
AT&T Inc. (T) $32.22 -6.20%
GameStop Corp. (GME) $13.34 -5.12%
D. R. Horton Inc. (DHI) $43.04 -4.19%
Lennar Corp. Class A (LEN) $52.48 -4.01%
Macy's Inc. (M) $38.37 -4.00%
Affiliated Mgrs Group (AMG) $155.95 -3.81%
Nasdaq 100 - Risers
Twenty-First Century Fox Inc Class A (FOXA) $43.66 7.70%
Twenty-First Century Fox Inc Class B (FOX) $43.41 7.48%
Netflix Inc. (NFLX) $379.93 4.43%
Express Scripts Holding Co (ESRX) $81.77 3.28%
Take-Two Interactive Software Inc. (TTWO) $118.46 3.28%
Align Technology Inc. (ALGN) $363.49 2.61%
Electronic Arts Inc. (EA) $143.28 2.50%
Asml Holdings N.V. (ASML) $213.75 2.11%
Dollar Tree Inc (DLTR) $87.98 1.61%
Dish Network Corp. (DISH) $32.86 1.48%
Nasdaq 100 - Fallers
Mercadolibre Inc. (MELI) $291.00 -3.37%
Liberty Global plc Series A (LBTYA) $29.18 -3.19%
eBay Inc. (EBAY) $39.33 -2.77%
Liberty Global plc Series C (LBTYK) $28.38 -2.37%
Vodafone Group Plc ADS (VOD) $24.69 -2.26%
Qurate Retail Inc. (QRTEA) $21.34 -2.07%
Charter Communications Inc. (CHTR) $285.02 -2.05%
PACCAR Inc. (PCAR) $64.01 -1.83%
Wynn Resorts Ltd. (WYNN) $176.42 -1.66%
Illumina Inc. (ILMN) $287.24 -1.65%