US close: Stocks move higher in first session of Q3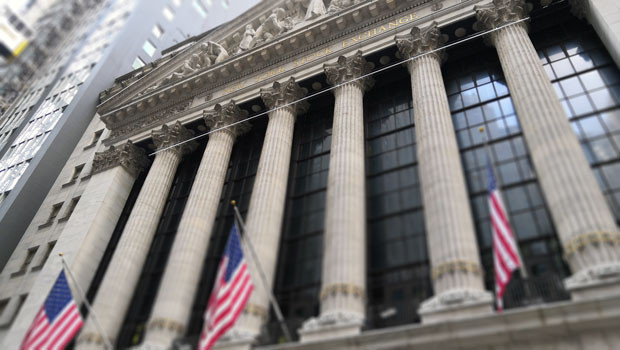 Wall Street stocks closed higher on Friday ahead of the Independence Day holiday as major indices looked to put a horrific first half behind them.
At the close, the Dow Jones Industrial Average was up 1.05% at 31,097.26, while the S&P 500 was 1.06% firmer at 3,825.33 and the Nasdaq Composite saw out the session 0.90% stringer at 11,127.85.
The Dow closed 321.83 points higher on Friday after the blue-chip index wrapped up the previous session in the same state it spent much of the last two quarters - in the red.
Friday's primary focus will be the Institute for Supply Management's manufacturing purchasing managers index, which fell to 53 in June, down from 56.1 in May and pointing to the slowest growth in factory activity in two years. Economists were expecting a print of 54.9. New orders contract from 55.1 in May to 49.2 in June, while employment also further declined from 49.6% to 47.3.
The ISM's report also showed that business sentiment remained optimistic regarding demand, but companies cautioned that continued supply chain and pricing issues were still very much their primary concerns going forward.
Elsewhere on the macro front, the S&P Global manufacturing PMI was revised slightly higher to 52.7 in June, up from a preliminary reading of 52.4, but still pointed to the slowest growth in factory activity since July 2020. New orders fell, primarily due to inflationary pressures, weak client confidence in the outlook, and supply-chain disruptions.
Finally, construction spending in the United States decreased 0.10% month-on-month in May to hit $1.77trn, according to the Census Bureau, as spending on private construction was virtually unchanged and public construction spending slipped 1.6% to $343.8bn.
In terms of company news, Micron and Kohl's both issued disappointing guidance, while General Motors warned that Q2 manufacturing issues could drag net income for the quarter to between $1.6bn and $1.9bn - well and truly short of the $2.5bn expected on the Street.
No major corporate earnings were slated for release on Friday.
Reporting by Iain Gilbert at Sharecast.com
Dow Jones - Risers
McDonald's Corp. (MCD) $252.96 2.46%
Coca-Cola Co. (KO) $64.38 2.34%
Boeing Co. (BA) $139.84 2.28%
Salesforce.Com Inc. (CRM) $168.20 1.91%
Walt Disney Co. (DIS) $96.14 1.84%
Home Depot Inc. (HD) $279.08 1.75%
Verizon Communications Inc. (VZ) $51.64 1.75%
Walgreens Boots Alliance, Inc. (WBA) $38.56 1.74%
Apple Inc. (AAPL) $138.93 1.62%
Procter & Gamble Co. (PG) $146.11 1.61%
Dow Jones - Fallers
Intel Corp. (INTC) $36.34 -2.86%
Nike Inc. (NKE) $101.18 -1.00%
3M Co. (MMM) $128.49 -0.71%
Caterpillar Inc. (CAT) $178.29 -0.26%
Cisco Systems Inc. (CSCO) $42.60 -0.09%
International Business Machines Corporation (CDI) (IBM) $141.12 -0.05%
Dowdupont Inc. (DWDP) $30.52 0.00%
Honeywell International Inc. (HON) $230.94 0.00%
Dow Chemical Co. (DOW) $51.69 0.16%
Unitedhealth Group Inc. (UNH) $517.40 0.73%
S&P 500 - Risers
PulteGroup Inc. (PHM) $42.22 6.54%
Apartment Investment & Management Co. (AIV) $6.81 6.41%
D. R. Horton Inc. (DHI) $70.09 5.89%
Lennar Corp. Class A (LEN) $74.60 5.71%
Universal Health Services Inc. (UHS) $105.97 5.22%
Sherwin-Williams Co. (SHW) $235.23 5.06%
Travel + Leisure Co (TNL) $40.64 4.69%
Align Technology Inc. (ALGN) $247.34 4.51%
H&R Block Inc. (HRB) $36.77 4.11%
Fiserv Inc. (FISV) $92.58 4.06%
S&P 500 - Fallers
Kohls Corp. (KSS) $28.68 -19.64%
Lam Research Corp. (LRCX) $394.83 -7.35%
KLA-Tencor Corp. (KLAC) $296.26 -7.15%
Applied Materials Inc. (AMAT) $86.27 -5.18%
Nvidia Corp. (NVDA) $145.23 -4.20%
NetApp Inc. (NTAP) $62.78 -3.77%
Advanced Micro Devices Inc. (AMD) $73.67 -3.66%
Ipg Photonics Corp. (IPGP) $90.94 -3.39%
Texas Instruments Inc (TXN) $148.54 -3.33%
Microchip Technology Inc. (MCHP) $56.16 -3.31%
Nasdaq 100 - Risers
Align Technology Inc. (ALGN) $247.34 4.51%
Fiserv Inc. (FISV) $92.58 4.06%
Starbucks Corp. (SBUX) $79.26 3.76%
Mercadolibre Inc. (MELI) $659.95 3.62%
Illumina Inc. (ILMN) $191.04 3.62%
American Airlines Group (AAL) $13.13 3.55%
Biogen Inc (BIIB) $210.63 3.28%
Amazon.Com Inc. (AMZN) $109.56 3.15%
eBay Inc. (EBAY) $42.89 2.93%
Netflix Inc. (NFLX) $179.95 2.91%
Nasdaq 100 - Fallers
Lam Research Corp. (LRCX) $394.83 -7.35%
KLA-Tencor Corp. (KLAC) $296.26 -7.15%
Asml Holdings N.V. (ASML) $449.83 -5.47%
Applied Materials Inc. (AMAT) $86.27 -5.18%
Nvidia Corp. (NVDA) $145.23 -4.20%
Texas Instruments Inc (TXN) $148.54 -3.33%
Microchip Technology Inc. (MCHP) $56.16 -3.31%
QUALCOMM Inc. (QCOM) $123.53 -3.30%
Seagate Technology Plc (STX) $69.09 -3.29%
Western Digital Corp. (WDC) $43.42 -3.15%