US close: Stocks mixed as Q4 earnings begin to roll in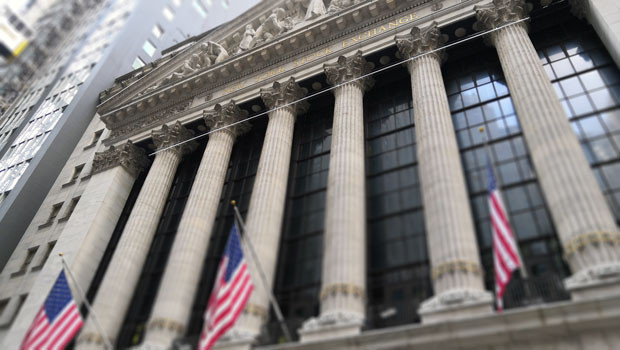 Wall Street stocks put on a mixed performance on Friday as market participants digested earnings from some of the country's biggest banks.
At the close, the Dow Jones Industrial Average was down 0.56% at 35,911.81, while the S&P 500 was 0.08% firmer at 4,662.85 and the Nasdaq Composite saw out the session 0.59% stronger at 14,893.75.
The Dow Jones closed 201.81 points in the red on Friday, extending losses recorded in the previous session as big tech names were on the slide as investors digested December's producer price index and this week's jobless claims figures.
Friday's primary focus, however, was the beginning of fourth-quarter earnings season, with banking several giants reporting earnings earlier in the day.
Money manager BlackRock posted a jump in fourth-quarter profit on Friday as assets under management hit fresh highs, while US banking behemoth JPMorgan Chase posted record full-year profits on Friday despite revealing fourth-quarter earnings had come in lower year-on-year as a weaker performance in its trading unit somewhat offset a boom in its investment banking division.
Citigroup posted better-than-expected fourth-quarter earnings and revenues despite meagre top-line growth as its fixed-income operations underperformed, while financial services giant Wells Fargo reported fourth-quarter earnings on Friday that easily topped expectations on the Street.
On the macro front, US retail sales unexpectedly slumped in December amid rising prices, according to figures released on Friday by the Commerce Department. Retail sales fell 1.9% on the month following a 0.2% increase in November. This marked the biggest decline in 10 months and was well short of expectations for a flat reading. Excluding motor vehicles and parts and gasoline stations, retail sales were down 2.5%.
Elsewhere, industrial output underwhelmed at the end of December amid a decline in automobile manufacturing and in the output of gas utilities due to warmer-than-normal temperatures. According to the Department of Commerce, industrial production dipped at a month-on-month pace of 0.1% in December. Economists had pencilled-in a rise of 0.3%.
Still on data, US consumer confidence slipped to its second-lowest reading ever amid increasing worries over inflation, the results of a very closely-followed survey revealed. The University of Michigan's consumer confidence index for early January came in at 68.8, which was down slightly from its end of December level of 70.6 and economists' forecasts for a reading of 70.2.
Lastly, business inventories rose 1.3% in November, bang in line with estimates to put inventories up 8.7% when compared to November 2020. Prior month business inventories were revised to 1.3% from 1.2%.
Dow Jones - Risers
Amgen Inc. (AMGN) $235.36 1.95%
Microsoft Corp. (MSFT) $310.20 1.77%
Chevron Corp. (CVX) $128.96 1.70%
Intel Corp. (INTC) $55.70 1.38%
Dow Chemical Co. (DOW) $60.74 1.33%
Salesforce.Com Inc. (CRM) $231.23 1.14%
Procter & Gamble Co. (PG) $159.80 0.96%
Boeing Co. (BA) $225.96 0.92%
Caterpillar Inc. (CAT) $228.94 0.85%
Coca-Cola Co. (KO) $61.39 0.80%
Dow Jones - Fallers
JP Morgan Chase & Co. (JPM) $157.89 -6.15%
Home Depot Inc. (HD) $372.00 -3.87%
American Express Co. (AXP) $168.40 -2.82%
Goldman Sachs Group Inc. (GS) $380.94 -2.52%
Walt Disney Co. (DIS) $151.94 -2.25%
McDonald's Corp. (MCD) $257.71 -1.42%
3M Co. (MMM) $178.74 -1.26%
Nike Inc. (NKE) $148.18 -0.94%
Johnson & Johnson (JNJ) $167.84 -0.55%
Verizon Communications Inc. (VZ) $53.28 -0.45%
S&P 500 - Risers
Wynn Resorts Ltd. (WYNN) $91.47 8.60%
Discovery Inc. Class C (DISCK) $30.40 7.04%
HollyFrontier Corp (HFC) $37.67 6.83%
Discovery Inc. Class A (DISCA) $31.18 6.27%
Lam Research Corp. (LRCX) $729.82 6.27%
Applied Materials Inc. (AMAT) $167.00 6.25%
KLA-Tencor Corp. (KLAC) $445.00 5.58%
Helmerich & Payne Inc. (HP) $30.40 5.26%
Marathon Oil Corp. (MRO) $19.47 4.85%
Schlumberger Ltd. (SLB) $37.81 4.53%
S&P 500 - Fallers
JP Morgan Chase & Co. (JPM) $157.89 -6.15%
Nordstrom Inc. (JWN) $22.26 -5.07%
Monster Beverage Corp (MNST) $89.91 -4.73%
Simon Property Group Inc. (SPG) $155.70 -4.47%
American Airlines Group (AAL) $18.49 -4.40%
Whirlpool Corp. (WHR) $217.02 -4.30%
Coty Inc. Class A (COTY) $8.93 -3.88%
Home Depot Inc. (HD) $372.00 -3.87%
Tractor Supply Company (TSCO) $221.97 -3.82%
Pentair plc (PNR) $66.11 -3.74%
Nasdaq 100 - Risers
Wynn Resorts Ltd. (WYNN) $91.47 8.60%
Lam Research Corp. (LRCX) $729.82 6.27%
Applied Materials Inc. (AMAT) $167.00 6.25%
Check Point Software Technologies Ltd. (CHKP) $126.14 5.67%
KLA-Tencor Corp. (KLAC) $445.00 5.58%
Xilinx Inc. (XLNX) $198.45 3.72%
Vertex Pharmaceuticals Inc. (VRTX) $234.06 3.30%
JD.com, Inc. (JD) $73.72 3.19%
QUALCOMM Inc. (QCOM) $188.69 2.61%
Biomarin Pharmaceutical Inc. (BMRN) $90.22 2.34%
Nasdaq 100 - Fallers
Monster Beverage Corp (MNST) $89.91 -4.73%
American Airlines Group (AAL) $18.49 -4.40%
Sirius XM Holdings Inc (SIRI) $6.18 -2.83%
Costco Wholesale Corp. (COST) $502.99 -2.69%
Fastenal Co. (FAST) $59.20 -2.55%
Dollar Tree Inc (DLTR) $130.81 -2.48%
Verisk Analytics Inc. (VRSK) $198.15 -2.44%
Ross Stores Inc. (ROST) $102.27 -2.35%
Starbucks Corp. (SBUX) $100.12 -2.23%
Hasbro Inc (HAS) $100.12 -1.86%