US close: Stocks mixed as investors pore through Fed minutes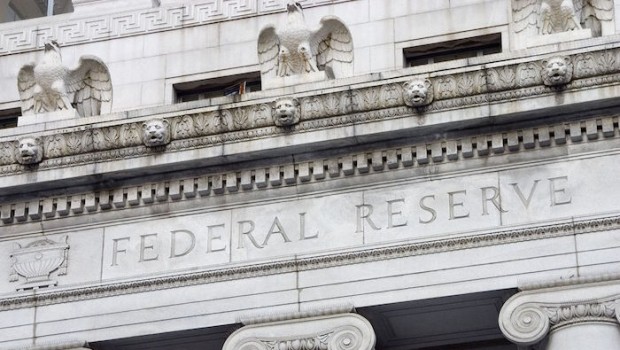 Stocks on Wall Street closed in a mixed state on Wednesday, as the Dow added to the records it achieved in the previous session.
At the close, the Dow Jones Industrial Average was up 0.29% at 31.613.02, while the S&P 500 slipped 0.03% to 3,931.33, and the Nasdaq Composite was 0.58% weaker at 13,965.50.
The Dow closed 90.27 points lower on Wednesday, adding to the gains recorded in what was also a mixed session for major indices on Tuesday, following the President's Day long weekend.
Late in the session, the Federal Open Market Committee released the minutes from its January meeting, which revealed that officials thought the US economy was "far from" where they wanted it to be.
That meant the central bank was likely to keep policy loose for the foreseeable future, with the short-term interest rate likely to remain near zero and asset purchases to be maintained at at least $120bn each month.
"Participants noted that economic conditions were currently far from the committee's longer-run goals and that the stance for policy would need to remain accommodative until those goals were achieved," the minutes read.
"Consequently, all participants supported maintaining the Committee's current settings and outcome-based guidance for the federal funds rate and the pace of asset purchases."
On the macro front, total mortgage application volume fell 5.1% week-on-week, according to the Mortgage Bankers Association, as another week of rising rates turned away both homeowners and buyers alike.
In other data news, retail sales volumes in the US shot higher last month with across the board strength in all categories.
According to the Department of Commerce, retail sales volumes surged at a month-on-month pace of 5.3% in January to reach $509.8bn in seasonally adjusted terms, markedly better than the 0.8% rise expected on the Street.
Elsewhere, wholesale inflation rose more quickly than expected at the start of 2021 on the back of a jump in energy and services prices.
According to the Department of Labor, in seasonally adjusted terms, so-called final demand prices increased at a month-on-month pace of 1.3% in January and 1.7% on the year, ahead of expectations for prints of 0.4% and 0.8%, respectively.
Moving on, US industry expanded for a fourth straight month in January, according to the Federal Reserve, but still had a way to go in order to fully return to levels seen before the Covid-19 pandemic.
Industrial production, which includes output factories, mines and utilities, rose 0.9% in January, greater than most economists had projected but still 1.8% below production in January 2020.
Still on data, US business inventories rose 0.6% in December, according to the Census Bureau, ahead of an expected reading of 0.5%, as sales rose 0.8% in the month.
Lastly, February's homebuilder confidence index from the National Association of Housebuilders came in at a reading of 84, ahead of both the prior month's reading and estimates of 83.
Also drawing an amount of investor attention was the 10-year Treasury yield topping 1.30% on Tuesday, a level not seen since February 2020, while the 30-year rate also hit its highest level in a year, leading many on the Street to believe that higher rates could lead to a rotation out of equities and into bonds.
That would put pressure on areas of the market that have previously benefited from the low-rate environment.
In equity markets, Hilton Worldwide was down 1.92% after it posted a surprise quarterly loss as a surge in new Covid-19 cases continued to weigh on bookings.
Telecoms giant Verizon was in the green by 5.24%, meanwhile, after Berkshire Hathaway took up a sizable $8.0bn stake.
Shopify lost 3.32% even after it doubled sales for a second consecutive quarter but warned of growth slowing in 2021.
Dow Jones - Risers
Verizon Communications Inc. (VZ) $56.99 5.24%
Chevron Corp. (CVX) $95.92 3.00%
Home Depot Inc. (HD) $280.92 2.01%
Merck & Co. Inc. (MRK) $75.54 1.74%
Nike Inc. (NKE) $143.99 1.61%
Amgen Inc. (AMGN) $235.61 1.19%
Walmart Inc. (WMT) $147.20 1.06%
Walgreens Boots Alliance, Inc. (WBA) $49.56 0.85%
Travelers Company Inc. (TRV) $148.45 0.70%
Unitedhealth Group Inc. (UNH) $326.86 0.69%
Dow Jones - Fallers
Apple Inc. (AAPL) $130.84 -1.76%
American Express Co. (AXP) $128.56 -1.62%
Intel Corp. (INTC) $61.85 -0.99%
Boeing Co. (BA) $215.52 -0.76%
Honeywell International Inc. (HON) $201.90 -0.76%
McDonald's Corp. (MCD) $213.45 -0.73%
Cisco Systems Inc. (CSCO) $46.25 -0.56%
Salesforce.Com Inc. (CRM) $247.66 -0.37%
Dow Chemical Co. (DOW) $58.54 -0.36%
Coca-Cola Co. (KO) $50.13 -0.28%
S&P 500 - Risers
Nektar Therapeutics (NKTR) $25.46 13.36%
Verizon Communications Inc. (VZ) $56.99 5.24%
Wells Fargo & Co. (WFC) $36.59 5.17%
Tractor Supply Company (TSCO) $170.25 5.13%
Kraft Heinz Co. (KHC) $37.02 4.69%
Discovery Inc. Class A (DISCA) $49.36 4.24%
Expedia Group Inc. (EXPE) $154.04 4.19%
Johnson Controls International plc (JCI) $55.20 4.15%
Devon Energy Corp. (DVN) $21.73 4.12%
Advance Auto Parts (AAP) $161.82 4.06%
S&P 500 - Fallers
Henry Schein Inc. (HSIC) $64.87 -8.09%
Ipg Photonics Corp. (IPGP) $237.59 -7.37%
Discover Financial Services (DFS) $91.70 -4.38%
PVH Corp. (PVH) $93.45 -4.23%
FMC Technologies Inc. (FTI) $7.78 -3.58%
United Rentals Inc. (URI) $277.81 -3.56%
HP Inc (HPQ) $26.28 -3.24%
Fortive Corporation (FTV) $67.60 -3.15%
Twitter Inc (TWTR) $71.79 -2.93%
Genuine Parts Co. (GPC) $98.94 -2.92%
Nasdaq 100 - Risers
Kraft Heinz Co. (KHC) $37.02 4.69%
Expedia Group Inc. (EXPE) $154.04 4.19%
JD.com, Inc. (JD) $106.88 3.34%
Booking Holdings Inc. (BKNG) $2,233.77 2.27%
Vertex Pharmaceuticals Inc. (VRTX) $214.85 2.18%
Incyte Corp. (INCY) $83.77 2.00%
Hasbro Inc (HAS) $90.88 1.62%
Amazon.Com Inc. (AMZN) $3,308.64 1.21%
Amgen Inc. (AMGN) $235.61 1.19%
Costco Wholesale Corp. (COST) $358.04 1.14%
Nasdaq 100 - Fallers
Henry Schein Inc. (HSIC) $64.87 -8.09%
Baidu Inc. (BIDU) $308.68 -5.37%
Qurate Retail Inc. (QRTEA) $13.09 -2.89%
Cadence Design Systems Inc. (CDNS) $141.78 -2.88%
DENTSPLY Sirona Inc. (XRAY) $52.69 -2.84%
Nvidia Corp. (NVDA) $596.24 -2.77%
Asml Holdings N.V. (ASML) $587.58 -2.58%
Mercadolibre Inc. (MELI) $1,890.25 -2.56%
Paypal Holdings Inc (PYPL) $297.20 -2.49%
Align Technology Inc. (ALGN) $599.53 -2.39%