US close: Stocks mixed as central bank backs Credit Suisse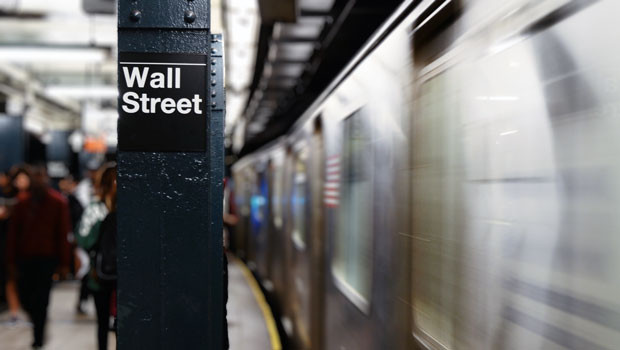 Wall Street stocks closed mixed on Wednesday, as the banking sector weighed on major indices.
The Dow Jones Industrial Average fell 0.87% to 31,874.57, while the S&P 500 lost 0.7% to 3,891.93.
In contrast, the Nasdaq Composite managed to eke out a slight gain of 0.05% to reach 11,434.05.
Investor sentiment was initially rattled by reports that a top shareholder of Credit Suisse would not provide the struggling lender with any further financial assistance.
However, Switzerland's central bank issued a public statement of support for Credit Suisse in the evening, helping to somewhat calm markets.
In currency markets, the dollar weakened slightly against its major trading pairs, falling by 0.15% against the yen to JPY 133.22.
Against the euro and sterling, the greenback declined 0.13% and 0.11%, respectively, to €0.9442 and £0.8285.
"Hopes for a return of calm have been dashed today, as what began with a regional banking crisis in the US morphs into another crisis over European banks, with Credit Suisse the name in everyone's sights," said IG chief market analyst Chris Beauchamp earlier.
"The bank has seen its biggest shareholder rule out providing more funding, followed by an appeal for public support from the Swiss National Bank."
Beauchamp said such headlines were not the kinds of things likely to encourage investors to head back into European banking stocks.
"After having been relatively unaffected by the initial stages of the crisis, stocks in Europe have really joined in the selling, erasing more of their 2023 gains."
Swiss National Bank rescues market from jitters
Switzerland's central bank publicly pledged its support for Credit Suisse in an evening statement, saying it would provide liquidity to the bank if needed.
The Swiss National Bank and the Swiss Financial Market Supervisory Authority asserted that the financial difficulties of certain US banks would not directly threaten the Swiss financial markets.
They confirmed that Credit Suisse met the capital and liquidity requirements imposed on systemically important banks, and that if necessary, the SNB would provide liquidity to the bank.
On the macroeconomic front, producer inflation in the US unexpectedly fell last month due to a drop in food and service prices.
The US Department of Labor reported that total final demand prices decreased by 0.1% in February, compared to economists' predictions of a 0.4% rise.
January's estimate of the gain in final demand prices was also revised downwards from 0.7% to 0.3%.
Elsewhere, despite a spending spree in January, Americans barely cut back on their spending last month according to fresh data.
The Department of Commerce reported that US retail sales volumes declined by 0.4% in February to reach $697.88bn, in line with economists' forecasts.
However, January's monthly increase in retail sales was revised up by two tenths of a percentage point to 3.2%.
The National Association of Homebuilders/Wells Fargo housing market index meanwhile rose for the third consecutive month, beating market expectations.
The index increased to 44 in March, the highest reading since September 2022.
The gauge for current sales conditions increased to 49, while prospective buyer traffic rose to a six-month high of 31.
However, sales expectations for the next six months slightly declined to 47 from 48.
Finally on data, manufacturing activity in the New York region significantly deteriorated in March, according to data from the New York Fed's Empire State index.
The index fell to -24.6 from -5.8 in February, well below expectations for a decline to -8.0. 45% of respondents reported worsening conditions, while 20% reported an improvement.
The new orders index declined to -21.7 in March from -7.8 in February, while the shipments index was -13.4, down from 0.1.
Bank stocks join global financials selloff
In equities, bank stocks joined a global selloff today on the back of the Credit Suisse concerns, with Citigroup down 5.44%, and Wells Fargo & Company losing 3.29%.
Beauty company Coty provided a positive outlook for full-year sales on a like-for-like basis, citing strong growth in its fiscal third quarter.
Despite that, its shares ended the day 1.82% weaker.
On the upside, work management platform Smartsheet surged 17.77% after reporting a surprise net income.
Reporting by Josh White for Sharecast.com.
Dow Jones - Risers
Amgen Inc. (AMGN) $234.90 1.87%
Microsoft Corp. (MSFT) $265.44 1.78%
Intel Corp. (INTC) $28.41 1.43%
Procter & Gamble Co. (PG) $141.83 1.42%
Walmart Inc. (WMT) $139.64 1.12%
Home Depot Inc. (HD) $287.58 0.84%
Walgreens Boots Alliance, Inc. (WBA) $33.54 0.75%
Coca-Cola Co. (KO) $60.43 0.67%
Merck & Co. Inc. (MRK) $107.63 0.62%
Verizon Communications Inc. (VZ) $37.06 0.49%
Dow Jones - Fallers
JP Morgan Chase & Co. (JPM) $128.26 -4.72%
Boeing Co. (BA) $198.21 -4.38%
Chevron Corp. (CVX) $153.80 -4.33%
Caterpillar Inc. (CAT) $216.37 -3.73%
Dow Chemical Co. (DOW) $50.21 -3.46%
Goldman Sachs Group Inc. (GS) $312.19 -3.09%
Travelers Company Inc. (TRV) $166.49 -3.07%
American Express Co. (AXP) $159.81 -2.50%
International Business Machines Corporation (CDI) (IBM) $123.28 -1.10%
Visa Inc. (V) $216.37 -1.05%
S&P 500 - Risers
Charles Schwab Corp. (SCHW) $59.55 5.06%
Western Union Co. (WU) $10.77 4.16%
Kohls Corp. (KSS) $23.17 4.04%
Nordstrom Inc. (JWN) $17.24 3.86%
Comerica Inc. (CMA) $44.83 3.06%
Netflix Inc. (NFLX) $303.79 3.00%
Xcel Energy Inc. (XEL) $67.31 2.86%
Boston Properties Inc. (BXP) $54.72 2.81%
VF Corp. (VFC) $21.32 2.80%
Newmont Corporation (NEM) $46.11 2.76%
S&P 500 - Fallers
Halliburton Co. (HAL) $30.41 -9.01%
Marathon Oil Corp. (MRO) $21.26 -8.48%
Coterra Energy Inc. (CTRA) $22.78 -8.48%
Devon Energy Corp. (DVN) $44.83 -8.33%
Schlumberger Ltd. (SLB) $45.32 -8.18%
Apache Corp. (APA) $32.05 -7.98%
Diamondback Energy Inc. (FANG) $122.74 -7.46%
FMC Technologies Inc. (FTI) $12.67 -7.45%
Nucor Corp. (NUE) $144.81 -7.32%
Eaton Corporation plc (ETN) $159.27 -7.31%
Nasdaq 100 - Risers
Sirius XM Holdings Inc (SIRI) $3.64 3.70%
Netflix Inc. (NFLX) $303.79 3.00%
Alphabet Inc. Class C (GOOG) $96.55 2.44%
Alphabet Inc. Class A (GOOGL) $96.11 2.28%
Meta Platforms Inc. (META) $197.75 1.92%
Amgen Inc. (AMGN) $234.90 1.87%
Microsoft Corp. (MSFT) $265.44 1.78%
Comcast Corp. (CMCSA) $35.89 1.73%
Charter Communications Inc. (CHTR) $341.94 1.73%
Intel Corp. (INTC) $28.41 1.43%
Nasdaq 100 - Fallers
American Airlines Group (AAL) $13.86 -5.46%
Trip.com Group Limited (TCOM) $36.38 -3.78%
Microchip Technology Inc. (MCHP) $80.51 -3.28%
Wynn Resorts Ltd. (WYNN) $104.86 -3.20%
Biomarin Pharmaceutical Inc. (BMRN) $87.74 -2.78%
Vodafone Group Plc ADS (VOD) $11.38 -2.74%
JD.com, Inc. (JD) $39.34 -2.72%
Qurate Retail Inc. (QRTEA) $1.08 -2.70%
Marriott International - Class A (MAR) $158.33 -2.68%
Baidu Inc. (BIDU) $133.10 -2.63%