US close: Stocks mixed as bank fears recede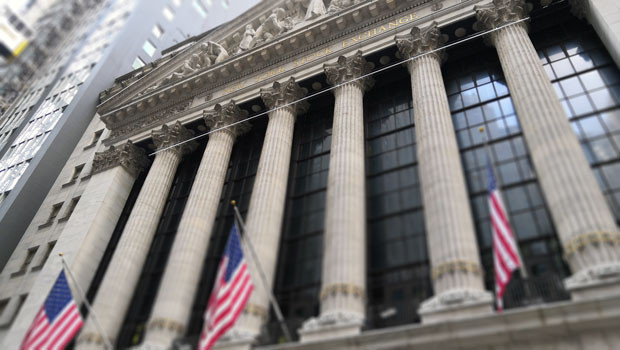 Major indices delivered a mixed performance on Monday as both the Dow Jones and S&P 500 built on last week's gains and put banking sector fears in the rear view mirror.
At the close, the Dow Jones Industrial Average was up 0.60% at 32,432.08, while the S&P 500 advanced 0.16% to 3,977.53 and the Nasdaq Composite saw out the session 0.47% weaker at 11,768.84.
The Dow closed 194.55 points higher on Monday, extending gains recorded in what was a winning week that came despite heightened volatility as a result of the Federal Reserve's latest interest rate hike and ongoing uncertainty in the banking sector both at home and abroad.
America's banking system remained in focus on Tuesday, with news that deposit outflows from small banks to industry giants like JPMorgan Chase and Wells Fargo had slowed in recent days drew an amount of investor attention and seemingly boosted sentiment somewhat.
News that policymakers were mulling over the idea of expanding an emergency lending program for banks, giving embattled lender First Republic more time to shore up its liquidity, was also in focus, as was word from the Federal Deposit Insurance Company that stated First Citizens Bank had agreed to buy large parts of Silicon Valley Bank - including approximately $72.0bn of SVB assets at a discount of $16.5bn.
Across the pond, Deutsche Bank, which stumbled shortly after the Swiss government forced UBS to takeover rival Credit Suisse, also traded higher on Monday.
On the macro front, the Dallas Federal Reserve's general business activity index slipped 5.1 points to -13.5 in February, down from a reading of -8.4 in January and the tenth straight month of contraction. The new orders index was negative for a ninth month in a row, while the production index, a key measure of state manufacturing conditions, edged down from 0.2 to -2.8 - suggesting a modest contraction in output.
Still to come, Federal Reserve economist Philip Jefferson said the central bank was "still learning" what exactly the impacts of tighter monetary policy and warned that trouble among small and regional banks could impact small businesses across the US.
In the corporate space, Lyft shares rallied in extended trading after the rideshareing giant named its new chief executive and revealed that its co-founders will step away from their day-to-day roles with the firm.
Reporting by Iain Gilbert at Sharecast.com
Dow Jones - Risers
International Business Machines Corporation (CDI) (IBM) $129.38 3.21%
JP Morgan Chase & Co. (JPM) $128.49 2.87%
American Express Co. (AXP) $163.14 2.09%
Merck & Co. Inc. (MRK) $106.81 2.03%
Goldman Sachs Group Inc. (GS) $318.47 1.91%
Walmart Inc. (WMT) $144.16 1.67%
Walt Disney Co. (DIS) $95.62 1.64%
Boeing Co. (BA) $200.66 1.54%
Unitedhealth Group Inc. (UNH) $481.90 1.24%
Verizon Communications Inc. (VZ) $38.04 1.04%
Dow Jones - Fallers
Nike Inc. (NKE) $117.81 -2.40%
Microsoft Corp. (MSFT) $276.38 -1.49%
Apple Inc. (AAPL) $158.28 -1.23%
Home Depot Inc. (HD) $281.02 -0.62%
Intel Corp. (INTC) $29.18 -0.61%
Amgen Inc. (AMGN) $236.76 -0.53%
Procter & Gamble Co. (PG) $145.91 -0.52%
Dowdupont Inc. (DWDP) $0.00 0.00%
Cisco Systems Inc. (CSCO) $50.54 0.06%
3M Co. (MMM) $101.49 0.35%
S&P 500 - Risers
Nektar Therapeutics (NKTR) $0.77 7.31%
International Flavors & Fragrances Inc. (IFF) $89.62 6.35%
Hewlett Packard Enterprise (HPE) $14.99 5.48%
Comerica Inc. (CMA) $42.58 5.40%
CenturyLink Inc. (LUMN) $2.54 5.39%
Keycorp (KEY) $12.49 5.31%
Bank of America Corp. (BAC) $28.49 4.97%
Schlumberger Ltd. (SLB) $46.77 4.94%
Helmerich & Payne Inc. (HP) $35.35 4.53%
FMC Technologies Inc. (FTI) $13.09 4.48%
S&P 500 - Fallers
Carnival Corp. (CCL) $8.78 -4.77%
American Tower Corp (Reit) (AMT) $193.29 -3.24%
Alphabet Inc. Class C (GOOG) $103.06 -2.83%
Alphabet Inc. Class A (GOOGL) $102.46 -2.83%
Norwegian Cruise Line Holdings Ltd (NCLH) $12.20 -2.56%
Nike Inc. (NKE) $117.81 -2.40%
Qorvo, Inc. (QRVO) $98.52 -2.38%
Microchip Technology Inc. (MCHP) $77.55 -2.37%
Micron Technology Inc. (MU) $59.79 -2.24%
Sba Communications Corp. (SBAC) $251.20 -2.03%
Nasdaq 100 - Risers
Qurate Retail Inc. (QRTEA) $0.87 3.25%
Gen Digital Inc. (GEN) $16.80 2.38%
Hasbro Inc (HAS) $50.16 2.30%
J.B. Hunt Transport Services Inc. (JBHT) $169.27 1.91%
CSX Corp. (CSX) $28.75 1.77%
American Airlines Group (AAL) $13.94 1.60%
PACCAR Inc. (PCAR) $70.94 1.49%
Comcast Corp. (CMCSA) $36.40 1.34%
Charter Communications Inc. (CHTR) $348.36 1.28%
Ulta Salon, Cosmetics & Fragrance Inc. (ULTA) $520.41 1.26%
Nasdaq 100 - Fallers
Alphabet Inc. Class C (GOOG) $103.06 -2.83%
Alphabet Inc. Class A (GOOGL) $102.46 -2.83%
Microchip Technology Inc. (MCHP) $77.55 -2.37%
Baidu Inc. (BIDU) $152.73 -2.27%
Micron Technology Inc. (MU) $59.79 -2.24%
Vertex Pharmaceuticals Inc. (VRTX) $308.47 -1.88%
Dish Network Corp. (DISH) $8.60 -1.71%
Skyworks Solutions Inc. (SWKS) $113.11 -1.59%
Analog Devices Inc. (ADI) $184.76 -1.56%
Meta Platforms Inc. (META) $202.84 -1.54%