US close: Stocks mixed after Canada's rate hike surprise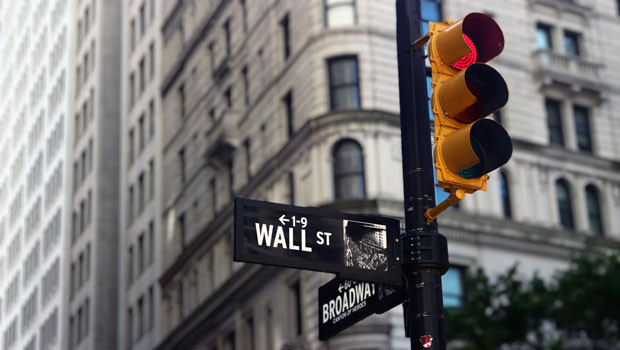 Wall Street closed in a mixed state on Wednesday, as market indicators reacted to the Bank of Canada's unexpected decision to increase interest rates.
At the close, the Dow Jones Industrial Average was up 0.27% at 33,665.02, while the S&P 500 slipped 0.38% to finish at 4,267.52.
The tech-heavy Nasdaq Composite took a more significant hit, dropping 1.29% to settle at 13,104.89.
Canada's surprise decision echoed the unexpected move by the Reserve Bank of Australia earlier in the week, making Ottawa the second central bank to increase rates against market expectations.
In the currency market, the dollar was last down 0.02% on sterling to trade at 80.38p, while it slipped 0.01% against the common currency to 93.46 euro cents.
Against the yen, it retreated 0.02% to change hands at JPY 140.10.
"Risk appetite had looked wobbly earlier today following poor Chinese trade data and disappointing German industrial output numbers, but a second hawkish central bank in as many days has resulted in stocks turning lower once again," said IG chief market analyst Chris Beauchamp.
"In a week devoid of heavyweight events the decisions from the RBA and BoC have commanded more attention than usual, particularly since they act as a prelude to the big movers of the Fed, ECB and BoJ next week."
Bank of Canada surprises with hike, OECD releases latest forecast
On the economic front, the Bank of Canada raised its benchmark interest rate to 4.75% - a decent increase from the previous rate of 4.5%.
It marked the bank's ninth rate hike, and positioned the interest rate at a 22-year high, following steady rates since January.
The BoC's decision came amidst concerns of inflation possibly escalating beyond its 2% target, with recent data indicating a more robust than anticipated economic demand.
Contributing factors such as strong consumer spending, renewed demand for services, an increase in housing activity, and a tight labour market were leading to excess demand, according to the BoC.
Despite inflation having increased in April with core inflation measures reaching up to 4% for several consecutive months, the BoC said it expected inflation slowing to 3% over the summer.
However, it refrained from reiterating its earlier prediction that inflation would return to the 2% target by the end of next year.
Meanwhile, the Organisation for Economic Co-operation and Development (OECD) forecast moderate global growth this year, although the recovery remained a considerable distance away.
In its latest report, the Paris-based organisation revised its global growth prediction to 2.7% from 2.6%, with economic improvements expected for the US, China, and the eurozone.
The growth forecasts for both the US and China have been nudged up by 0.1% to 1.6% and 5.4% respectively.
The eurozone's growth forecast also received a 0.1% boost, bringing it to 0.9%.
The UK's growth forecast was adjusted to 0.3% to avoid a projected recession, whereas Germany saw its growth forecast lowered to a flat zero.
Finally on data, the world's second-largest economy – China – was seeing some deceleration in its economic recovery, as indicated by a recent drop in exports.
Customs data showed a sharp drop of 7.5% in May's exports, valued at $283.5bn - a significant reversal from the 8.5% increase in April.
That was a substantial underperformance against the projected 0.1% fall.
Imports also took a hit, declining 4.5% to $217.7bn, a slower fall compared to 7.9% in April, and significantly better than the predicted fall of 6.8%.
As a result, China's trade surplus in May shrank to $65.8bn from $90.2bn in the previous month.
Tech plays maintain some gains, Campbell Soup tumbles
In equities, streaming platform Netflix managed gains of 0.12% on the back of positive broker commentary, while semiconductor player Marvell Technology edged up 0.32% after news of a contract with Amazon for the supply of artificial intelligence chips broke.
On the downside, and despite reporting better-than-expected earnings for its third quarter and revenue figures aligning closely with expectations, Campbell Soup Company tumbled 8.91%.
Reporting by Josh White for Sharecast.com.
Dow Jones - Risers
Caterpillar Inc. (CAT) $235.55 3.91%
3M Co. (MMM) $101.00 2.76%
Goldman Sachs Group Inc. (GS) $335.75 2.74%
Chevron Corp. (CVX) $159.83 2.59%
Dow Chemical Co. (DOW) $53.87 2.43%
Boeing Co. (BA) $211.93 2.24%
Home Depot Inc. (HD) $301.70 1.93%
Verizon Communications Inc. (VZ) $35.26 1.61%
International Business Machines Corporation (CDI) (IBM) $134.38 1.27%
Walgreens Boots Alliance, Inc. (WBA) $31.93 1.27%
Dow Jones - Fallers
Salesforce.Com Inc. (CRM) $205.73 -3.35%
Microsoft Corp. (MSFT) $323.38 -3.09%
Visa Inc. (V) $225.30 -1.29%
Merck & Co. Inc. (MRK) $108.61 -1.27%
Unitedhealth Group Inc. (UNH) $482.13 -1.12%
McDonald's Corp. (MCD) $281.90 -0.93%
Apple Inc. (AAPL) $177.82 -0.78%
American Express Co. (AXP) $171.55 -0.16%
Coca-Cola Co. (KO) $60.22 -0.15%
Cisco Systems Inc. (CSCO) $49.78 -0.06%
S&P 500 - Risers
Sl Green Realty Corp. (SLG) $26.57 6.37%
Whirlpool Corp. (WHR) $145.95 6.37%
Helmerich & Payne Inc. (HP) $34.86 6.12%
Stanley Black & Decker Inc. (SWK) $86.95 6.07%
Foot Locker Inc. (FL) $26.68 5.96%
Ford Motor Co. (F) $13.59 5.10%
Macerich Co (MAC) $11.40 5.08%
Vornado Realty Trust (VNO) $15.62 4.97%
Nordstrom Inc. (JWN) $19.42 4.92%
Marathon Oil Corp. (MRO) $24.26 4.87%
S&P 500 - Fallers
Campbell Soup Co. (CPB) $46.08 -8.91%
Intuit Inc. (INTU) $422.36 -5.83%
Advanced Micro Devices Inc. (AMD) $117.83 -5.15%
Amazon.Com Inc. (AMZN) $121.23 -4.25%
Ansys Inc. (ANSS) $312.85 -3.91%
Alphabet Inc. Class C (GOOG) $122.94 -3.89%
Zoetis Inc (ZTS) $163.55 -3.86%
Alphabet Inc. Class A (GOOGL) $122.50 -3.78%
Fortinet Inc. (FTNT) $67.06 -3.57%
Adobe Systems Inc. (ADBE) $418.32 -3.37%
Nasdaq 100 - Risers
Microchip Technology Inc. (MCHP) $80.99 4.50%
Liberty Global plc Series C (LBTYK) $18.05 4.46%
Liberty Global plc Series A (LBTYA) $17.14 4.38%
Sirius XM Holdings Inc (SIRI) $3.86 3.49%
Dish Network Corp. (DISH) $7.78 3.18%
Charter Communications Inc. (CHTR) $336.71 2.34%
Comcast Corp. (CMCSA) $40.35 2.26%
J.B. Hunt Transport Services Inc. (JBHT) $175.35 2.22%
PACCAR Inc. (PCAR) $76.19 2.15%
Vodafone Group Plc ADS (VOD) $9.78 2.09%
Nasdaq 100 - Fallers
Intuit Inc. (INTU) $422.36 -5.83%
Workday, Inc. (WDAY) $203.44 -5.38%
Amazon.Com Inc. (AMZN) $121.23 -4.25%
Alphabet Inc. Class C (GOOG) $122.94 -3.89%
Alphabet Inc. Class A (GOOGL) $122.50 -3.78%
Mercadolibre Inc. (MELI) $1,208.29 -3.68%
Baidu Inc. (BIDU) $132.79 -3.39%
Adobe Systems Inc. (ADBE) $418.32 -3.37%
Autodesk Inc. (ADSK) $201.16 -3.29%
Microsoft Corp. (MSFT) $323.38 -3.09%