US close: Stocks lower as USD and Treasuries surge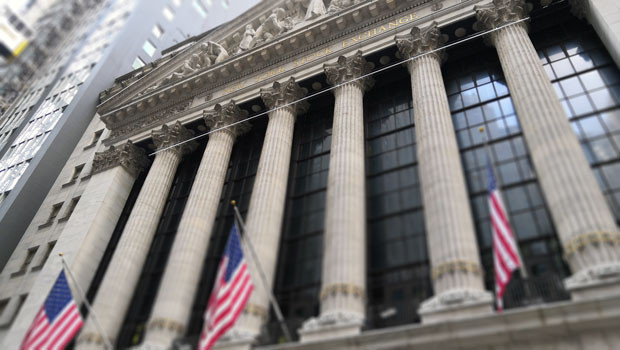 Wall Street stocks closed lower on Monday as a surging dollar and heightened bond yields took centre stage.
At the close, the Dow Jones Industrial Average was down 1.11% at 29,260.81, while the S&P 500 was 1.03% weaker at 3,655.04 and the Nasdaq Composite saw out the session 0.60% softer at 10,802.92.
The Dow closed 329.60 points lower on Monday, extending losses recorded at the end of last week amid concerns that the central bank's aggressive monetary policy may send the US economy into a recession.
In focus on Monday was news that the British pound dropped to a record low against the US dollar, with Sterling falling 4% to an all-time low of $1.0382 as the Federal Reserve's monetary policy, paired with tax cuts announced by the UK last week caused the greenback to surge. The euro also hit its lowest level against the dollar in two decades.
The bond market was also drawing an amount of investor attention throughout the session, with the 2-year Treasury note up at 4.304%, while its benchmark 10-year counterpart was more than nine basis points higher at 3.875%.
On the macro front, the Chicago Fed's national activity index fell to 0 in August, down from a five-month high of 0.29 in July, pointing to a moderation in overall economic growth during the month.
No major corporate earnings were released on Monday.
Reporting by Iain Gilbert at Sharecast.com
Dow Jones - Risers
Walmart Inc. (WMT) $131.31 0.96%
Apple Inc. (AAPL) $150.77 0.23%
Procter & Gamble Co. (PG) $135.71 0.10%
3M Co. (MMM) $113.00 0.01%
Honeywell International Inc. (HON) $0.00 0.00%
Dowdupont Inc. (DWDP) $0.00 0.00%
Amgen Inc. (AMGN) $226.87 -0.04%
Cisco Systems Inc. (CSCO) $40.58 -0.20%
Microsoft Corp. (MSFT) $237.45 -0.20%
Walgreens Boots Alliance, Inc. (WBA) $32.69 -0.43%
Dow Jones - Fallers
Travelers Company Inc. (TRV) $150.60 -3.14%
Boeing Co. (BA) $127.34 -2.99%
Chevron Corp. (CVX) $140.96 -2.63%
Goldman Sachs Group Inc. (GS) $294.62 -2.43%
JP Morgan Chase & Co. (JPM) $106.79 -2.15%
American Express Co. (AXP) $137.45 -2.00%
Intel Corp. (INTC) $26.97 -2.00%
Visa Inc. (V) $180.59 -1.83%
Home Depot Inc. (HD) $266.58 -1.61%
Verizon Communications Inc. (VZ) $38.93 -1.49%
S&P 500 - Risers
Wynn Resorts Ltd. (WYNN) $66.80 11.99%
Costco Wholesale Corp. (COST) $480.30 2.98%
Under Armour, Inc. (UA) $6.78 1.95%
Willis Towers Watson Public Limited Company (WTW) $203.52 1.59%
Estee Lauder Co. Inc. (EL) $232.46 1.50%
Amazon.Com Inc. (AMZN) $115.15 1.20%
Borg Warner Inc. (BWA) $33.35 1.15%
Hologic Inc. (HOLX) $63.66 1.08%
Helmerich & Payne Inc. (HP) $35.83 0.99%
Walmart Inc. (WMT) $131.31 0.96%
S&P 500 - Fallers
Dish Network Corp. (DISH) $14.27 -6.12%
Apartment Investment & Management Co. (AIV) $7.38 -6.11%
Arconic Inc. (ARNC) $17.00 -6.03%
Sl Green Realty Corp. (SLG) $39.27 -5.74%
AES Corp. (AES) $22.96 -5.48%
Halliburton Co. (HAL) $23.31 -5.17%
CenturyLink Inc. (LUMN) $7.71 -5.17%
Best Buy Co. Inc. (BBY) $65.32 -5.03%
PVH Corp. (PVH) $46.08 -5.01%
Alaska Air Group Inc. (ALK) $38.81 -4.83%
Nasdaq 100 - Risers
Wynn Resorts Ltd. (WYNN) $66.80 11.99%
Trip.com Group Limited (TCOM) $27.37 5.31%
Costco Wholesale Corp. (COST) $480.30 2.98%
JD.com, Inc. (JD) $53.34 1.97%
Amazon.Com Inc. (AMZN) $115.15 1.20%
Hologic Inc. (HOLX) $63.66 1.08%
Monster Beverage Corp (MNST) $87.91 0.94%
Cadence Design Systems Inc. (CDNS) $162.38 0.88%
O'Reilly Automotive Inc. (ORLY) $693.72 0.80%
Starbucks Corp. (SBUX) $84.81 0.76%
Nasdaq 100 - Fallers
Qurate Retail Inc. (QRTEA) $2.10 -9.48%
Dish Network Corp. (DISH) $14.27 -6.12%
Charter Communications Inc. (CHTR) $306.20 -4.81%
Western Digital Corp. (WDC) $32.40 -4.26%
Seagate Technology Plc (STX) $55.39 -4.14%
Vodafone Group Plc ADS (VOD) $11.51 -3.84%
Liberty Global plc Series C (LBTYK) $16.85 -3.49%
Illumina Inc. (ILMN) $184.12 -3.29%
Liberty Global plc Series A (LBTYA) $15.98 -3.21%
Biomarin Pharmaceutical Inc. (BMRN) $82.16 -3.16%