US close: Stocks hold gains following Fed minutes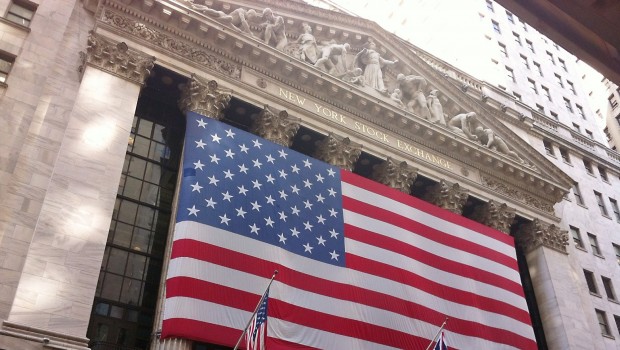 Wall Street stocks closed higher on Wednesday as investors digested some solid figures from major retailers and minutes from the last meeting of the Federal Open Market Committee to be published.
At the close, the Dow Jones Industrial Average was up 0.93% at 26,202.73, while the S&P 500 was ahead 0.82% at 2,924.43 and the Nasdaq Composite closed 0.90% firmer at 8,020.21.
The Dow closed 240.29 points higher on Wednesday after closing lower in the previous session, snapping a three-day winning streak with market participants focussed on the state of US-China relations and the outlook for monetary policy.
For the most part, investors mulled over minutes from the Federal Reserve's latest meeting, which revealed the central bank had no pre-set course for cutting rates.
Back in July, the Fed announced a 25 basis point cut to official short-term interest rates in what it called a "mid-cycle adjustment". However, shortly after the interest rate decision, US-China trade tensions increased, as did speculation that the Fed would soon cut rates again.
Several analysts were expecting the FOMC to lower rates 50 basis points instead of 25 when it next convened on 17-18 September.
Elsewhere, Donald Trump was taking some time to take shots at the European Union, saying "dealing with the European Union is very difficult."
"We have all the cards in this country because all we have to do is tax their cars and they'd give us anything we wanted because they send millions of Mercedes over. They send millions of BMWs over," said Trump, who was due to meet with EU leaders later in the week at the G-7 meeting in Biarritz, France.
On the data front, sales of US existing homes rose in line with expectations in July, according to figures from the National Association of Realtors.
Sales were up 2.5% from June to a seasonally-adjusted annual rate of 5.42m, as expected. On the year, meanwhile, sales increased 0.6%.
The median price of an existing home was $280,000, up 4.3% from July last year, marking the 89th straight month of year-over-year gains. Total housing inventory at the end of July fell to 1.89m from 1.92m.
In corporate news, Lowe's shares shot up following a second-quarter earnings beat, while stock in fellow retailer Target surged after the company beat expectations on both the top and bottom line.
The solid figures from two major retailers were well received given the fears of an economic slowdown across the US that has led investors towards safe havens such as gold and Treasurys in recent weeks.