US close: Stocks firmer as earnings season kicks off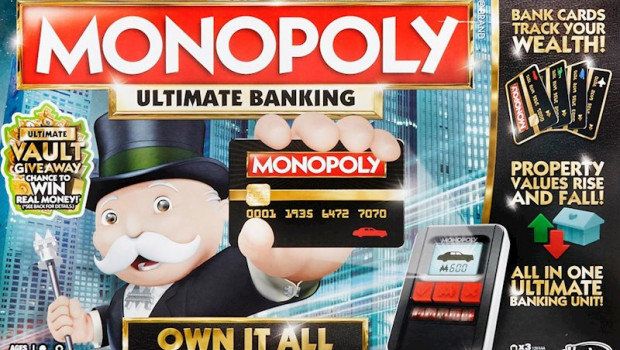 Wall Street stocks were in positive territory as they closed on Monday, on the first day of a tech-heavy week on the earnings front.
At the close, the Dow Jones Industrial Average was up 0.24% at 35,144.31, as the S&P 500 added 0.24% to 4,422.30, and the Nasdaq Composite was 0.03% firmer at 14,870.71.
The Dow closed 82.76 points higher on Monday, adding to gains recorded on Friday when all three major averages closed out the week at record highs, after markets tumbled at the start of the week on concerns about the spread of the Covid-19 'Delta' variant.
Earnings were set to be firmly in focus this week, with tech giants Apple, Alphabet and Microsoft set to report on Tuesday, while Facebook and Amazon will report later in the week.
In terms of today's earnings, toymaker Hasbro advanced 12.24% after the company posted a 54% increase in second-quarter earnings to $1.32bn, with operating profits growing to $76.6m, or 5.8% of revenues.
Aerospace and defence giant Lockheed Martin was 3.34% weaker, as it reported mixed second-quarter earnings but raised its full-year guidance.
On the macro front, sales of new single-family homes crashed in June, while the previous month's numbers were downwardly revised, indicating that the US housing market was losing momentum amid soaring prices.
According to the Commerce Department, new home sales dropped 6.6% to a seasonally-adjusted annual rate of 676,000 units last month, while May's sales pace was revised down to 724,000 units from the previously reported 769,000 units.
Market participants were also glued to the Federal Reserve's two-day policy meeting this week, beginning on Tuesday, with the Federal Open Market Committee and the Board of Governors expected to issue a statement on their current stance on monetary policy on Wednesday.
Dow Jones - Risers
Dow Chemical Co. (DOW) $62.01 3.16%
Intel Corp. (INTC) $54.31 2.47%
Chevron Corp. (CVX) $100.83 2.11%
Boeing Co. (BA) $225.85 1.95%
Walgreens Boots Alliance, Inc. (WBA) $47.25 1.55%
Walt Disney Co. (DIS) $178.74 1.48%
International Business Machines Corporation (CDI) (IBM) $142.71 1.01%
Caterpillar Inc. (CAT) $210.94 0.72%
JP Morgan Chase & Co. (JPM) $151.65 0.67%
Travelers Company Inc. (TRV) $148.82 0.64%
Dow Jones - Fallers
Amgen Inc. (AMGN) $245.08 -1.07%
Unitedhealth Group Inc. (UNH) $413.54 -1.00%
Nike Inc. (NKE) $165.09 -0.76%
Home Depot Inc. (HD) $331.39 -0.50%
Merck & Co. Inc. (MRK) $77.24 -0.39%
American Express Co. (AXP) $172.61 -0.33%
Salesforce.Com Inc. (CRM) $247.60 -0.26%
Microsoft Corp. (MSFT) $289.05 -0.21%
Verizon Communications Inc. (VZ) $55.79 -0.18%
Dowdupont Inc. (DWDP) $30.52 0.00%
S&P 500 - Risers
Hasbro Inc (HAS) $103.72 12.24%
Mattel Inc. (MAT) $20.79 8.73%
Aon plc (AON) $251.56 8.21%
TripAdvisor Inc. (TRIP) $38.65 6.59%
FMC Technologies Inc. (FTI) $7.39 6.48%
Carnival Corp. (CCL) $23.16 5.46%
National Oilwell Varco Inc. (NOV) $14.25 5.01%
Macy's Inc. (M) $17.45 4.74%
PerkinElmer Inc. (PKI) $172.11 4.73%
Norwegian Cruise Line Holdings Ltd (NCLH) $26.02 4.62%
S&P 500 - Fallers
Willis Towers Watson Public Limited Company (WLTW) $206.07 -8.98%
Twitter Inc (TWTR) $68.69 -4.18%
Lockheed Martin Corp. (LMT) $368.05 -3.34%
Incyte Corp. (INCY) $77.31 -2.51%
Snap On Inc. (SNA) $220.13 -1.99%
Gallagher Arthur J (AJG) $140.22 -1.98%
CIGNA Corp. (CI) $228.44 -1.91%
Quanta Services Inc. (PWR) $88.18 -1.77%
Xilinx Inc. (XLNX) $135.44 -1.76%
Cintas Corp. (CTAS) $388.74 -1.65%
Nasdaq 100 - Risers
Hasbro Inc (HAS) $103.72 12.24%
American Airlines Group (AAL) $22.08 4.15%
Intel Corp. (INTC) $54.31 2.47%
Dish Network Corp. (DISH) $42.70 2.45%
Marriott International - Class A (MAR) $142.49 2.38%
Tesla Inc (TSLA) $657.62 2.21%
Biogen Inc (BIIB) $331.93 2.01%
Walgreens Boots Alliance, Inc. (WBA) $47.25 1.55%
Alphabet Inc. Class C (GOOG) $2,792.89 1.33%
Booking Holdings Inc. (BKNG) $2,230.71 1.28%
Nasdaq 100 - Fallers
NetEase Inc. Ads (NTES) $89.40 -13.65%
JD.com, Inc. (JD) $66.08 -8.59%
Trip.com Group Limited (TCOM) $25.35 -6.90%
Baidu Inc. (BIDU) $162.37 -5.96%
Check Point Software Technologies Ltd. (CHKP) $121.13 -3.81%
Incyte Corp. (INCY) $77.31 -2.51%
Xilinx Inc. (XLNX) $135.44 -1.76%
Mercadolibre Inc. (MELI) $1,585.71 -1.74%
Cintas Corp. (CTAS) $388.74 -1.65%
Activision Blizzard Inc. (ATVI) $90.14 -1.49%