US close: Stocks firmer after another day of earnings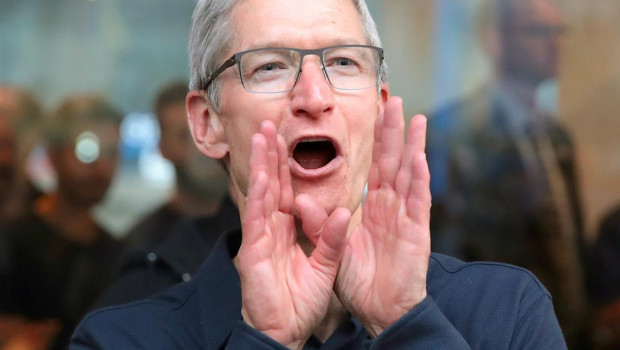 Wall Street stocks closed in positive territory on Thursday, with market participants snapping up some profits after some better-than-expected big tech earnings overnight.
At the close, the Dow Jones Industrial Average was up 0.71% at 34,060.36, as the S&P 500 added 0.68% to 4,211.47 and the Nasdaq Composite was ahead 0.22% at 14,082.55.
The Dow opened 239.98 points higher on Thursday, following losses in the previous session that came despite the Federal Reserve announcing the continuation of its current easy policy, holding interest rates near zero, even while acknowledging that the US economy was accelerating.
On the macro front, an advance reading of the US' first-quarter gross domestic product revealed economic activity had boomed at the beginning of 2021, with widespread vaccinations and government spending began to help the US economy claw back to where it was before the Covid-19 pandemic.
According to the Commerce Department, gross domestic product jumped 6.4% on an annualised basis in the first three months of 2021, which, outside of the reopening-fuelled third-quarter surge in 2021, was the best period for GDP since 2003.
Elsewhere, the much-watched weekly jobless claims report revealed that claims had fallen again in the week ended 24 April, hitting their lowest level since the Covid-19 pandemic hit in March 2020.
Initial unemployment claims fell 13,000 last week to a seasonally adjusted clip of 553,000, according to the Labor Department, marking a third straight week jobless claims were below 600,000, their lowest levels since early 2020.
The previous week's figure was revised up to 566,000,
Lastly, pending home sales grew at a slower than forecast print in March, indicating that a lack of available properties was keeping buyers sidelined despite phenomenal demand.
According to the National Association of Realtors, pending home sales increased 1.9% month-on-month to 111.3, well and truly short of estimates for a 4.4% gain.
In equity markets, strong quarterly results from Apple and Facebook initially drove stocks higher on Thursday, although Apple ended the day down 0.07% even after reporting that sales had jumped 54% during the quarter, with each product category seeing double-digit growth.
Facebook, meanwhile, closed 7.3% firmer after revenues surged 48%, driven by higher-priced ads in the quarter.
Caterpillar shares were in the red by 2.08% despite blowing past expectations, while Comcast shares were 4.25% higher after it also beat earnings expectations with its latest quarterly figures.
Fast-food giant McDonald's was ahead 1.2% after its quarterly revenues also topped pre-Covid levels, driven by the US' vaccine rollout and a resulting strong economic recovery throughout the quarter.
Elsewhere in the corporate space, Carnival was down 2.12% while Norwegian Cruise Line managed gains of 0.26%, after the Centers for Disease Control stated sailings from US ports could recommence in mid-July.
Dow Jones - Risers
Nike Inc. (NKE) $133.26 1.95%
JP Morgan Chase & Co. (JPM) $155.19 1.94%
Unitedhealth Group Inc. (UNH) $401.45 1.76%
Home Depot Inc. (HD) $325.34 1.76%
Chevron Corp. (CVX) $106.90 1.60%
3M Co. (MMM) $199.05 1.59%
Verizon Communications Inc. (VZ) $57.33 1.58%
Visa Inc. (V) $236.86 1.46%
Goldman Sachs Group Inc. (GS) $352.97 1.40%
Johnson & Johnson (JNJ) $164.20 1.37%
Dow Jones - Fallers
Merck & Co. Inc. (MRK) $73.68 -4.42%
Caterpillar Inc. (CAT) $227.47 -2.08%
Salesforce.Com Inc. (CRM) $234.36 -1.06%
Amgen Inc. (AMGN) $234.71 -0.84%
Microsoft Corp. (MSFT) $252.51 -0.81%
Apple Inc. (AAPL) $133.48 -0.07%
Dowdupont Inc. (DWDP) $30.52 0.00%
Boeing Co. (BA) $235.94 0.20%
Honeywell International Inc. (HON) $223.90 0.46%
Walgreens Boots Alliance, Inc. (WBA) $52.74 0.64%
S&P 500 - Risers
Alliance Data Systems Corp. (ADS) $118.64 10.01%
Dish Network Corp. (DISH) $45.05 8.32%
Facebook Inc. (FB) $329.51 7.30%
Molson Coors Beverage Co. Class B (TAP) $55.50 7.00%
Dxc Technology Company (DXC) $33.43 4.86%
QUALCOMM Inc. (QCOM) $142.68 4.47%
Cincinnati Financial Corp. (CINF) $111.50 4.44%
Juniper Networks Inc. (JNPR) $26.35 4.32%
Comcast Corp. (CMCSA) $56.40 4.25%
Northrop Grumman Corp. (NOC) $352.22 4.09%
S&P 500 - Fallers
eBay Inc. (EBAY) $56.07 -10.03%
Ford Motor Co. (F) $11.26 -9.41%
Hologic Inc. (HOLX) $66.23 -8.52%
Abiomed Inc. (ABMD) $322.94 -8.04%
Citrix Systems Inc. (CTXS) $128.02 -7.57%
Teleflex Inc. (TFX) $417.00 -6.00%
Bristol-Myers Squibb (BMY) $62.89 -4.76%
Merck & Co. Inc. (MRK) $73.68 -4.42%
Thermo Fisher Scientific Inc. (TMO) $464.39 -4.41%
MGM Resorts International (MGM) $40.42 -3.81%
Nasdaq 100 - Risers
Dish Network Corp. (DISH) $45.05 8.32%
Facebook Inc. (FB) $329.51 7.30%
QUALCOMM Inc. (QCOM) $142.68 4.47%
Comcast Corp. (CMCSA) $56.40 4.25%
Kraft Heinz Co. (KHC) $41.69 3.90%
O'Reilly Automotive Inc. (ORLY) $547.17 3.44%
Charter Communications Inc. (CHTR) $669.97 2.64%
Maxim Integrated Products Inc. (MXIM) $97.07 2.64%
Micron Technology Inc. (MU) $88.06 2.36%
Liberty Global plc Series C (LBTYK) $27.36 2.34%
Nasdaq 100 - Fallers
eBay Inc. (EBAY) $56.07 -10.03%
Hologic Inc. (HOLX) $66.23 -8.52%
Citrix Systems Inc. (CTXS) $128.02 -7.57%
Tesla Inc (TSLA) $677.00 -2.51%
Workday, Inc. (WDAY) $254.67 -2.38%
Mercadolibre Inc. (MELI) $1,588.23 -2.08%
American Airlines Group (AAL) $21.30 -1.84%
Trip.com Group Limited (TCOM) $40.02 -1.74%
Baidu Inc. (BIDU) $212.29 -1.64%
JD.com, Inc. (JD) $77.83 -1.56%