US close: Stocks finish higher as Fed stands pat on rates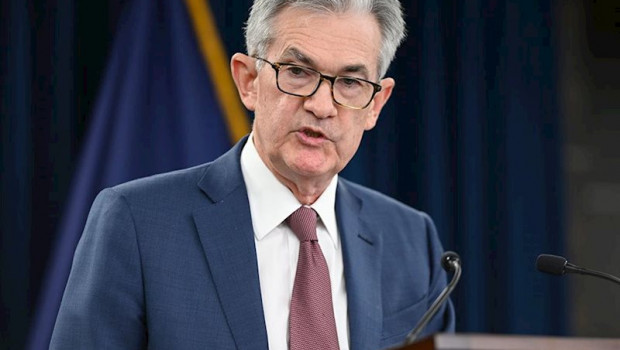 US stocks closed slightly higher on Wednesday as market participants digested the latest from the Federal Reserve, as it stood pat on interest rates late in the day.
The Dow Jones Industrial Average ended the session up 0.61% at 26,539.57, the S&P 500 added 1.24% to 3,258.44, and the Nasdaq Composite was 1.35% firmer at 10,542.94.
At the open, the Dow was 38.84 points higher, cutting into some of the losses recorded in the previous session amid stimulus headlines and another slab of corporate earnings.
The Federal Reserve kept its interest rate target on hold at between 0% and 0.25%, as expected, but it did acknowledge the recovery in the US in its rhetoric.
In its statement, it replaced "the virus and the measures taken to protect public health have induced sharp declines in economic activity and a surge in job losses" with "economic activity and employment have picked up somewhat in recent months but remain well below their levels at the beginning of the year."
Rabobank senior US strategist Philip Marey noted that during his press conference, Fed chair Jerome Powell stressed the crucial role of the virus, and the measures taken against it.
"When asked when the Fed is going to raise rates he said that the FOMC is not even thinking about thinking about thinking about raising rates," Marey said.
"Sounding like a vinyl record being stuck - or was this DJ Fed scratching - he was very dovish."
Marey said that on calendar-based versus outcome-based forward guidance, Powell remained vague and said that they had not yet made any decisions.
"For now, it looks like we are going to have to count the number of 'thinking about's.
"Powell had very little to say about the outcome of the monetary policy review and even less about yield curve control."
The tête-à-tête between Republican and Democratic lawmakers over a proposed $1trn stimulus package was also in focus again on Wednesday.
On the macro front, after three weeks of increases, mortgage applications fell 0.8% last week, according to the Mortgage Bankers Association.
Despite mortgage rates continuing to sit near record lows, the MBA's unadjusted purchase index also fell 1% last week - but was up 21% compared to last year, marking 10 straight weeks of year-on-year increases for purchase activity.
Elsewhere, America's shortfall in trade on goods with the rest of the world fell more quickly than expected last month as export growth picked up.
According to the Department of Commerce, in seasonally adjusted terms, the US' trade deficit fell at a month-on-month pace of 6.1% to reach $70.6bn, against consensus forecasts for a deficit of $74.2bn.
Exports jumped at a month-on-month pace of 13.8% to reach $102.6bn, while imports were 4.8% higher to $173.2bn.
Lastly, contracts to buy previously owned US homes increased more than expected in June - another indication that the housing market was weathering the Covid-19 pandemic better than the rest of the economy.
The National Association of Realtors' pending home sales index rose 16.6% to 116.1 last month. Economists anticipated a 15% increase.
In the corporate space, Starbucks was up 3.72% after it posted a third-quarter loss overnight but raised its fourth-quarter forecast, while AMD stock surged 12.54% after posting a better-than-expected quarterly performance and issuing upbeat full-year guidance.
Amazon was up 1.11%, Apple added 1.92%, Facebook rose 1.38% and Google owner Alphabet gained 1.45%, as the companies' chief executive officers testified before the House Antitrust Subcommittee following a year-long probe into alleged anti-competitive practices.
General Motors was down 1.75% after it swung to a quarterly loss as the coronavirus shuttered factories and devastated sales, while General Electric was off 4.35% after it posted slightly better-than-expected second-quarter numbers.
Boeing was down 2.92% after it posted a net loss of $2.4bn and said it would slow aircraft production amid Covid-19-weakened demand.
Dow Jones - Risers
JP Morgan Chase & Co. (JPM) $99.68 2.42%
American Express Co. (AXP) $96.69 2.40%
Unitedhealth Group Inc. (UNH) $306.68 2.25%
Apple Inc. (AAPL) $380.16 1.92%
Caterpillar Inc. (CAT) $140.53 1.81%
Travelers Company Inc. (TRV) $116.85 1.58%
Walgreens Boots Alliance, Inc. (WBA) $41.16 1.18%
Exxon Mobil Corp. (XOM) $44.03 1.10%
Chevron Corp. (CVX) $90.07 1.08%
Microsoft Corp. (MSFT) $204.06 1.01%
Dow Jones - Fallers
Boeing Co. (BA) $166.01 -2.83%
Raytheon Technologies Corporation (RTX) $59.40 -2.62%
Intel Corp. (INTC) $48.07 -2.38%
Walmart Inc. (WMT) $130.69 -0.81%
Walt Disney Co. (DIS) $115.61 -0.49%
Merck & Co. Inc. (MRK) $79.35 -0.43%
Coca-Cola Co. (KO) $48.02 -0.33%
Home Depot Inc. (HD) $264.65 -0.23%
Johnson & Johnson (JNJ) $146.54 -0.20%
Verizon Communications Inc. (VZ) $57.45 -0.05%
S&P 500 - Risers
L Brands Inc (LB) $25.88 35.36%
Advanced Micro Devices Inc. (AMD) $76.09 12.54%
CH Robinson Worldwide Inc (CHRW) $95.28 9.33%
Gap Inc. (GPS) $14.15 8.35%
Western Union Co. (WU) $24.15 7.52%
Anthem Inc (ANTM) $281.56 6.16%
HollyFrontier Corp (HFC) $27.75 6.08%
Comerica Inc. (CMA) $38.82 5.92%
ONEOK Inc. (OKE) $29.72 5.92%
PerkinElmer Inc. (PKI) $119.64 5.89%
S&P 500 - Fallers
Seagate Technology Plc (STX) $44.31 -8.77%
Automatic Data Processing Inc. (ADP) $137.12 -6.50%
Helmerich & Payne Inc. (HP) $18.46 -4.99%
Coty Inc. Class A (COTY) $3.87 -4.91%
General Electric Co. (GE) $6.59 -4.35%
Lamb Weston Holdings, Inc. (LW) $59.81 -4.18%
eBay Inc. (EBAY) $54.53 -3.23%
American Airlines Group (AAL) $11.40 -3.14%
Waters Corp. (WAT) $216.52 -3.12%
Boeing Co. (BA) $166.01 -2.83%
Nasdaq 100 - Risers
Qurate Retail Inc. (QRTEA) $11.14 9.75%
Mylan Inc. (MYL) $17.00 5.20%
Paypal Holdings Inc (PYPL) $184.60 4.73%
Mercadolibre Inc. (MELI) $1,086.91 4.55%
Henry Schein Inc. (HSIC) $68.71 4.26%
Cintas Corp. (CTAS) $305.80 4.17%
Starbucks Corp. (SBUX) $77.42 3.72%
Baidu Inc. (BIDU) $119.82 3.57%
Cognizant Technology Solutions Corp. (CTSH) $64.79 3.43%
Lam Research Corp. (LRCX) $360.83 3.41%
Nasdaq 100 - Fallers
Seagate Technology Plc (STX) $44.31 -8.77%
Automatic Data Processing Inc. (ADP) $137.12 -6.50%
eBay Inc. (EBAY) $54.53 -3.23%
American Airlines Group (AAL) $11.40 -3.14%
Asml Holdings N.V. (ASML) $364.62 -3.12%
Incyte Corp. (INCY) $98.04 -2.55%
Amgen Inc. (AMGN) $248.85 -2.51%
Intel Corp. (INTC) $48.07 -2.38%
Biomarin Pharmaceutical Inc. (BMRN) $120.53 -1.87%
Biogen Inc (BIIB) $277.36 -1.07%