US close: Stocks end the week with losses as weak Chinese data weighs on sentiment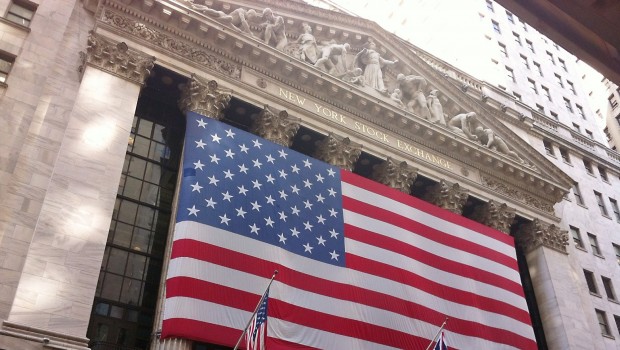 Stocks closed lower on Friday as investors reacted to economic data out of China and tensions between the US and Iran following an attack on two oil tankers in the Gulf of Oman a day earlier.
At the close, the Dow Jones Industrial Average was down 0.07% at 26,089.61, while the S&P 500 closed 0.16% softer at 2,886.98 and the Nasdaq Composite started the session 0.52% weaker at 7,796.66.
The Dow closed 17 points lower after closing higher on Thursday as sentiment was boosted when Donald Trump declined to set a deadline on slapping tariffs on a further $325bn-worth of Chinese imports and energy stocks rallied on the back of two oil tankers being damaged in suspected attacks off the coast of Iran.
However, things headed south at the open and never recovered as market participants turned their attention to geopolitical events.
The White House firmly placed the blame on Iran for Thursday's attacks, with Secretary of State Mike Pompeo stating that Tehran wanted its "successful maximum pressure campaign" lifted.
Iran took aim at Washington later in the day, denying Pompeo's claims when the Middle Eastern nation's Foreign Minister Mohammad Javad Zarif tweeted that the US "immediately jumped to make allegations against Iran—/wo a shred of factual or circumstantial evidence".
The attacks gave oil prices a boost as Brent crude was up 1.22% to $62.06 a barrel on Friday, while a barrel of West Texas Intermediate was trading hands at $52.51 - a 0.44% increase.
Also weighing on sentiment was news that China's industrial output growth had slowed to a 17-year low of 5% last month, falling well shy of expectations - yet another indicator of weakening demand in the world's second-largest economy according to analysts.
The yield on the 10-year US Treasury note was broadly unchanged at 2.087%.
On the data front, US retail sales rose more quickly than expected last month, amid upwards revisions to readings for the previous month.
According to the Department of Commerce, retail sales volumes grew by 0.5% month-on-month on a seasonally adjusted basis to reach $519.02bn. Economists had pencilled-in a bigger increase, of 0.6%.
Elsewhere, US industrial production rose more quickly than expected last month, led by a jump in utilities output.
According to the Department of Commerce, total industrial output increased at a 0.4% month-on-month clip in May, rising by 2.0% year-on-year.
Economists were expecting a rise of just 0.2%, however, readings for the previous three months were all revised a tad lower.
Lastly, the University of Michigan's consumer sentiment index dropped in June, while long-term inflation expectations fell to their lowest on record as the outlook for the economy dimmed.
The preliminary sentiment index fell to 97.9 from 100 in May, slightly undershooting the forecasts.
Looking ahead, the Federal Reserve will hold a two-day meeting focussed on monetary policy next week. While the central bank is not expected to make any changes to policy at the meeting, investors will likely keep a keen eye out for any clues regarding rate cuts later in the year.
In terms of corporate news, Broadcom slumped 5.57% after the group's management said that a second-half rebound for chips looked less likely due to trade tensions and the restrictions placed on one of its main clients, presumably Huawei.
Shares in retailer Target were down 0.58% after the group's signed a letter to Donald Trump imploring him to scrap tariffs on Chinese imports.
Facebook shares were up 2.18% after the Wall Street Journal revealed the social networking giant will be partnering with the likes of Visa, Mastercard, PayPal and Uber to create a cryptocurrency called Libra.
Elsewhere, shares in petcare company Chewy soared 59.05% after its debut IPO in the New York Stock Exchange.