US close: Stocks end session lower following fresh daily record for new Covid-19 cases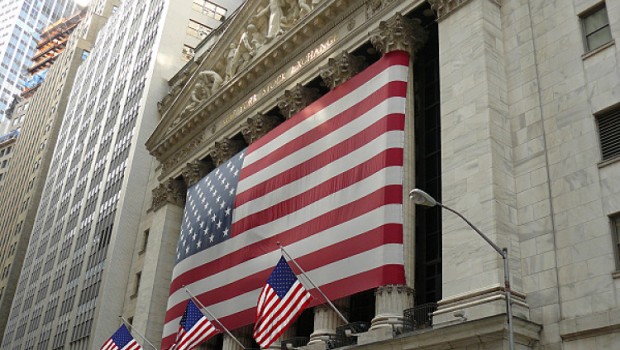 Wall Street stocks closed sharply lower on Monday, with the Dow Jones registering its worst performance since early September after the US reported a daily record for new Covid-19 cases over the weekend.
At the close, the Dow Jones Industrial Average was down 2.29% at 27,685.38, while the S&P 500 was 1.86% weaker at 3,400.97 and the Nasdaq Composite saw out the session 1.64% softer at 11,358.94.
The Dow Jones closed 650.19 points lower on Monday, extending losses recorded at the end of last week as stimulus talks and the upcoming US general election remained firmly in focus.
Monday's principal focus was news that the US had recorded a surge in new cases on Friday and Saturday, with 83,000 fresh infections on both days after a series of outbreaks across the Southern States, according to Johns Hopkins University, topping the previous all-time high of roughly 77,300 seen back in July.
On Sunday, White House chief of staff Mark Meadows said that the US would now likely be unable to get control of the Covid-19 pandemic following the surge in new cases.
Also in focus throughout the session were comments made by Meadows and House Speaker Nancy Pelosi, who in separate interviews took aim at one another for moving the finish line in ongoing stimulus talks, and the final week of campaigning ahead of the US general election on 3 November.
On the macro front, the Chicago Fed's national activity index dropped from 1.11 in August to 0.27 in September - a sharper drop than market expectations for a reading of 0.39.
Elsewhere, the pace of new home sales slowed across the US in September much more than expected, dropping 3.5% month-on-month to 959,000, according to the Commerce Department.
Lastly, the Dallas Fed's October manufacturing index expanded for a fifth straight month in October following a record period of contraction due to the Covid-19 pandemic, rising three points to 25.5, indicating a slight acceleration in output growth.
In corporate news, Hasbro shares were trading lower after the group's third-quarter sales fell short of rival Mattel.
Apple, Facebook, Alphabet, Amazon, Boeing and Caterpillar will all report later in the week.