US close: Stocks close mostly lower following jobless data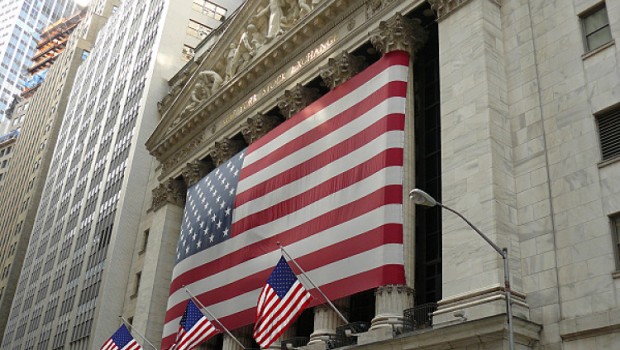 Wall Street stocks closed mostly lower on Thursday after the Labor Department published some more disappointing unemployment claims data.
At the close, the Dow Jones Industrial Average was up 0.05% at 26,281.82, while the S&P 500 was 0.34% softer at 3,112.35 and the Nasdaq Composite saw out the session 0.69% at 9,615.81.
The Dow closed just 11.93 points higher on Thursday, halting a rally the peaked yesterday on growing optimism regarding the reopening of several US states.
Thursday's main focus was the Department of Labor's latest unemployment claims data, which revealed layoffs in the US continued at a furious but slightly slower pace last week.
Initial unemployment claims during the week ending on 30 May dropped by 249,000 to reach 1.877m (consensus: 1.75m). Last week 2.1m Americans lodged new claims. The four-week moving average meanwhile, which aims to smooth out the variations from one week to the next, fell by 324,750 to 2.284m.
Protests across the US as a result of the death of unarmed African-American man George Floyd at the hands of Minneapolis police officer Derek Chauvin, rising tensions between Washington and Beijing and the ongoing Covid-19 pandemic were all very much so still in focus as well.
Market participants also kept a keen eye on moves across the pond, with the European Central Bank's policy decision surprising markets with a larger-than-expected increase in its bond-buying programme against the pandemic.
That coincided with the announcement overnight of an also larger-than-expected second stimulus programme from Berlin worth €130bn, versus the €50-100bn figure that various reports had bandied about throughout the previous week.
Elsewhere on the macro front, data from Challenger, Gray & Christmas revealed that US employers cut 397,016 jobs in May, down 40.8% from April's total of 671,129. While the number was a marked decrease on the prior month, it was still the second-highest total in the data series' 27-year history.
Lastly, America's shortfall on trade in goods and services with the rest of the world widened by less than expected in April.
According to the Department of Commerce, the total deficit for US trade in goods and services jumped from a downwardly revised deficit of $42.3bn for March to $49.4bn in April. Economists at Barclays Research had anticipated a deficit of -$52.5bn.
In the corporate space, coronavirus-stricken Royal Caribbean Cruises offered up to $2bn in senior notes and convertible bond that mature in 2023 in order to help the group repay debt, while shares in Wells Fargo were upgraded to 'hold' by analysts at Deutsche Bank.
A late-day sell-off in tech shares like Facebook, Amazon, Apple, Netflix and Alphabet dragged two of the three major indices into the red.