US close: Stocks close mixed following extension to unemployment relief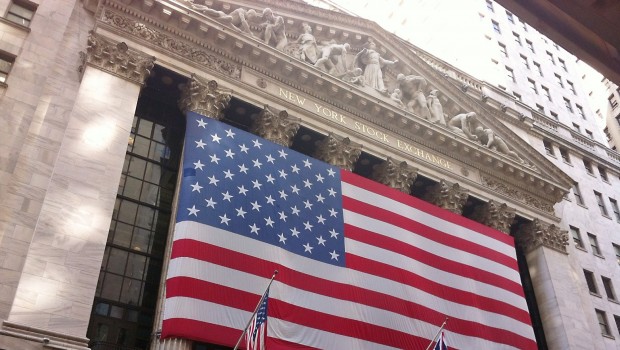 Wall Street trading was mixed on Monday after Donald Trump signed an executive order extending the nation's Covid-19 unemployment relief programme.
At the close, the Dow Jones Industrial Average was up 1.30% at 27,791.44 and the S&P 500 was 0.27% firmer at 3,360.47, while the Nasdaq Composite was 0.39% lower at 10,968.36.
The Dow Jones closed 357.96 points higher after the President's orders to carry on the distribution of expanded benefits.
The executive order will see unemployment payments reduced from $600 a week to $400 and will also continue the deferment of student loan payments through 2020, extend a federal moratorium on evictions and provide a payroll tax holiday.
The move comes after congressional leaders were unable to make any headway on a new Covid-19 stimulus package last week, raising uncertainty about the US economy going forward.
However, Trump's orders will still face a legal challenge, with continuing the programs requiring federal funding from Congress and Democrats have vowed to not support the bill.
Treasury Secretary Steven Mnuchin said he was open to further stimulus talks, stating: "We're prepared to put more money on the table."
Intensified US-Sino tensions were also in focus, with Beijing announcing unspecified sanctions against 11 US politicians and heads of organisations promoting democratic causes in retaliation to a similar move made by the White House last week.
Escalating those tensions further, Chinese jet fighters crossed the mid-line of the Taiwan Strait on Monday as US Health and Human Services Secretary Alex Azar visited the island nation.
On the macro front, US job openings increased in June but remained below their pre-pandemic level, adding weight to the argument that it may take years for the labour market to absorb the millions of unemployed Americans.
Job openings rose 518,000 to 5.9m as of 30 June, according to the Labor Department's Job Openings and Labor Turnover survey. Vacancies were below the level of 7.0 recorded in February, while the job openings rate increased to 4.1% from a reading of 3.9% in May.
On the corporate front, SeaWorld swung to a wider-than-expected quarterly loss as revenues tumbled 96% due to Covid-19 leading to closures of its theme parks, while the outbreak also led to hotel operator Marriott posting an 84.4% decline in second-quarter revenue per available room.
Royal Caribbean plunged to a worse-than-expected $1.6bn (£1.2bn) second-quarter loss after the Covid-19 crisis forced it to cancel all sailings in the period.
Twitter was also in focus as reports circulated that the social media giant was in talks to purchase controversial video group TikTok's US business, while McDonald's shares were lower in early trade after the fast-food giant filed a lawsuit against former CEO Steve Easterbrook.