US close: Stocks close lower as rate cut picture remains unclear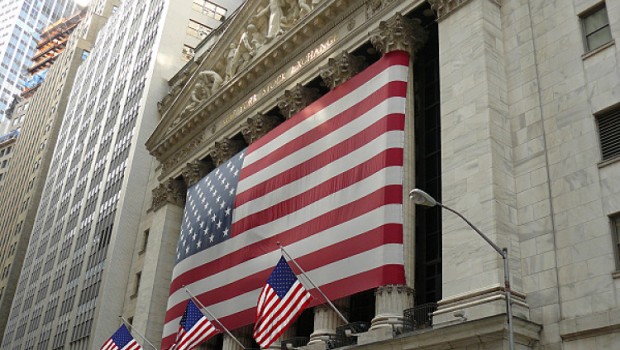 Wall Street stocks closed lower on Monday as the previous week's strong jobs data dampened expectations that the Federal Reserve would cut interest rates by 50 basis points when rate-setters in the US next met at the end of July.
At the close, the Dow Jones Industrial Average was down 0.43% at 26,806.14, while the S&P 500 was 0.48% softer at 2,975.95 and the Nasdaq Composite was trading 0.78% weaker to 8,098.38.
The Dow Jones closed 115.98 points lower after stocks finished slightly lower on Friday following a stronger than expected jump in hiring in June, which called into question the speed - but not the likelihood - of interest rate cuts by the Federal Reserve over what remained of 2019.
Fed funds futures were left fully pricing-in a 25 basis point cut at the 30-31 July Federal Open Market Committee meeting, instead of even odds of a 50 point reduction just before the jobs report's release, a 100% chance of a further 25 point cut by December and roughly even odds of another 25 basis points being lopped-off.
With the outlook for rate cuts now a bit murkier, Morgan Stanley said it was "putting our money where our mouth is" and downgraded global equities to 'underweight' from 'equal-weight' on Monday.
"The most straightforward reason for the shift is simple — we project poor returns," said MS analyst Andrew Sheets and his team.
While Morgan Stanley said it was still expecting a rate cut, Sheets argued that history showed that when central banks cut because growth was weak, it was the weakness that mattered more for stocks in the long run.
"If you don't believe us, we have some European stocks from April 2015, shortly after the European Central Bank's first QE program was announced, that we'd like to sell you," he added.
Strategists at JP Morgan, on the other hand, were more upbeat, projecting a gain of roughly 15% for global stocks over the next 12 months, on the back of an anticipated rebound in earnings growth and because stocks had yet to hit a peak in valuation multiples.
On the geopolitical front, Trump warned Iran to "be careful" on Monday after it was revealed that the Middle East nation was set to enrich uranium at 20% purity level after having breached the limits established by the 2015 nuclear deal
Iran threatened in May to abandon some of its commitments under the deal, after the US unilaterally abandoned a year ago, if Europe failed to meet the 7 July deadline to relieve sanctions on various sectors of the Iranian economy imposed by Trump.
At the end of the session, West Texas Intermediate was down 0.14% at $57.43 a barrel, while Brent Crude was fetching $63.87 per barrel - a 0.56% slide.
In terms of data, consumer borrowing expanded at a solid pace for a second consecutive month in May, according to the Federal Reserve.
Total consumer credit increased $17.1bn after recording a similar gain a month earlier - marking an annual growth rate of 5%.
Revolving credit, primarily credit cards, rose 8.2%, just ahead of the 7.9% gain seen in April, while non-revolving credit, typically auto and student loans, rose 3.9% in May after a 4.2% rise in the prior month.
On the corporate front, AMD shares closed 1.71% higher after an upbeat analyst call, while Apple shares were down 2.06% at the end of the session after Rosenblatt Securities analyst Jun Zhang said he expects the tech giant's shares to continue to fell as consumers hold out for next year's 5G-enabled iPhone.
Boeing shares also flew 1.33% lower after a Saudi Arabian airline cancelled a deal with the firm worth more than $5.5bn following questions regarding the safety of its 737 Max aircraft, while Canadian cannabis firm CannTrust crashed 22.60% after its greenhouse facility in Pelham, Ontario was deemed "noncompliant" by regulators.