US close: Stocks close higher as markets steady following tech sell-off in previous session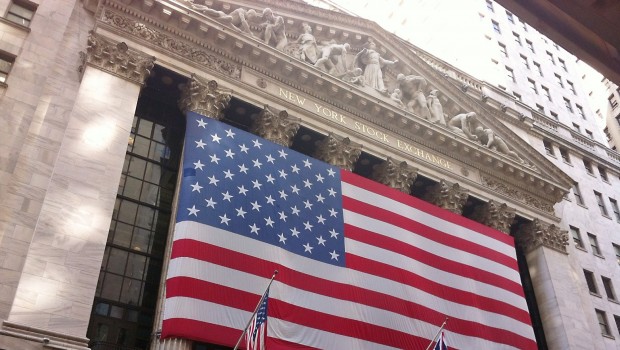 US stocks closed higher on Tuesday as a mild semblance of calm seemingly returned to markets following Monday's tech sell-off.
At the close, the Dow Jones Industrial Average was up 0.77% at 25,877.33, while the S&P 500 had gained 0.85% to 2,864.36 and the Nasdaq closed 1.08% firmer at 7,785.72.
The Dow closed 197 points higher after the White House decided to temporarily ease the trade restrictions imposed on Chinese telecommunications giant Huawei Technologies late last week.
The Commerce Department will allow Huawei to purchase American-made goods in order to maintain existing networks and provide software updates to existing Huawei handsets until 19 August as part of an effort to minimise disruption for its users across the globe.
Despite the reprieve, Huawei chief executive Ren Zhengfei took aim at Washington on Tuesday, stating Donald Trump had underestimated just how powerful the company would be in the 5G space and revealed the firm had been stockpiling chips, leaving it well prepared for the blacklisting.
Discussing the logic behind the US's 90-day grace period, SpreadEx analyst Connor Campbell said: "The reason behind this is likely some trademark lack of forethought from the Trump administration, the government failing to anticipate the effect the blacklisting would have on the US side of things.
"Though this reversal is arguably a sign of a government working purely on impulse rather than considered strategy, the markets were buoyed by the perceived — if potentially brief — cooling of trade tensions."
Elsewhere, almost 200 American footwear companies, including Nike and Under Armour, wrote a letter to the President, imploring him to cancel proposed tariffs on imported shoes from China. The shoemakers said the tariffs would be "catastrophic" for consumers, corporations and the economy alike.
In corporate news, Home Depot shares closed 0.26% higher as the hardware retailer beat first-quarter earnings expectations but fell short on same-store sales, while JC Penney shares closed 6.96% weaker after its first-quarter sales fell short of consensus estimates.
Kohl's crashed 12.34% in the session after cutting its profit estimates, while Urban Outfitters ticked up 0.19% following an announcement that it would begin renting clothes.
On the data front, sales of US existing home sales unexpectedly fell in April, according to data from the National Association of Realtors.
Sales were down 0.4% from March to a seasonally-adjusted rate of 5.19m, missing expectations for a 2.7% increase. On the year, sales were 4.4% lower.
Meanwhile, the median price of an existing home was $267,300, up 3.6% from April 2018 and marking the 86th straight month of year-over-year gains.