US close: Stocks close higher as markets shrug off Trump's twitter fingers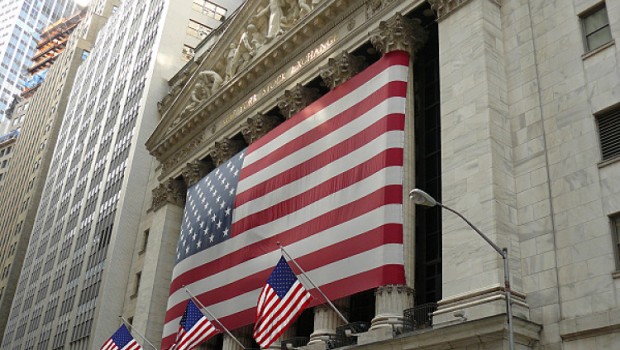 US stocks closed higher on Wednesday, with major indices clawing back most of the losses recorded in the previous session despite some heightened rhetoric from the President aimed at China.
At the close, the Dow Jones Industrial Average was up 1.52% at 24,575.90, while the S&P 500 was 1.67% firmer at 2,971.61 and the Nasdaq Composite saw out the session 2.08% stronger at 9,375.78.
The Dow Jones closed 369.04 points higher on Wednesday, all but reversing its 390 point drop in the previous session that came after a report raised concerns about trial results for Moderna's potential Covid-19 vaccine
As far as Wednesday was concerned, strong results from home improvement retailer Lowe's despite ongoing coronavirus lockdowns helped buoy sentiment throughout the session after the group's first-quarter same-store sales increased 11.2% year-on-year. Department store giant Target also pointed to a 10.8% increase in same-store sales on the back of some improved digital sales.
In terms of US-Sino relations, Markets seemed to shrug a heightened level of rhetoric from Donald Trump on Wednesday.
Trump tweeted: "Some wacko in China just released a statement blaming everybody other than China for the Virus which has now killed hundreds of thousands of people. Please explain to this dope that it was the 'incompetence of China', and nothing else, that did this mass Worldwide killing!"
Also still in focus were comments from Federal Reserve chairman Jerome Powell and treasury secretary Steven Mnuchin in front to the Senate Banking Committee on Tuesday.
Mnuchin said the Treasury and the Federal Reserve were both "fully prepared to take losses" on the remaining capital from the Covid-19 bailout programmes.
He added that he was prepared to distribute the entire $500bn allocated to help struggling businesses impacted by the pandemic, while Powell reiterated the Fed's commitment to efforts aimed at keeping markets functioning and getting cash to Americans that needed it most during the crisis.
Market participants were also continuing to monitor how the reopening of several US states was progressing, with Connecticut allowing consumers to dine in at restaurants, while New York Governor Andrew Cuomo said the outbreak in the Empire State was right back to where it started.
On the macro front, mortgage applications to purchase a home rose 6% week-on-week in the US, according to the Mortgage Bankers Association's seasonally adjusted index. Purchase volume was just 1.5% lower than twelve months earlier, a sharp recovery from just six weeks ago when purchase volume was down 35% year-on-year.
Elsewhere, minutes from the Fed's April meeting revealed deep concerns at the central bank about both the current state of the economy and its future.
Minutes from the 29 April meeting concluded with the Federal Open Market Committee holding steady on interest rates and discussing measures to come. However, while the minutes indicated that more action was likely still to come, they did not specify when - with members saying "further clarity" on asset purchases would likely be needed "later this year".