US close: Stocks close higher as bonds climb back from historic lows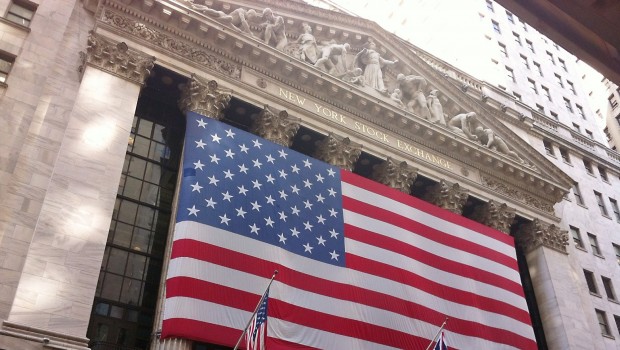 Wall Street stocks closed higher on Friday as investors remained focused on the bond market and US-China trade relations.
At the close, the Dow Jones Industrial Average was up 1.20% at 25,886.01, while the S&P 500 closed 1.44% at 2,888.68 and the Nasdaq Composite ended the session 1.67% stronger at 7,895.99.
The Dow closed 218.21 points higher on Friday following a mixed session the day before as a result of a strong set of results from Walmart and some positive economic data, which helped to offset worries over China vowing to counter the latest round of tariffs from the White House.
While Thursday's session ended on a mostly positive note, sentiment remained highly volatile as worries about a weaker global economy and US-Sino relations were keep traders on the edge of their seats.
Donald Trump said on Thursday that he was of the opinion that the US and China's trade dispute would be a relatively short one, stating that China wanted to reach a deal.
Falling bond yields, which rattled markets during the week, climbed back from their historic lows on Friday, easing some recession fears.
Long-term Treasury yields jumped after a Bloomberg report revealed the US Treasury Department planned on reaching out to market participants regarding the possibility of issuing ultra-long bonds. The 30-year Treasury bond yield climbed 5.8 basis points to 2.038% on the news.
Geopolitics were still in focus after the US said it was revoking visas for the crew of an Iranian oil tanker that has been released from detention in Gibraltar as Tehran denied it had given assurances the vessel would not sail to Syria.
On the data front, residential building activity slowed a tad last month, but not in the key segment of single-family homes and a lead indicator for the sector outpaced economists' expectations.
According to the Department of Commerce, US housing starts declined at a month-on-month pace of 4.0% for an annualised pace of 1.191m (consensus: 1.260m) and building permits for single-family homes rose for a third month in a row.
Elsewhere, consumer sentiment in the US deteriorated in August, hitting its lowest level since the start of the year, according to a preliminary reading from the University of Michigan.
The consumer sentiment index fell to 92.1 from 98.4 in July and 96.2 in August last year.
In corporate news, Deere & Co closed 3.80% higher despite cutting its full-year guidance for a second consecutive quarter as trade and weather disruptions battered sales of its tractors, while Nvidia picked up 7.25% during the session on the back of some better-than-expected second-quarter figures.
Bank stocks surged on the bond news, with the likes of Bank of America and Citigroup both closing more than 3% higher.